San Ildefonso Pueblo Small Wedding Vase signed Marie / Julian - C4099A
Category:
Pottery
| Posted by |
Tue, Jul 24th 2018, 12:34pm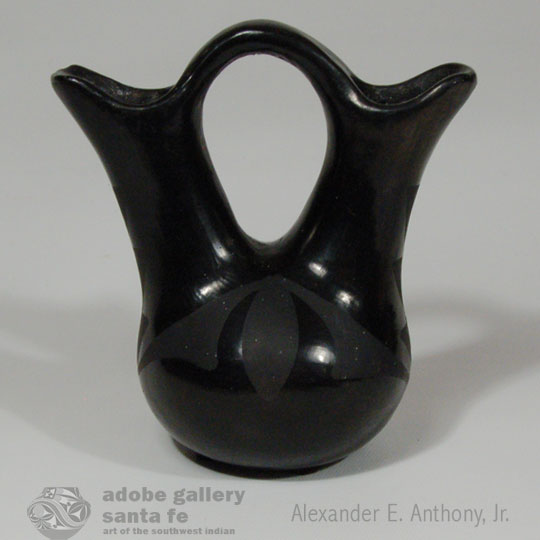 Excavations on the Pajarito Plateau (now Bandelier National Monument) were begun in 1907 under the auspices of Dr. Edgar L. Hewitt of the newly founded School of American Research in Santa Fe. Men from San Ildefonso Pueblo were hired to do the digging and Julian Martinez was among them. As they dug polychrome pottery sherds in the 1908 season, Maria Martinez was at the camp and saw the designs and she and Julian spent the winter producing polychrome vessels with designs based on those seen from the excavations. Polychrome pottery, which was what was being made at San Ildefonso at the time, was what they made from the sherds.
It was not until 1912 that Maria and Julian began producing polished black pottery. This was not a creation of theirs but a standard pottery being produced at the Tewa Pueblos-San Ildefonso, Santa Clara, San Juan, Nambe, Pojoaque and Tesuque. What they did, however, was to refine the form and create a highly lustrous finish.
In 1919, Julian experimented and discovered a way in which to apply a matte design on the polished black pottery Maria was making. He painted the design over the polished surface using the same slip that was used on the polished surface, but left this slip application without polishing it. Julian was an accomplished painter already so transferring his artistic talent from paper to pottery was natural. He painted the designs on the pottery using a paint brush made from the leaf of the yucca plant, removing the outer layer and leaving only the thin interior fibers as the paint brush.
By the 1930s, Maria and Julian were famous for their pottery-both polychrome and black. They were acknowledged as making the best pottery at the pueblo. They were encouraged and promoted by Hewitt and the Museum of New Mexico. They worked tirelessly together until Julian passed away in 1943. Maria continued making pottery until her son Popovi Da passed away in 1972, at which time she retired. She passed away in 1980 at an approximate age of 93.

#adobegallery #SouthwestIndianPottery #SanIldefonsoPueblo #SanIldefonsoPottery #PuebloPottery #SouthwestIndianArt #SantaFePottery #FinePuebloPottery #ContemporaryPottery #MarieMartinez