Subject: Bronze Sculpture of Kachin Mana Katsina "Emerging"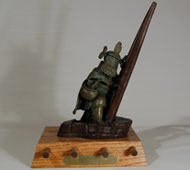 The kiva, which plays so vital a role in Hopi ceremonials, is a womb-like underground chamber from which the katsinas emerge. Hopis describe several cycles of global destruction and re-creation during two of which the chosen people were saved by living underground. The kiva acts as a reminder of these times and serves as a symbolic gateway to other realms.

The Kachinmana is the feminine counterpart of the male katsina. The vision captured in this bronze is that of a strong figure emerging from the kiva to serve the Hopi people in their unending struggle for betterment.

This bronze, and others by the artist, are manifestations of an artistic eye and vision that spans two cultures, for Lowell was unusual in having spent many of his childhood years in the care of foster parents who raised him in a mainstream American home. Becoming Hopi meant for Lowell accepting a new reality and set of beliefs as well as coming to understand the traditions, ceremonies, languages and social customs implicit in his choice. Giving form to this historically-rich culture is a task Lowell set for himself with pleasure and excitement: what is ancient and inherently true to the Hopi people is newly rediscovered and revered through Lowell's dawning awareness of what it was to be Hopi.

Each form and figure tells a story as does the process Lowell employed in its creation. His images are inspired by Hopi beliefs and are "liberated" from cottonwood root-the Hopi traditional carving material-through Lowell's vision of what lies within. Although he could work faster in preparation for bronzing by using wax or clay, Lowell preferred to interact with wood, a material he respected for its life and character. The castings made from his carvings via the lost wax method retain that spirit. Even the grain of the original wood can be discerned in the finished bronze.
This bronze sculpture of Kachinmana Katsina was cast in 1982 by the lost wax method in an edition of 35 of which this is number 1.

Condition: original condition
Provenance: from the estate of a California family
---
Subject: Bronze Sculpture of Kachin Mana Katsina "Emerging"
Artist: Lowell Talashoma, Sr. (1950-2003)
Category: Bronze
Origin: Hopi Pueblo
Medium: bronze casting, wood pedestal
Size: 13-1/4" tall; 9-3/8" x 7" pedestal
Item # C3365A