Subject: Glenna Goodacre Bronze of a Young Girl Dancing
We know that Glenna Goodacre crafted this bronze likeness of a young girl dancing early on in her career, but we don't know much more than that. There is something thrilling about seeking to gather information on such a lovely piece of work, and we have had a wonderful time trying to track down the details.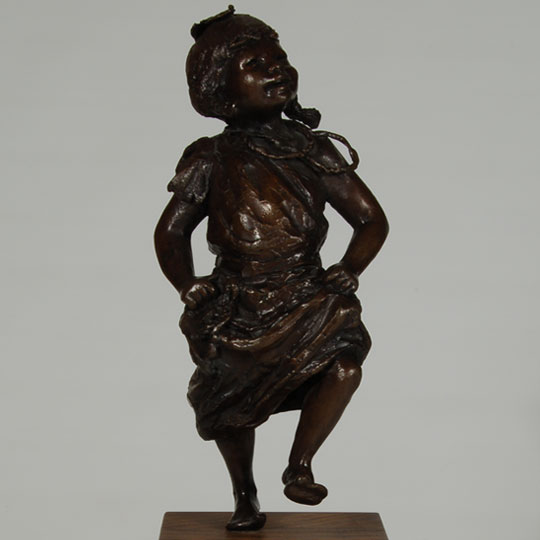 We learned that the current owners purchased the sculpture from Forrest Fenn of Fenn Galleries in Santa Fe in the late 70s. To verify, we went to Nedra Matteucci Galleries (who purchased Fenn Galleries) and we received confirmation that a couple had acquired the jovial piece in 1978.
Unfortunately, the official title, where the bronze was cast, and other pertinent information regarding the origins of the piece are eluding us, as this sculpture was not included in Goodacre's Catalog Raisonné. While it would be lovely to have the whole background of this figure, we also find that its mystery adds to its charm. We can, however, guarantee that Goodacre did create this gem, and although we don't know what she intended to call it, we feel that "Little Girl Dancing" suits it perfectly.
The bronze is stamped "Goodacre" and numbered 6/15. The wood base measures 3-7/8" x 3-7/8" x 5" tall.
About the Artist:
"Glenna Maxey Goodacre (born 1939 in Lubbock, Texas) is a sculptor well known for having designed the obverse of the Sacagawea dollar that entered circulation in the United States in 2000. She also designed the Vietnam Women's Memorial located in Washington, D.C., of which there is a smaller replica at Vietnam Veterans Memorial State Park in Angel Fire, New Mexico. Goodacre's art appears in public, private, municipal and museum collections throughout the U.S. Her bronze sculptures feature lively expression and texture." [source]
____
Subject: Glenna Goodacre Bronze of a Young Girl Dancing
Sculptor: Glenna Goodacre
Category: Bronze
Origin: European-American Artists
Medium: Bronze on a Wood Base
Size: 8-3/4" tall bronze on 5" tall wood base