Subject: Popsicle Alabaster Sculpture of a Bear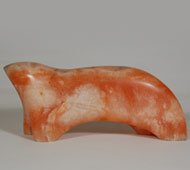 This very stylized sculpture of a bear was carved from Popsicle Alabaster that has a beautiful warm coral color and a fine polish. According to the owner, it dates to the mid-1980s. It is signed Haozous on the lower right leg.

Bob Haozous is a Warm Springs Chiricahua Apache Indian and the son of famous sculptor Allan Houser. Haozous has major art sculptures in two dozen cities in the United States and Europe. He has been included in many exhibitions, numbering over two dozen. He is recognized as a major American Indian artist of the 20th century.

Condition: original condition except there may be a small abrasion on the bear's head.
Provenance: from the collection of Michael Hamilton, manager of the Case Trading Post, Wheelwright Museum in Santa Fe from 1978 to 1998.
---
Subject: Popsicle Alabaster Sculpture of a Bear
Artist: Bob Haozous (1943 - present)
Category: Stone
Origin: Apache
Medium: Popsicle Alabaster
Size: 5-1/4" tall x12-1/2" long x 3-1/4" wide
Item # C3375B