Tesuque Pueblo Rosy Cheek Rain God - 26002
Category:
Pottery
| Posted by |
Sat, Aug 26th 2017, 1:15pm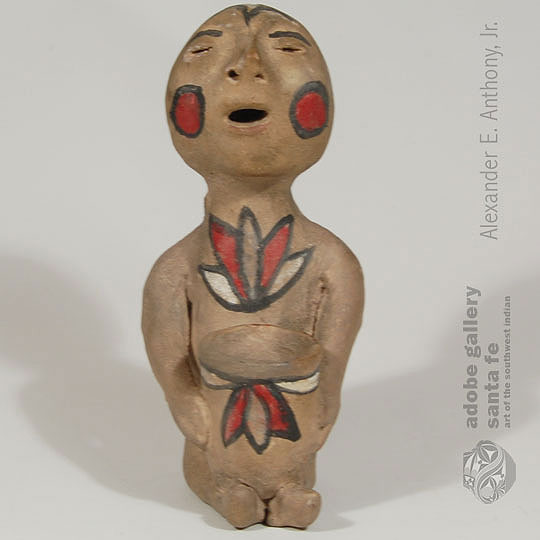 Some of the important curio dealers in and around Santa Fe in the late 1800s and early 1900s were Jake Gold, Abe Gold, J. S. Candelario, and Francis E. Lester. Research by Kathleen Howard and Diana Pardue in preparation for publishing Inventing the Southwest, revealed an order from Candelario's shop ". . .a baggage car with about 200 assorted small pieces of pottery, which we can sell at retail from 15 cents to 25 cents" (September 1904) and "one hundred Tesuque pottery gods, small size, and fifty of the larger size black gods" (April 1905). The following year, the Fred Harvey Company ordered "100 small rain gods, three dozen larger ones." Anderson p.70
In the period 1900-1910, cream-slipped rain gods were prevalent and probably dominated the orders for hundreds of dolls by the merchants. This rain god doll with its bright red cheeks was the style being made during that decade. He has a white feather on his head, a red and white design on his chest and red and white designs on his jar.
Would you like to purchase or read more about this Rain God?