Very Large Western Apache Open Bowl Basket - C4091A
Category:
Baskets
| Posted by |
Fri, Jul 27th 2018, 1:51pm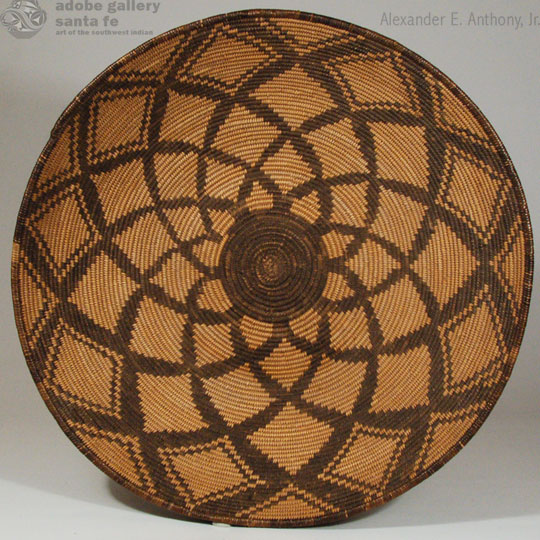 Western Apache basketry of the late nineteenth and early twentieth centuries is the best basketry of the Southwestern tribes and they are treasured by museums and collectors. The Western Apaches were not a single tribe but consisted of five separate and completely independent tribes-the Cibecue, San Carlos, White Mountain, and Northern and Southern Tonto. They are now considered collectively as Western Apache.
Basket makers of those Apache tribes made some of the largest ollas and bowls of any tribe of the Southwest. They also were some of the finest baskets made. The basket makers made baskets of the sizes with which they were familiar, sizes consistent with what they made for their own use. It is not unusual to see large bowls, such as this one, and large ollas standing over three feet tall. It is as if the basket makers were making sizes they could use and not be concerned whether someone wanted to purchase it or not.
That is quite likely the scenario with this oversized bowl. It was of a size that could be used for winnowing or storage by and for an Apache. If a client wished to purchase it, it would be for sale. If not, it would be for use by the maker.

#adobegallery #NativeAmericanBasket #SouthwestIndianBaskets #Apache #Baskets #ApacheBaskets #IndianBaskets #SantaFeNM #IndianMarketCountdown2018 #NativeAmericanArts