American Indian Art Magazine Back Issues
---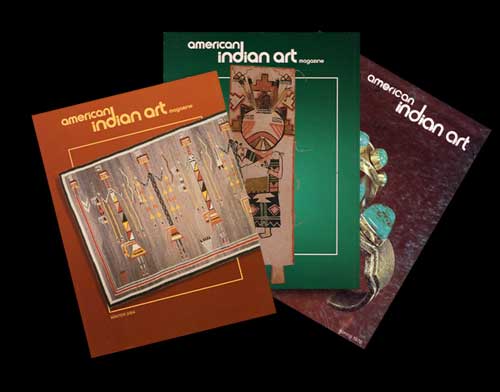 + Add to my watchlist

Forward to Friend
For almost 40 years, American Indian Art Magazine has been the premier magazine devoted exclusively to the great variety of American Indian art. This beautifully illustrated quarterly features articles by leading experts, the latest information on current auction results, publications, legal issues, museum and gallery exhibitions and events.
If you would like to see if there are more back issues, click here to view their website which also has a new index of all issues from 40 years!
---
CURRENT ISSUES WE HAVE



| | | |
| --- | --- | --- |
| Spring | 1983 | $25 |
| Autumn | 2000 | $12 |
| Autumn | 2014 | $12 |
| Spring | 2015 | $12 |
| Autumn | 2015 | $20 |
---

Volume 8 | Number 2 | Spring 1983
9 GALLERIES

14 BOOKS

21 AUCTION BLOCK
by Harmer Johnson

25 MUSEUMS

30 CLAY CHANGES: HELEN CORDERO AND THE PUEBLO STORYTELLER
by Barbara A. Babcock
Provides an overview of the longstanding tradition of figurative pottery production among the Puebloan Indians and details the proliferation of these ceramics since 1964, when Helen Cordero shaped the first Storyteller doll.

40 THE GIRARD COLLECTION AT THE MUSEUM OF INTERNATIONAL FOLK ART
by Charlene Cerny
Details some of the Native American material that comprises only a part of this vast collection of folk art. Gathered over a forty-year period and donated to the museum in 1978, the collection includes 106,000 objects from more than 100 countries.

46 INCISED RELIEF CARVING OF THE HALKOMELEM AND STRAITS SALISH
by Norman Feder
Summarizes the little that is known about the incised relief carvings of the Halkomelem and Straits Salish and describes the basic principles that characterizes the style.

56 COLLECTIONS OF THE LABORATORY OF
ANTHROPOLOGY, MUSEUM OF NEW MEXICO
by Nancy Fox
Provides a detailed history of the Laboratory's first half-century of operation and growth, highlighting the contributions of various members of its staff as well as some of the Southwestern Indian materials in its collections.

64 THE ALASKAN ATHAPASKAN CHIEF'S COAT
by William E. Simeone Jr.
Describes the two principal styles of chief's coats worn by the Alaskan Athapaskans from the mid-nineteenth century to the present and illustrates a sampling of these garments, from the earliest available illustrations to a contemporary example made only last year.

BOOK REVIEWS
73 NORTHERN ATHAPASKAN COLLECTIONS and ATHAPASKAN CLOTHING IN THE FIELD MUSEUM. Reviewed by Judy Thompson.

77 HAU, KOLA!. Reviewed by F. Dennis Lessard.

81 TOTEM POLES. Reviewed by Margaret B. Blackman.

86 ADVERTISER INDEX
---

Volume 25 | Number 4 | Autumn 2000
20 AUCTION BLOCK
by Harmer Johnson

24 GALLERIES

38 ZUNI FETISHES: ART AND CHANGE
by Jim Ostler
Suggests that contemporary Zuni fetish carving has undergone an artistic revolution in the past two decades and that by working outside the boundaries of traditional aesthetics, carvers have developed a way to express their creativity without clear ground for criticism.

46 SOUTHEASTERN INDIAN BASKETRY IN THE GILCREASE MUSEUM COLLECTION
by Jason Baird Jackson
Presents an overview of the southeastern baskets at the Gilcrease Museum, Tulsa, Oklahoma. This article outlines all of the major southeastern basketry types, including those not represented in the Gilcrease Museum's collection.

56 ALBERT LUJAN: ENTREPRENEURIAL PUEBLO PAINTER OF TOURIST ART
by Bradley F. Taylor
Presents an overview of the life and artwork of Albert Lujan (1892–1948), a Taos Pueblo painter who worked in a three-dimensional Euro-American style while focusing his work on village themes that would appeal to the tourist market.

66 NORTHWEST COAST SILVER BRACELETS AND THE USE OF EURO-AMERICAN DESIGNS
by Kathryn Bunn-Marcuse
Sometime between the 1830s and the 1860s, Northwest Coast silver bracelets became popular among Native American and Euro-Americans alike. Not only are they important to Native traditions — often displaying inherited crests and given as gifts at potlatches — they are also one of the most enduring and widely collected Northwest Coast art forms.

80 CALENDAR OF AUTUMN EVENTS

92 MUSEUMS

100 LEGAL BRIEFS
by Ron McCoy

108 BOOK REVIEW
NORTH AMERCIAN INDIAN JEWELRY AND ADORNMENT: FROM PREHISTORY TO THE PRESENT by Lois Sherr Dubin. Reviewed by Mark Bahti.

118 ADVERTISER INDEX
---

Volume 39 | Number 4 | Autumn 2014
14 Galleries
22 Auction Block
by Harmer Johnson
28 Museums
38 Yoo-Nteele: Western Apache T-Necklaces
by Alan Ferg
Examines the history of the T-shaped, glass-beadwork necklace known in Apache as yoo-nteele, which was first made by the San Carlos and White Mountain Apaches. Today, this kind of necklace is viewed as an icon of Western Apache culture and is worn by girls at their puberty ceremonies.
50 Unconquered History:
The Ah-Tah-Thi-Ki Museum Collection
by Tara J. Backhouse
Profiles the collections of the tribally owned and operated Ah- Tah-Thi-Ki Museum near Clewiston, Florida. The museum's collections celebrate the Seminoles' strength, sovereignty and survival in an environment nearly inhospitable to humans and objects.
58 Anishinaabe and Haudenosaunee
Exhibitors at Nineteenth-Century Upper
Canadian Provincial Exhibitions
by Sherry Brydon
Follows the experiences of Aboriginal artists and the exhibition history of their work during a twenty-year period at nineteenth-century Upper Canadian Provincial Exhibitions.
70 Floral Journey: The Hidden Language of Flowers in Native North American Beadwork
by Lois S. Dubin and Paige Bardolph
Highlights the exhibition Floral Journey: Native North American Beadwork at the Autry National Center of the American West in Los Angeles. This is the first comprehensive exploration of how European-introduced floral designs, woven and embroidered in moose hair, quills and tiny glass beads, became a remarkable art form as well as an important means of economic and cultural resilience.
82 Calendar of Autumn Events
88 Legal Briefs
by Ron McCoy
NAGPRA Updates: February 19–June 6, 2013
102 Advertiser Index
---

Volume 40 | Number 2 | Spring 2015
To continue our celebration of the magazine's fortieth year of publication, this issue features articles by members of our Editorial Advisory Board, as well as columns that look back at four decades of scholarship, legal issues and collecting trends in American Indian art.
14 Galleries
20 Auction Block
by Harmer Johnson
26 Books
32 Museums
38 Dennis Cusick—A Tuscarora Artist at Seneca Mission: Missionary Propaganda and American Vernacular Culture, 1820–1822
by Janet Catherine Berlo
Examines the work of Tuscarora artist Dennis Cusick within two contexts: the extraordinarily active mission societies operating in the United States in the 1820s, and American vernacular culture, where images and objects circulated across boundaries of gender, race, class and culture.
52 Honoring the Bird People:
Three Hundred Years of Navajo Bird Art
by Susan Brown McGreevy and Harry Walters
In Navajos' worldview, birds are considered sacred. This survey of avian art reveals Navajo artists' abiding interest in, and deep appreciation of, the bird life that can be observed throughout their Southwestern homeland.
58 The Use of Plant Fibers
in Plains Indian Embroidery
by Candace S. Greene
Examines the utilization of adjunct materials employed in the embroidery art of Plains Indian women and explores possible identifications of the plant fibers used both in conjunction with porcupine quills and as sole embroidery materials.
72 Hybrid Vigor: The Transmission of Indigenous Inuit Art Forms in the Age of Globalization
by Molly Lee
Discusses the pivotal role played by non-Native entrepreneurs in the development of postcontact Inuit art forms, and highlights how art forms that once traveled by diffusion are today at the beck and call of globalization.
86 Legal Briefs
by Ron McCoy
Repatriation of Cultural Objects
88 Calendar of Spring Events
94 Advertiser Index
---

Volume 40 | Number 4 | Autumn 2015
17 Galleries

22 Auction Block
by Harmer Johnson

30 Museums

36 Calendar of Autumn Events

40 A Note from the Publisher

42 The Bluecloud Dolls of Granite Falls:
A Dakota Story
by Marcia G. Anderson and Herb Dorr
Examines the provenance and characteristics of some Native American dolls of the northern Plains, specifically those of the authentically garbed cloth-body dolls attributed to Dakota dollmaker Rebecca Bluecloud, a number of which are in the Minnesota Historical Society, St. Paul.

48 Quilled Trapezoidal Pouches from the
Western Great Lakes Region
by Sylvia S. Kasprycki
This first major study of trapezoidal pouches, based on a sample of twenty-two extant pieces, discusses their collection histories, construction, materials and motifs, and compares them to similar bags, as well as to other quilled items.

64 David Longstreet: White Mountain Apache Scout and Master Tailor
by Alan Ferg
Recounts the career of David Longstreet, a highly accomplished maker of traditional buckskin clothing, including girls' puberty dresses and men's shirts, and presents a suite of attributes that can aid researchers in identifying his work.

76 Early Northeastern Collections at the
Museum of New Zealand Te Papa Tongarewa
by Ruth B. Phillips and Janet M. Davidson
Examines a small but important collection of early contact-period material from northeastern North America, which was originally acquired by European military personnel, and discusses the way in which these objects eventually arrived in Wellington, New Zealand.

94 Books

104 Legal Briefs
by Ron McCoy
Closing the Circle

110 Advertiser Index3
Mary G. Hamilton, Publisher
Subject: Native American Art
Item # M1
Date Published:
Size: Back Issues
Price:

$6.00
---
Publisher:
---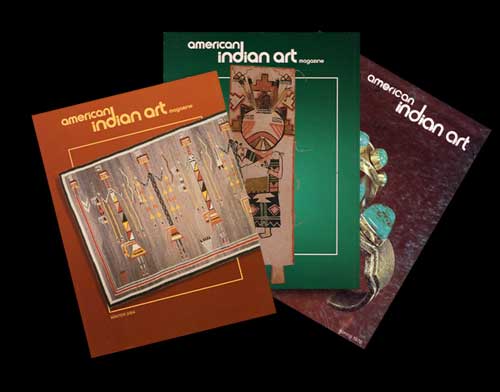 Click on image to view larger.
---