American Indian Art Magazine Back Issues
---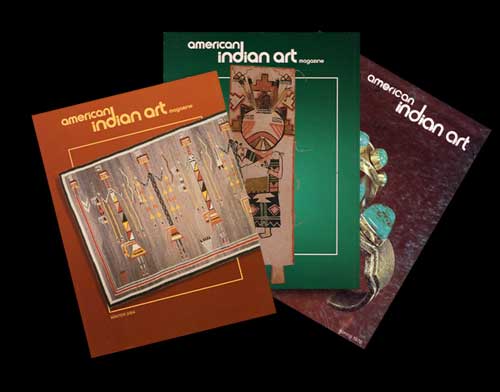 + Add to my watchlist

Forward to Friend
For almost 40 years, American Indian Art Magazine has been the premier magazine devoted exclusively to the great variety of American Indian art. This beautifully illustrated quarterly features articles by leading experts, the latest information on current auction results, publications, legal issues, museum and gallery exhibitions and events.
---
Collectible Back Issues Available



| | | |
| --- | --- | --- |
| Autumn | 1990 | $12 |
| Autumn | 2014 | $12 |
| Autumn | 2015 | $20 |
---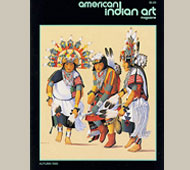 Volume 15 | Number 4 | Autumn 1990
18 AUCTION BLOCK
by Harmer Johnson

23 MUSEUMS

35 GALLERIES

40 HOPI ARTIST FRED KABOTIE (1900–1986)
by Ronald McCoy
Offers a summary of the life of Hopi artist Fred Kabotie, as well as illustrating some representative examples of his paintings from various collections throughout the country.

50 THE CONTEMPORARY INDIAN ART COLLECTION AT THE CANADIAN MUSEUM OF CIVILIZATION, HULL, QUEBEC
by Gerald McMaster and Lee-Ann Martin
Introduces readers to the new facility of the Canadian Museum of Civilization which opened in Hull, Quebec in June 1989 — along with its collection of contemporary Inuit and Indian art.

56 CONTEMPORARY FLORIDA INDIAN PATCHWORK AND BASKETS
by Dorothy Downs
Provides an overview of the patchwork making and lesser-known basketry arts of today's Seminole and Miccosukee tribes of Florida.

64 THE YELLOW EARL AT THE MUSEUM OF MANKIND
by Shepard Krech III
Focuses on the artifacts collected by the fifth earl of Lonsdale in 1888 and 1889 among the Inuit and Kutchin of Canada, Inuvialuit (MacKenzie Eskimo), Yupik from southwest Alaska, and the Athapaskans of the Northwest or Yukon Territory.

77 CALENDAR OF AUTUMN EVENTS

90 BOOKS

110 ADVERTISER INDEX
---

Volume 39 | Number 4 | Autumn 2014
14 Galleries
22 Auction Block
by Harmer Johnson
28 Museums
38 Yoo-Nteele: Western Apache T-Necklaces
by Alan Ferg
Examines the history of the T-shaped, glass-beadwork necklace known in Apache as yoo-nteele, which was first made by the San Carlos and White Mountain Apaches. Today, this kind of necklace is viewed as an icon of Western Apache culture and is worn by girls at their puberty ceremonies.
50 Unconquered History:
The Ah-Tah-Thi-Ki Museum Collection
by Tara J. Backhouse
Profiles the collections of the tribally owned and operated Ah- Tah-Thi-Ki Museum near Clewiston, Florida. The museum's collections celebrate the Seminoles' strength, sovereignty and survival in an environment nearly inhospitable to humans and objects.
58 Anishinaabe and Haudenosaunee
Exhibitors at Nineteenth-Century Upper
Canadian Provincial Exhibitions
by Sherry Brydon
Follows the experiences of Aboriginal artists and the exhibition history of their work during a twenty-year period at nineteenth-century Upper Canadian Provincial Exhibitions.
70 Floral Journey: The Hidden Language of Flowers in Native North American Beadwork
by Lois S. Dubin and Paige Bardolph
Highlights the exhibition Floral Journey: Native North American Beadwork at the Autry National Center of the American West in Los Angeles. This is the first comprehensive exploration of how European-introduced floral designs, woven and embroidered in moose hair, quills and tiny glass beads, became a remarkable art form as well as an important means of economic and cultural resilience.
82 Calendar of Autumn Events
88 Legal Briefs
by Ron McCoy
NAGPRA Updates: February 19–June 6, 2013
102 Advertiser Index
---

Volume 40 | Number 4 | Autumn 2015
17 Galleries

22 Auction Block
by Harmer Johnson

30 Museums

36 Calendar of Autumn Events

40 A Note from the Publisher

42 The Bluecloud Dolls of Granite Falls:
A Dakota Story
by Marcia G. Anderson and Herb Dorr
Examines the provenance and characteristics of some Native American dolls of the northern Plains, specifically those of the authentically garbed cloth-body dolls attributed to Dakota dollmaker Rebecca Bluecloud, a number of which are in the Minnesota Historical Society, St. Paul.

48 Quilled Trapezoidal Pouches from the
Western Great Lakes Region
by Sylvia S. Kasprycki
This first major study of trapezoidal pouches, based on a sample of twenty-two extant pieces, discusses their collection histories, construction, materials and motifs, and compares them to similar bags, as well as to other quilled items.

64 David Longstreet: White Mountain Apache Scout and Master Tailor
by Alan Ferg
Recounts the career of David Longstreet, a highly accomplished maker of traditional buckskin clothing, including girls' puberty dresses and men's shirts, and presents a suite of attributes that can aid researchers in identifying his work.

76 Early Northeastern Collections at the
Museum of New Zealand Te Papa Tongarewa
by Ruth B. Phillips and Janet M. Davidson
Examines a small but important collection of early contact-period material from northeastern North America, which was originally acquired by European military personnel, and discusses the way in which these objects eventually arrived in Wellington, New Zealand.

94 Books

104 Legal Briefs
by Ron McCoy
Closing the Circle

110 Advertiser Index3
Mary G. Hamilton, Publisher
Subject: Native American Art
Item # M1
Date Published:
Size: Back Issues
---
Publisher:
---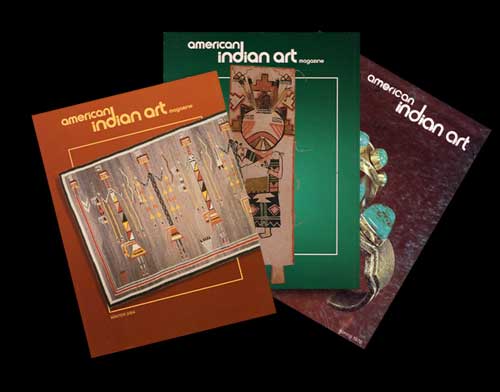 Click on image to view larger.
---