American Indian Basketry [SOLD]
---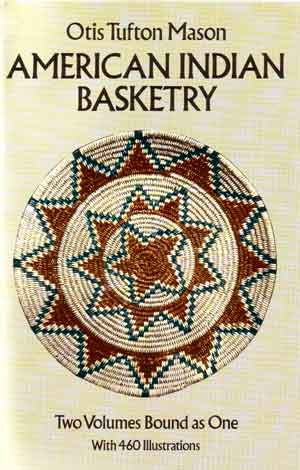 + Add to my watchlist

Forward to Friend
Otis Mason
Subject: Native American Basketry
Item # 0-48625-777-0
Date Published: 1988/12/01
Size: 800 pages

SOLD
Over 450 excellent photographs and illustrations: 229 line illustrations, 231 photographs. Index. Bibliography. Two volumes bound as one. Total of 800 pages.
Unabridged, slightly altered Dover (1988) republication of Indian Basketry: Studies in a Textile Art without Machinery, published by Doubleday, Page & Company, New York, 1904 (1st ed.).
From the Back Cover:
The origins of basketry are lost in the mists of prehistory, but making baskets is certainly one of the oldest and most nearly universal crafts of mankind. In the Americas, basket artifacts found in caves in Utah have been dated at 7,000 B.C., while twined baskets said to be at least 5,000 years old have been uncovered in Peru. In the American Southwest, an entire Indian culture (ca. 100-700 A.D.) is known as Basket Maker because of the distinctive baskets it produced.
This exhaustive survey (two volumes in one) of American Indian basketry, perhaps the finest book ever published on the subject, documents basketmaking throughout the Americas-in Eastern North America, Alaska and the Pacific Northwest, Western Canada, Oregon, California and the Interior Basin, as well as Mexico, Central and South America.
Spanning a wide range of indigenous cultures (Aleutian, Tlinkit, Shoshonean, Athapascan, etc.), the detailed, carefully researched discussions in this book offer a wealth of information about woven and coiled basketry, watertight basketry, materials, basketmaking techniques and preparation, ornamentation and syrnbolism, as well as the uses of baskets as receptacles, in preparing and serving food, for gleaning and milling, in mortuary customs, in religion and social life, in trapping, carrying water, and in many other areas of Indian life.
An interesting and informative chapter on collectors and collections and the preservation of baskets, followed by a helpful bibliography, rounds out the book. In addition, the author, once Curator of Ethnology at the U.S. National Museum (part of the Smithsonian Institution), enhanced this encyclopedic study with over 450 excellent photographs and illustrations.
For collectors, preservationists, anthropologists, students of crafts and culture, modern basketmakers, this is an indispensable reference-a massively rich source of information about baskets, the peoples who made them, how they were made and their role in native American life and culture.
Otis Mason
Subject: Native American Basketry
Item # 0-48625-777-0
Date Published: 1988/12/01
Size: 800 pages

SOLD
---
Publisher:
---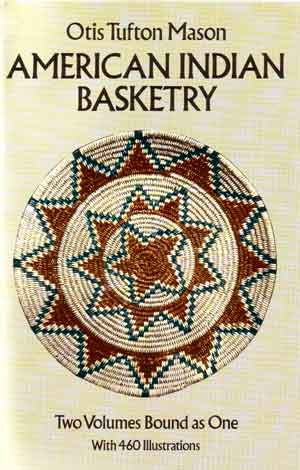 Click on image to view larger.
---