Basket Weavers For The California Curio Trade: Elizabeth and Louise Hickox
---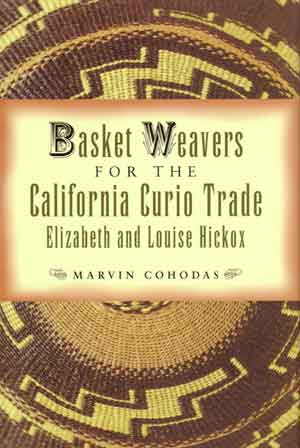 + Add to my watchlist

Forward to Friend
Marvin Cohodas
Subject: Native American Basketry
Item # 0-8165-1518-2
Date Published: 1998/02/01
Size: 362 Pages

SOLD
From Jacket:
The Peoples of northwestern California's Lower Klamath River area have long been known for their fine basketry. Two early twentieth-century weavers of that region, Elizabeth Hickox and her daughter Louise, created especially distinctive baskets that are celebrated today for their elaboration of technique, form, and surface design.
Marvin Cohodas explores the various forces that influenced Elizabeth Hickox, analyzing her relationship with the curio trade, and specifically with dealer Grace Nicholson, to show how those associations affected the development and marketing of baskets. He explains the techniques and patterns that Hickox created to meet the challenge of weaving design into changing three-dimensional forms. He also draws on Lila O'Neale's 1929 interviews with the two weavers to describe Elizabeth's work in relation to that of other Lower Klamath basket makers.
In addition to explicating the Hickoxes' basketry, Cohodas interprets its uniqueness as a form of inter-societal art. He shows how Elizabeth Hickox first designed her distinctive trinket basket to convey a particular view of the curio trade and its effect on status within her local community. Her long career reflected a changing relationship to patronage, to the curio trade, and to broader social, economic, and political issues. Evidence is offered to reject both conventional anthropological models of Native peoples producing "authentic" baskets, untouched by Euro-American presence or consumption, and O'Neale's patronage model of weavers passively meeting consumer demand. Following the work of Pierre Bourdieu, the Hickox baskets are considered according to a model of social practice, suggesting that Elizabeth and Louise Hickox negotiated a path between convention and innovation in ways designed to affect local social relationships.
Through its close examination of these superb practitioners of basketry, Basket Weavers for the California Curio Trade addresses many of today's most pressing questions in Native American art studies concerning individuality, patronage, and issues of authenticity. Graced with historical photographs and full-color plates, it reveals the challenges faced by early twentieth-century Native weavers.
Marvin Cohodas
Subject: Native American Basketry
Item # 0-8165-1518-2
Date Published: 1998/02/01
Size: 362 Pages

SOLD
---
Publisher:
---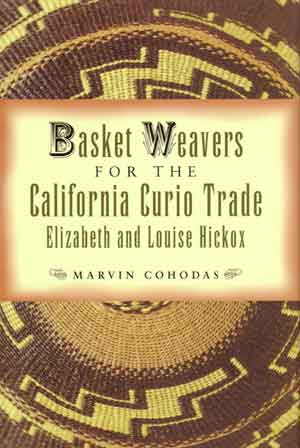 Click on image to view larger.
---