Ceremonial Costumes of the Pueblo Indians: Their Evolution, Fabrication, and Significance in the Prayer Drama [Cloth Edition] [SOLD]
---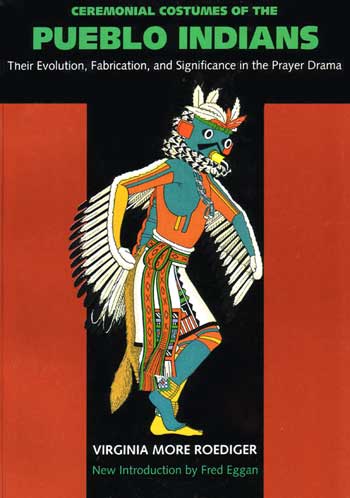 + Add to my watchlist

Forward to Friend
Virginia Roediger
Subject: The Pueblo Indians
Item # 0-520076-31-1
Date Published: 1992/03/01
Size: 251 Pages

SOLD
From the Back Cover of the Paperback Edition:
When the University of California Press first published Virginia Roediger's Ceremonial Costumes of the Pueblo Indians in 1941, it was immediately hailed as both a beautifully illustrated book and the most comprehensive description ever of the making and meaning of the Pueblo costumes of New Mexico and Arizona. It has since been widely acknowledged as a classic, eagerly sought after in antiquarian bookstores by scholars as well as by collectors of Southwestern art.
Exactly fifty years after its original publication, here is the book back in print, with a new introduction by the renowned anthropologist Fred Eggan. Virginia Roediger's vivid paintings are reproduced once- more in full color, capturing the beauty and drama of the Pueblo ceremonies-the turquoise dance moccasins, the tableted headdress of the Zuni corn maidens, the bright-blanketed Kachina maiden, and the buffalo, brilliant eagle, and horned deer costumes.
After a brief survey of the history, location, and life of the Pueblo peoples, Roediger embarks on a thorough analysis of the materials used in the Pueblo costumes. She explains both their symbolic significance and their manufacture-from the weaving of cloth and the tanning of leather to the preparation of birds' feathers, evergreens, paints, and dyes. She then provides a meticulous description of the costumed dancer-body paint, garments, ornaments, accessories, and dance properties such as rattles, headdresses, and masks.
In her final section, Roediger explores the relation of the costumes to the prayer dramas, particularly to the reverential, solemn, ecstatic public dance with which these dramas climax. Vivid details emerge here about such rituals as the animal dances from the Rio Grande region and the Rain Dance of the Zuni.
Virginia Roediger
Subject: The Pueblo Indians
Item # 0-520076-31-1
Date Published: 1992/03/01
Size: 251 Pages

SOLD
---
Publisher:
---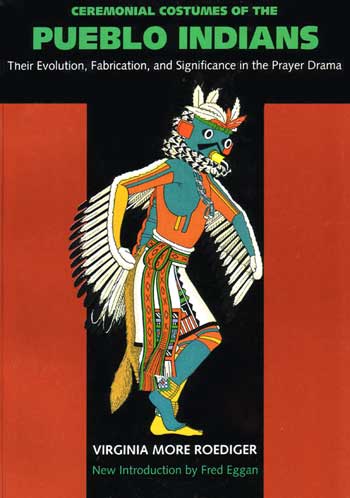 Click on image to view larger.
---