Book: Indian Basketmakers of the Southwest
---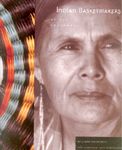 + Add to my watchlist

Forward to Friend
Larry Dalrymple
Subject: Native American Basketry
Item # 0-89013-338-7
Date Published: 2000/03/01
Size: 156 pages

SOLD
From the inside cover:
A renaissance in Native basketry has swept across much of the Southwest in the last decades of the century, resulting in an explosive burst of creativity and innovation. Indian Basketmakers of the Southwest documents the art and most especially the weavers in whose hands the future of traditional basketry is held.
The weavers' life stories, and rich photographic documentation of their work, bring their special world into focus. We learn of their struggles and triumphs, about what it means to be a weaver in the modern world. We learn that today's weavers lead lives that are as diverse as their designs. Some are young but most are middle-aged or older. Some live in remote rural areas, others in or near towns. They share a tradition that has lately welcomed numerous male basketmakers to its ranks. We learn who their teachers were and to whom they are passing on their knowledge.
Larry Dalrymple's working friendships with these weavers over more than two decades developed as a result of his collecting activities begun in the late 1970s. His interest in continuity and change in basketry traditions informed a unique collection of baskets made by Yavapai, Havasupai, Hualapai, Western and Jicarilla Apache, Ute, San Juan Paiute, Navajo, O'odham, Pueblo, and Hopi weavers. Beautiful objects, these baskets embody most of all the beauty of tradition, passion, and wisdom. They are alive with creative energy, dreams, aspirations, and experience.
The basketry tradition has disappeared among many tribes in the Southwest, and among others certain types are no longer made. The beautiful coiled trays and ollas of the Western Apache and the Yavapai and the boldly colored work baskets of the Jicarilla Apache are seldom made. Among the Ute the art is in a precarious state. The Yavapai have only one weaver, who because of age seldom weaves, while the Hualapai have only three remaining. Among the Rio Grande Pueblo people there are a couple weavers at Santa Clara Pueblo, one at San Juan Pueblo, and one at Taos Pueblo who continue to make willow baskets. A woman from Jemez Pueblo is the only Pueblo weaver still making yucca sifters.
It is this kind of staggering fact that brings Dalrymple's book its importance, in part, for Native America's oldest craft tradition hovers close to the precipice of its demise for many tribes. Thus we celebrate the lives and work of such elder weavers as Viola Jimulla, Bessie Mike, Florence Marshall, Mae Tilouis, Elnora Mapatis, Gusta Kidde Thompson, Cecilia Nelson Henry, sisters Jane and Mae White, and Tanzanita Pesata, among the great passing artists of their tradition.
Dalrymple celebrates, as well, the considerable upsurge of weaving activity in the Jicarilla Apache Tribe and in several Western Apache communities. In particular, Navajo basket making has shown credible resurgence over the last twenty years, and current basket making among the Tohono O'odham and Hopi is the most prolific among any of the Southwest's tribes.
Larry Dalrymple
Subject: Native American Basketry
Item # 0-89013-338-7
Date Published: 2000/03/01
Size: 156 pages

SOLD
---
Publisher:
---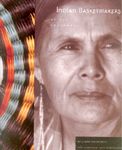 Click on image to view larger.
---