Indian Painters of the Southwest: The Deep Remembering (SOLD)
---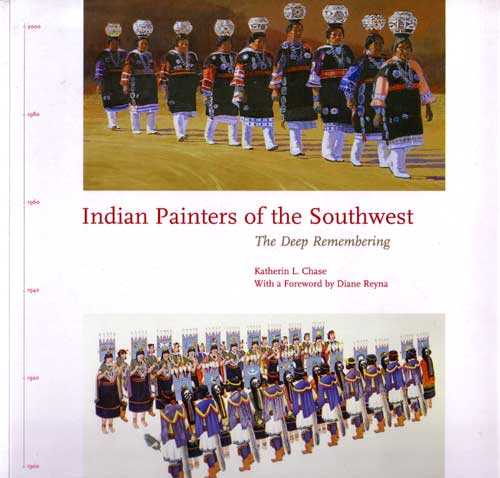 + Add to my watchlist

Forward to Friend
Katherin Chase
Subject: Native American Easel Art
Item # C3906V
Date Published: 2002 Softcover, first edition
Size: 96 pages

SOLD
INDIAN PAINTERS OF THE SOUTHWEST The Deep Remembering
By Katherin L. Chase
Publisher: School of American Research Press, Santa Fe, 2002
Softcover, first edition, 95 pages
From the Jacket
"For American Indians in the U.S. Southwest, painting on canvas and paper is a twentieth-century innovation, yet one firmly grounded in centuries-old traditions of rock art and painting on pottery, headdresses, altars, and kiva walls. In 1998, the School of American Research in Santa Fe, New Mexico, hosted a gathering of ten respected Indian painters who reflected on and shared ideas about their art, its cultural heritage, and its future directions. This book profiles the participating artists and their work, recounts the highlights of their discussions, and explores the history of the easel painting tradition from which their work springs.
"Representing seven different Pueblo Indian groups and the Navajo Nation, some of these painters incorporate traditional cultural scenes and symbols in their pictures—often in novel and abstract ways—while others create decidedly contemporary works grounded in Euro-American influences. Whatever the artist's style may be, each draws on a 'deep remembering' of tribal heritage and personal experience as well as a sophisticated awareness of the artist's role in more than one modern world. Together, their words and works indeed depict the 'state of the art.'"
Participating Artists
Michael Kabotie, Hopi
Jeanette Katoney, Navajo
Linda Lomahaftewa, Hopi-Choctaw
Felice Lucero, San Felipe Pueblo
Marcellus Medina, Zia Pueblo
Diane Reyna, Taos Pueblo
Mateo Romero, Cochiti Pueblo
Alex Seotewa, Zuni Pueblo
Emmi Whitehorse, Navajo
Gary Yazzie, Navajo
Katherin Chase
Subject: Native American Easel Art
Item # C3906V
Date Published: 2002 Softcover, first edition
Size: 96 pages

SOLD
---
Publisher:
---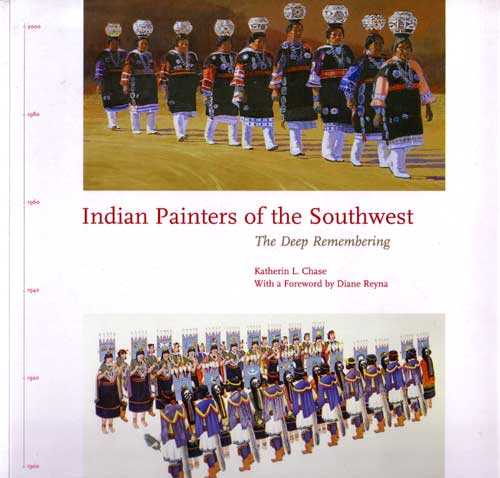 Click on image to view larger.
---