Indian Silverwork of the Southwest; General Series, Bulletin No. Eighteen [SOLD]
---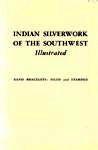 + Add to my watchlist

Forward to Friend
Harry P. Mera
Subject: Native American Jewelry
Item # B13
Date Published: 1945/08/01
Size: 15 pages

SOLD
Excerpt:
BAND BRACELETS: FILED AND STAMPED
THE SIMPLEST form of silver bracelet made by the native smiths of the Southwest, following their adoption of the craft, was, as far as present evidence goes, merely a flat band of metal decorated by means of filing or, more rarely, by incising. A little later, designs produced by stamping with homemade steel dies came into vogue. At a yet later date other techniques were employed to give rise to yet other styles. A discussion of these last, however, will be reserved for illustration and remarks at another time.
Although the first three mentioned methods cited above were the earliest practiced, it should not be thought that they were confined solely to the initial period of silverwork, as all have persisted to some extent and in some form to the present time.
Little exact data is available concerning the date when an additional embellishment was first attempted through the use of applied mounts holding settings of glass, abalone shell, unpolished garnets, turquoise and other oddments. A few references exist, as early as circa 1880, concerning the use of turquoise for such purposes. But from the scarcity of this type of adornment to be found on bracelets of manifestly early style, it appears unlikely that sets of any kind became particularly popular until around the beginning of the 20th century.
The examples here illustrated have been chosen to show a chronological development, extending from the most elemental forms to hose of greater complexity, as well as late survivals of some of the older decorative techniques. All are shown actual size.
Harry P. Mera
Subject: Native American Jewelry
Item # B13
Date Published: 1945/08/01
Size: 15 pages

SOLD
---
Publisher:
---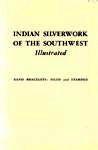 Click on image to view larger.
---