Masterworks and Eccentricities: The Druckman Collection; Navajo and Pueblo Jewelry and Metalwork 1880-1950 [SOLD]
---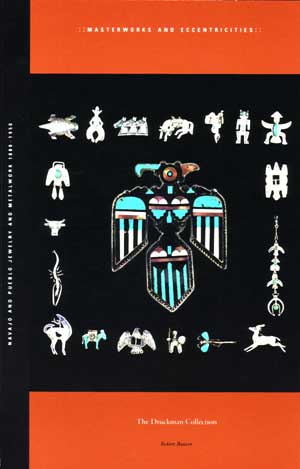 + Add to my watchlist

Forward to Friend
Robert Bauver
Subject: Native American Jewelry
Item # C4055ZA
Date Published: Soft cover, new condition, 2002
Size: 64 pages

SOLD
Masterworks and Eccentricities: The Druckman Collection; Navajo and Pueblo Jewelry and Metalwork 1880-1950
Robert Bauver
Publisher: Four Winds Publishing, 2002
Soft cover, 64 pages, new condition
From the Book:
"Intense, structured, with a guarded sense of whimsy." That's how Carl Druckman described his jewelry designs-and perhaps how he defined himself as well.
I met Carl, appropriately enough, at an antique show. Over the next fifteen years, we would spend countless hours in similar venues and pursuits. Our initial introduction came as we were both looking at an early Navajo concho belt. He showed me a Lalique stick pin he was carrying in his ever present shoulder bag. We started talking about jewelry and never stopped.
That first meeting occurred soon after Carl's return from London, where he had been enrolled in a course of studies on 19th and 20th century decorative arts offered by Sotheby Park Bernet & Co. His main focus then, as always, was on jewelry. But getting to know Carl meant learning about all his various interests, from fabric art to folk art. Visiting his many residences became an introduction to whatever new creative directions he was investigating. I recall being driven around Santa Fe in a car that can only be described as a rolling art installation.
Studying both diamonds and colored stones in residence with the Gemological Institute of America (GIA), Carl was certified as a Colored Stone Gemologist in 1980. His previous studies and energies coalesced in 1985 when Studio CLD came into being.
Studio CLD designed and produced fine jewelry and flatware. Its work, exhibited at national shows, gained immediate recognition for elegant simplicity. Bold design and prominent use of colored stones, in part influenced by southwestern jewelry, were the hallmarks of Studio CLD.
In 1990, Eclat:Paris heralded the studio with the following comments: "Gift for multiplicity of forms ...settings as lovely as the gemstones ...a master." A year later Studio CLD's Thunderbird pin was one of the winners of the Debeers Diamonds Today Award, and Carl received a Complimentary Exhibit space in the New Designer Gallery of Jewelers of America.
Studio CLD went on to be featured in articles appearing in many jewelry circulars, but Carl's alter ego remained that of a collector. He applied the same passion to the acquisition and study of Native American jewelry that he did to his own creations. After first compiling a substantial collection of early material, his interest would turn to the eccentric, figural jewelry and objects made for the tourist trade.
Early Navajo spoons and flatware in myriad forms and expressions of fancy were the focus of a collection that was one of the largest, most comprehensive assemblages of its type in the country. That flatware, now in the permanent collection of Wheelwright Museum in Santa Fe, recently played an important role in the first in-depth investigation of Navajo spoons and will likely serve as the basis for future studies as well.
It was during the search for Anglo-inspired, Indian-produced tableware that the related objects in this catalogue caught Carl's attention and entered his growing area of collecting.
Seeking only the very best and most unusual in the figural aspect, Carl's collection soon grew to include the intricate multistone inlay work done by the Zuni. Art and antique shows, auctions and older private collections were the primary sources for material. When, in his twilight years, retired trader C. G. Wallace, considered to have the greatest collection of Zuni jewelry, parted with a number of long held, family collection pieces, Carl was able to obtain them for his own. These pieces, along with silver and turquoise objects and jewelry obtained over many years, comprise the Druckman collection.
It had always been Carl's intention that this group of selected material be used for a traveling exhibition, accompanied by a book to inform collectors and dealers of the importance of these non-jewelry items in the history, development and chronology of southwestern art.
This catalogue will be that book. Carl's planned title has been used for the effort, and quotations from his original notes and manuscript appear in these pages. This project can only in small part fulfill his plans, but it has been done with him very much in mind. I hope he approves.
My thanks to Sue Siegel Laventhol, Carl's mother, for access to Studio CLD material and notes from interviews with Frank Vacit and Pat Kelsey, and for her long hours, dedication and commitment to making Carl's wishes a reality.
With all due respect,
Robert Bauver
Robert Bauver
Subject: Native American Jewelry
Item # C4055ZA
Date Published: Soft cover, new condition, 2002
Size: 64 pages

SOLD
---
Publisher:
---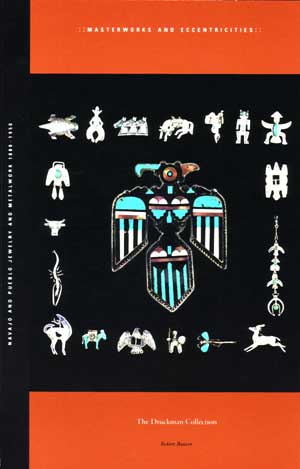 Click on image to view larger.
---