Milagros: Votive Offerings from the Americas [SOLD]
---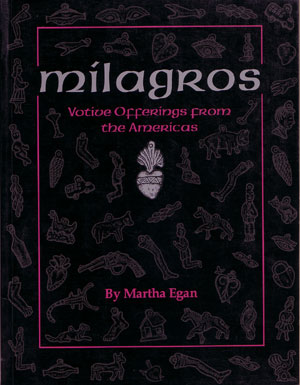 + Add to my watchlist

Forward to Friend
Martha Egan
Subject: Mexican Arts & Culture
Item # 0-89013-220-8
Date Published: 1991/05/01
Size: 119 pages
Price:

$19.95
From the Foreward:
Each year, on the twelfth of December, hundreds of thousands of pilgrims gather just outside Mexico City, at La Villa, to honor Nuestra Senora de Guadalupe, spiritual mother of Mexico and beloved patron of the Americas. Some have walked four or five days from their native villages, often crawling on their knees for the last portion of the trek. Indeed, for most, it is a journey of sacrifice. Among the devoted are dancers, masked and bedecked in neo-Aztec plumage and filled with energy and religious fervor. Musicians, often carrying musical instruments preHispanic in origin, are well represented. The music they make during the day and late into the night serves as their community's offering to Our Lady. Still other pilgrims, some from as far away as California and Guatemala, have brought gifts of a different sort-elegant floral mosaics depicting the Virgin s miraculous apparition to the Indian Juan Diego in 1531. Candles, fruits, and cut flowers are among the more common gifts, while young women offer their precious braids in appreciation of found love. All of these offerings are part of the major force that drives folk religion in Latin America-la promesa, the vow. La promesa is a reciprocal contract, a covenant, if you will, between the believer and a sacred figure, usually a popular manifestation of a saint, the Virgin, or Christ. In return for favors granted -a saved marriage, a child restored to good health, an economic gain, a catastrophe averted-the faithful make solemn vows of reciprocity: to go on a difficult and costly pilgrimage, to dance hard and long at sacred shrines, to commission paintings that testify to the efficacy of a saint's powers. La promesa is universal in Latin America, and its bifurcated roots are pre-Columbian and European....
Martha Egan
Subject: Mexican Arts & Culture
Item # 0-89013-220-8
Date Published: 1991/05/01
Size: 119 pages
Price:

$19.95
---
Publisher:
---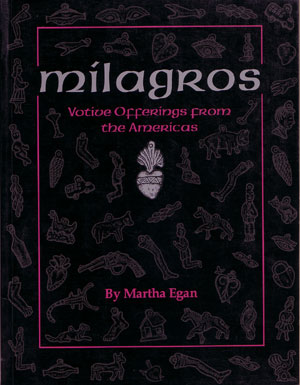 Click on image to view larger.
---