Nacimientos: Nativity Scenes by Southwest Indian Artisans - Autographed [Hardcover] [SOLD]
---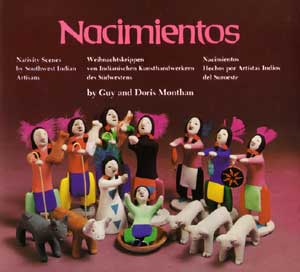 + Add to my watchlist

Forward to Friend
Guy and Doris Monthan
Subject: Native American Pottery
Item # C3590F
Date Published: 1979 First Edition - Autographed
Size: 93 pages

SOLD
Nacimientos: Nativity Scenes by Southwest Indian Artisans by Guy and Doris Monthan
First Edition, hardcover with jacket, 1979. This is an out of print, autographed copy of the book. Full-color illustrations of Nativity sets.
This book is presented simultaneously in three different languages: English, German and Spanish.
From the Jacket:
NACIMIENTOS is the first comprehensive work on a new phenomenon among America's Southwest Indian artists—the making of Nativity scenes. This universally popular art form first emerged among Indian artists in the late 1950s. Although only two or three artists were engaged in the craft in the early 1960s, the authors discovered that there are now more than three dozen. The book presents more than thirty color reproductions of these charming and unique creations by seventeen artists representing ten pueblos and tribes. Each scene reflects the customs and culture of the artist's own pueblo or tribe. Included are biographies of each artist represented and a list of twenty additional artists. The introduction traces the 2,000-year-old history of the Nativity scene, as well as its recent development among Indian artists.
This copy is autographed by the authors, Guy and Doris Monthan, and the following artists: Manuel Vigil of Tesuque Pueblo, Dorothy Trujillo of Cochiti Pueblo, Felipa Trujillo of Cochiti Pueblo, Juana Leno of Acoma Pueblo, Ethel Shields of Acoma Pueblo, Marie G. Romero of Jemez Pueblo, Tom W. Yazzie of Navajo Tribe, Reycita Garcia of San Juan Pueblo, Paul and Dorothy Gutierrez of Santa Clara Pueblo, Margaret Gutierrez of Santa Clara Pueblo, Maria I. Naranjo of Santa Clara Pueblo, Alma Concha of Taos Pueblo, Seferina Ortiz of Cochiti Pueblo, Aurelia Suina of Cochiti Pueblo, Mary E. Toya of Jemez Pueblo, Lupe Lucero of San Felipe Pueblo, and Martha Mirabal of Santa Clara Pueblo.
Condition: excellent condition with slight abrasion to jacket
Guy and Doris Monthan
Subject: Native American Pottery
Item # C3590F
Date Published: 1979 First Edition - Autographed
Size: 93 pages

SOLD
---
Publisher:
---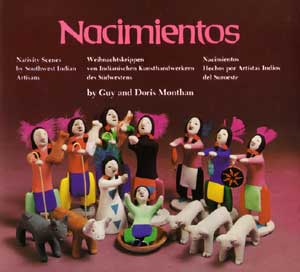 Click on image to view larger.
---