Navajo Weaving in the Late Twentieth Century—Kin, Community and Collectors [SOLD]
---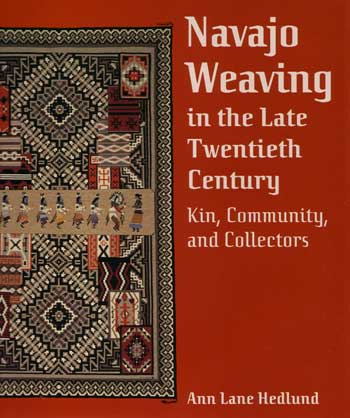 + Add to my watchlist

Forward to Friend
Ann Hedlund
Subject: Native American Textiles
Item # C3913i
Date Published: First edition, hard cover with slip jacket, 2004.
Size: 147 pages

SOLD
Navajo Weaving in the Late Twentieth Century-Kin, Community and Collectors
By Ann Lane Hedlund
Publisher: The University of Arizona Press, Tucson
First edition, hard cover with slip jacket, 2004. 147 pages, beautifully illustrated in color
Contents
The Collecting Enterprise
The Santa Fe Collectors
Navajo Weaving 1971-1996
The Santa Fe Collection
Introduction
Sheep Colors; Two Grey Hills and Burnham
Plant Colors: Crystal, Wide Ruins, and Burntwater
A Preference for Reds: Ganado, Klagetoh, and Pinon
Looking Back: Chief-Style Blankets and Revivals
Looking to the East: Teec Nos Pos
Storm Patterns
Scenes from Ceremonies: Ye'ii, Ye'iibicheii, and Sandpaintings
Looking Around: Pictorials
Small Rugs
Samplers
From the Jacket
According to the Navajos, the holy people Spider Man and Spider Woman first brought the tools for weaving to the People. Over the centuries, Navajo artists have used those tools to weave a web of beauty-a rich tradition that continues to the present day.
In testimony to this living art form, this book presents 74 dazzling color plates of Navajo rugs and wall hangings woven between 1971 and 1996. Drawn from a private southwestern collection, they represent the work of sixty of the finest native weavers in the American Southwest. The creations depicted here reflect a number of styles-revival, sand-painting, pictorial, miniature, sampler-and a number of major regional variations, from Ganado to Teec Nos Pos.
Textile authority Ann Hedlund provides an introductory narrative about the development of Navajo textile collecting-including the shift of attention from artifacts to art-and a brief review of the history of Navajo weaving. She then comments on the shaping of the particular collection represented in the book, offering a rich source of knowledge and insight for other collectors.
Ann Hedlund
Subject: Native American Textiles
Item # C3913i
Date Published: First edition, hard cover with slip jacket, 2004.
Size: 147 pages

SOLD
---
Publisher:
---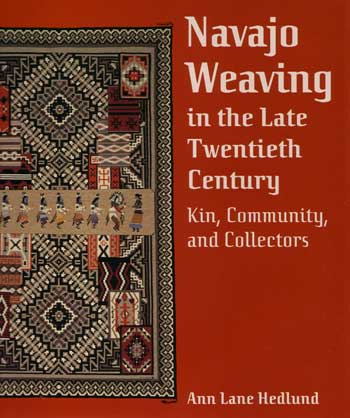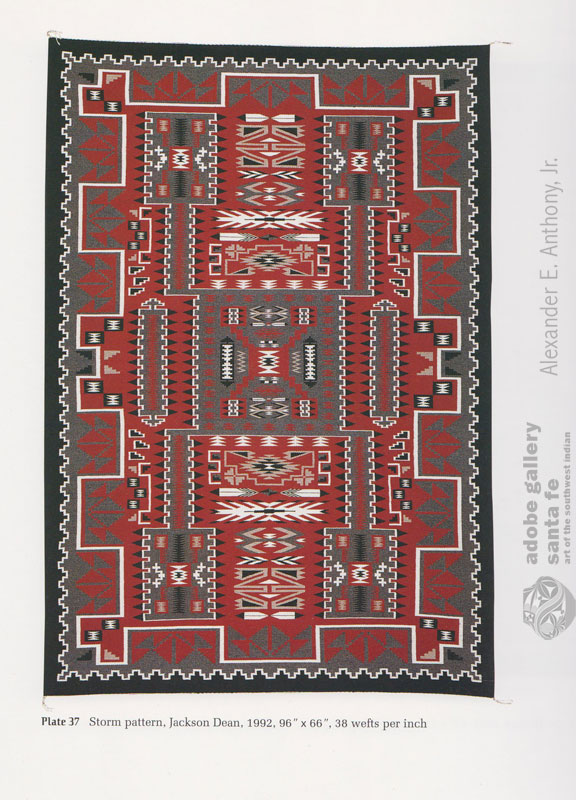 Click on image to view larger.
---