Paint the Wind [SOLD]
---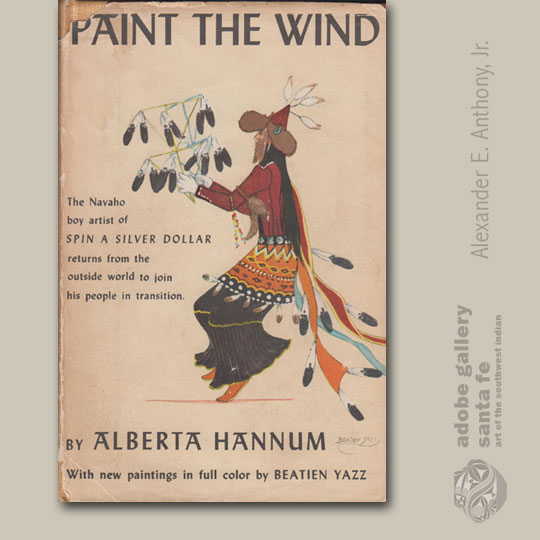 + Add to my watchlist

Forward to Friend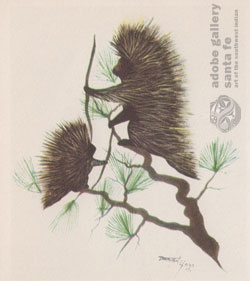 PAINT THE WIND
Published by The Viking Press
Illustrations in full color by Beatien Yazz
Hardcover with jacket, first edition, 1958, 206 pages
Condition: very good condition with dedication on first flyleaf page:
To my darling husband Edwrd K. Aldworth on our first trip to New Mexico 10-14-74.
From the Jacket
When Alberta Hannum's Spin a Silver Dollar appeared in 1945, it made many thousands of friends for a uniquely appealing little Navajo Indian boy who, an untaught child living on a reservation in the Southwest, displayed an amazing talent as an artist. Around the Wide Ruins trading post he was known as Jimmy Toddy, but he signed his exquisitely original paintings with his Navajo name, Beatien Yazz - Little No-Shirt.
Since the publication of Spin a Silver Dollar, Jimmy Toddy has seen service in the United States Marines (in which he enlisted by subterfuge at sixteen) and left his boyhood behind him in the Pacific. Now, in response to countless queries, Paint the Wind continues Jimmy's story. It tells of the young artist's return from an alien way of life to the ancient mores of his people in an era of transition; of his attempt to live as a loyal Navajo in the world of the white man; of his falling in love with a girl of his own people; of the difficulties caused by the clash of sophisticated aspirations with the simpler, more earth-bound aims of the Navajo. It is also a revelation of increasing maturity expressed in art, and of a conflict admirably met by a most unusual human being.
Spin a Silver Dollar has the emotional appeal which pervades the story of an especially gifted childhood; Paint the Wind, written with the same deep understanding and sympathy which marked the former book, and against the rich background of Navajo customs and religious rites, has the deeper poignancy which attaches to adolescence in conflict.
The book is enriched by eight pages of full-color reproductions of Jimmy Toddy's later paintings.
Alberta Pierson Hannum (1906-1985)
Subject: Native American Easel Art
Item # 0670535168
Date Published: Hardcover with jacket, first edition, 1958
Size: 206 pages

SOLD
---
Publisher:
---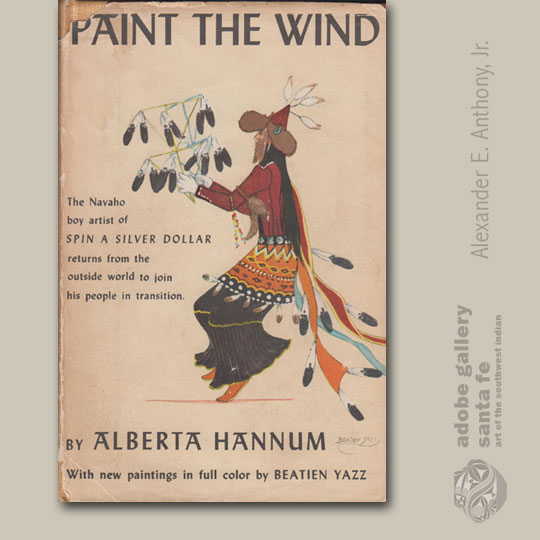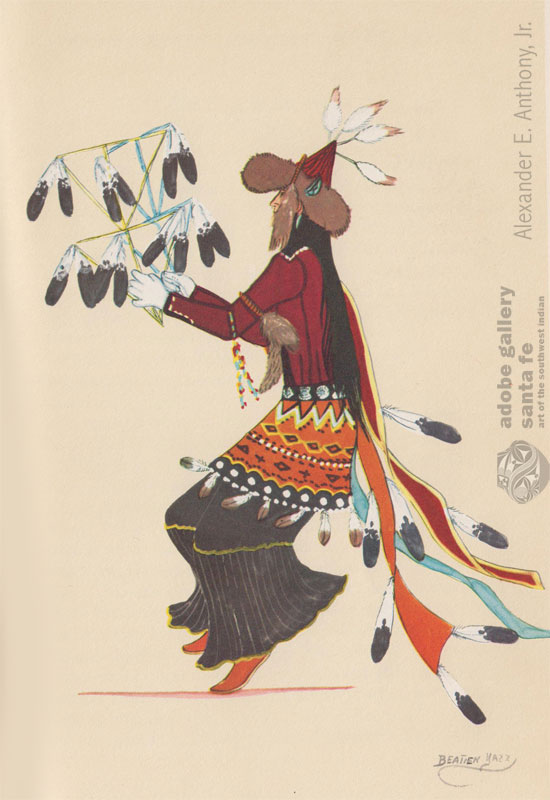 Click on image to view larger.
---