PRESERVING A TRADITION Traditional Style Katsina Dolls [SOLD]
---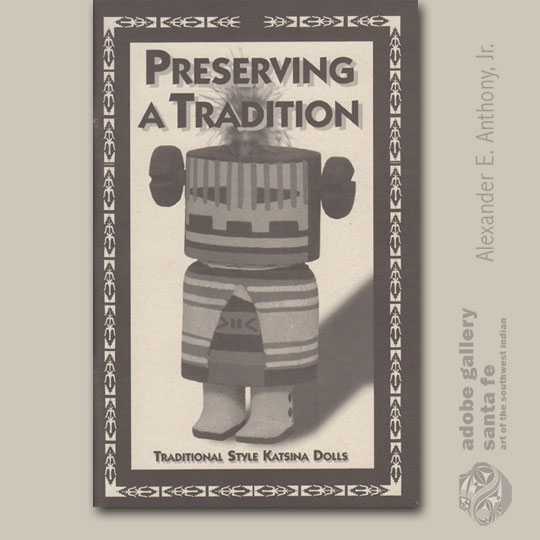 + Add to my watchlist

Forward to Friend
Phyllis Hogan
Subject: Katsina and Other Dolls
Item # C4025Y
Date Published: Softcover, staple bound, 1996
Size: 50 pages

SOLD
PRESERVING A TRADITION Traditional Style Katsina Dolls
Text by Jonathan Day
1996. Winter Sun Trading Company.
Softcover, staple bound, 50 pages, monotone photographs
In this booklet, traditional style katsina dolls are shown that were made by Hopi artists Manuel Denet Chavarria, Jr., Bertram Tsavadawa, Fred Ross, Philbert Honanie, and Larry Melendez. Although the carvings are contemporary, they all were executed in the traditional style of the early 20th century. They were all made from cottonwood root and painted with mineral paints. There are 34 katsina dolls illustrated, each on a full page with text.
From the Introduction:
The Hopi have inhabited northern Arizona for more than a thousand years. During that time they have persevered while many north American tribes have all but lost their culture and religion. One example of this accomplishment is the katsina doll or Katsin Tihu. At a katsina dance these dolls are given as gifts to Hopi girls by the Katsinum as a way to teach Hopi children about their religion and to allow them to be more involved at an early age.
Today these figures are also carved for monetary gain, and they are often an artist's only source of income. Modern dolls are made in a variety of styles, some may be abstract representations, others may be ultra-realistic action dolls, while others are made in the more traditional style. Imitation dolls also flood the market. Made in assembly line fashion, these dime-store reproductions are manufactured from different materials and do not resemble existing katsinum. In fact these counterfeits have no significant monetary or spiritual value, yet the misinformed tourist is often swindled. The Hopi have long opposed this practice, but have not yet been able to stop it.
The dolls featured in this book are by five talented Hopi artists. Made from cottonwood root and painted with mineral pigments, these dolls closely resemble those made around the turn of the century. All are examples of the recent revival in traditional-style doll carving. Most of these carvers originally made contemporary dolls, but intense competition in the marketplace led them to begin making dolls similar to those their grandparents have been carving for ceremonies since the early 1900s.
Phyllis Hogan
Subject: Katsina and Other Dolls
Item # C4025Y
Date Published: Softcover, staple bound, 1996
Size: 50 pages

SOLD
---
Publisher:
---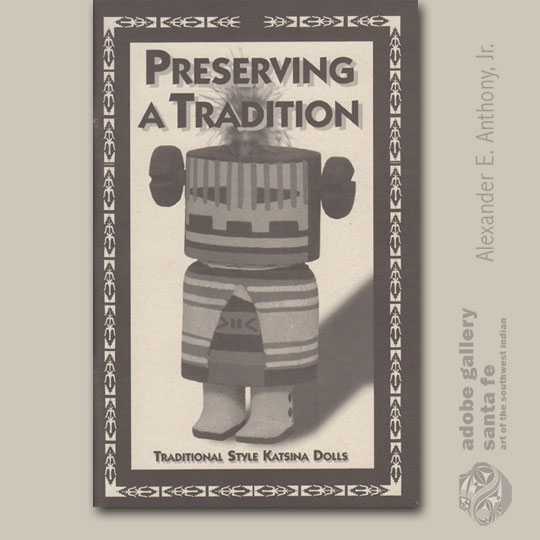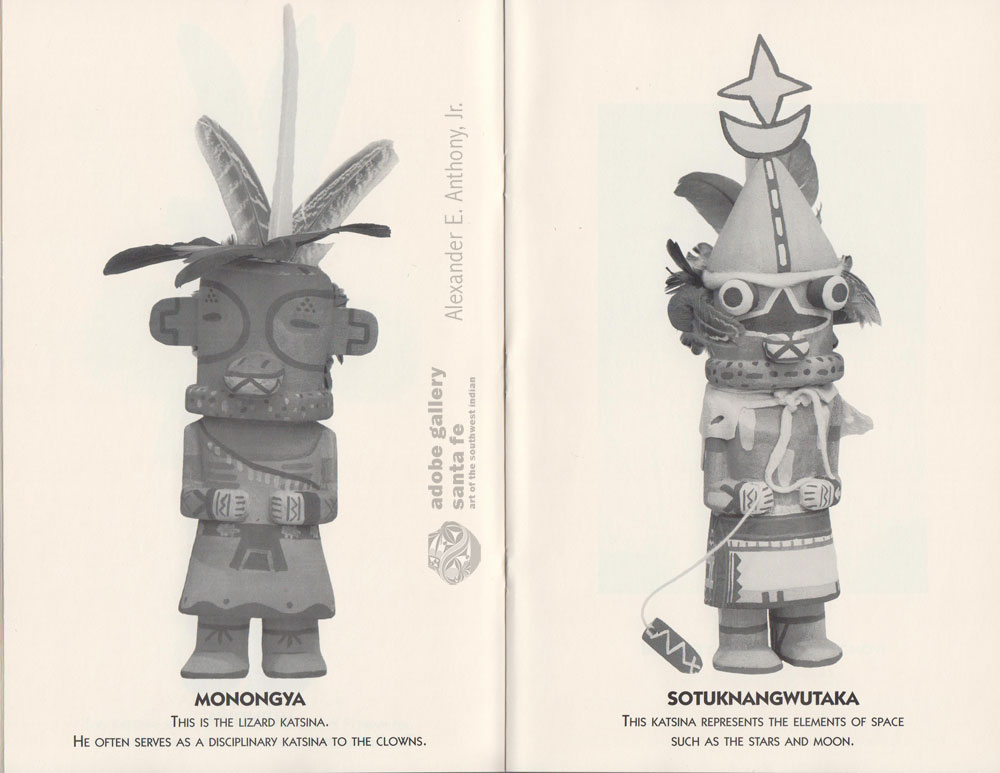 Click on image to view larger.
---