Pueblo Designs: 176 Illustrations of the Rain Bird [SOLD]
---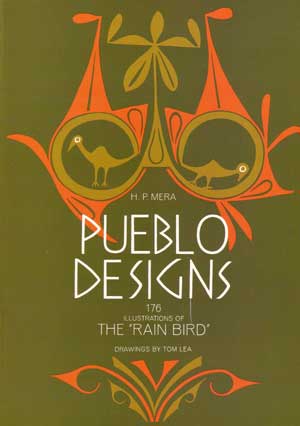 + Add to my watchlist

Forward to Friend
Harry P. Mera
Subject: Native American Pottery
Item # C4053X
Date Published:
First edition published by Laboratory of Anthropology, Santa Fe, 1938;
This softcover edition published by Dover Publications, Inc. 1970
Size: 113 Pages

SOLD
Pueblo Designs 176 Illustrations of the Rain Bird
By H.P. Mera
The first edition published by the Laboratory of Anthropology, Santa Fe, 1938
This softcover edition published by Dover Publications, Inc. 1970

CONTENTS
Prehistoric origins
The Zuni "Rain Bird"
Use in Acoma
Use in Laguna
Use in Tsia
Use in Santa Ana
Use in San Ildefonso
Use in Tesuque
Use in Cochiti
Use in Santo Domingo
Conclusions
Bibliography

From the Back Cover:
The magnificent decorative art of the Southwestern Indians displays a seemingly endless variety of design that is in reality derived from a few fertile elements. One of these elements is the "Rain Bird, " a beautiful and infinitely adaptable motif that first appeared on Zuni pottery about 1700 and has been one of the distinctive figures of Pueblo design ever since. The evolution of this figure and its numerous later forms are shown here in 176 drawings, copied from vessels from all phases of Pueblo art.
The 48 plates (26 in two colors) trace the motif from its prehistoric origins to the present day. The early plates show how the random arrangement of dots and lines characteristic of ancient Pueblo design grew into two contemporaneous but separate styles-the geometric designs on Tularosa pottery, and the bird-like figures on Mesa Verde vessels. Other plates illustrate the fantastically elaborate and highly conventionalized bird forms in Sikyatki pottery; the composite "Rain Bird, " motif of Zuni pottery, the culmination of all previous styles; and the development of the figure, with local variations, in the Hopi villages, Acoma, Laguna, and the Rio Grande pueblos of Tsia, Santa Ana, San Ildefonso, Tesuque, Cochiti and Santo Domingo.
In an introductory essay, touching on such areas as the phases of Pueblo culture and Pueblo ceremonial symbolism, the author shows how the characteristics of each of the different Pueblo cultures are represented in the various adaptations of the "Rain Bird, " motif. An outstanding contribution to our appreciation of native American art, this book is also a treasury of rich, powerful design that will considerably enlarge the decorative resources of ceramists, workers in wood, weavers, metalworkers, leatherworkers and commercial artists.
Harry P. Mera
Subject: Native American Pottery
Item # C4053X
Date Published:
First edition published by Laboratory of Anthropology, Santa Fe, 1938;
This softcover edition published by Dover Publications, Inc. 1970
Size: 113 Pages

SOLD
---
Publisher:
---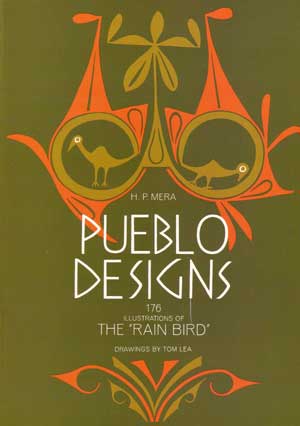 Click on image to view larger.
---