Rain - Native Expressions From the American Southwest
---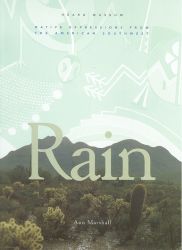 + Add to my watchlist

Forward to Friend
Ann Marshall
Subject: Native American: General
Item # 0-89013-344-1
Date Published: 2000/08/01
Size: 144 pages. Profusely illustrated in color.

SOLD
Rain explores the synergetic relationship between rain and the indigenous peoples of the arid and semi-arid Southwest. From prehistoric to contemporary times. the O'odham, Hopi, Zuni, Rio Grande Pueblos, Diné, and Indé cultures have welcomed rain into their lives and land, praying for its blessing through ceremony and creative expression. Many expressions of rain and water focus on rain's essential relationship to fertility and fecundity, to the generation and flourishing of life in all forms. Others are intended to be temporary: body paint on a ceremonial participant or the pigments of a sandpainting. Song, poetry, and prayer petition the spirits and celebrate rain's blessings.
The exemplary collection of the Heard Museum in Phoenix provides rich stores of cultural art objects representing the Hopi, Zuni, and Rio Grande Pueblos, the Tohono O'odham, and the Indé and Diné tribes. Hopi eagle dancers wear kilts decorated with cloud and rain symbols, and Hopi water maiden katsinas are crowned with rain-cloud headpieces. Zuni water jars depict the important water symbol the dragonfly. Santa Clara blackware features the avanyu figure, or horned water serpent. A painting of San Ildefonso's Cloud Dance details its participants wearing rain sashes and stepped cloud headpieces. Cochiti drums beat the thunder that comes with rain. A Tohono O'odham wine basket is used during the rain ceremony to hold saguaro wine. Diné ceremonial baskets are used in the prayer for rain, and Diné storm pattern textiles illustrate the Water Meeting Place at the center of the Whirling Logs, where sacred corn, beans, squash, and tobacco are grown. Zigzag lightning designs dance around the Indé winnowing tray, and an Indé abalone shell pendant recalls White Shell Woman and the tribal story of the flood.
Paintings, textiles, pottery, baskets, sculpture, katsinas, musical instruments, jewelry, and other artifacts and art objects express in form, decoration, or function some aspect of the desert tribes' intimate relationship to the primal power of life-giving, life-sustaining rain.
Ann Marshall
Subject: Native American: General
Item # 0-89013-344-1
Date Published: 2000/08/01
Size: 144 pages. Profusely illustrated in color.

SOLD
---
Publisher:
---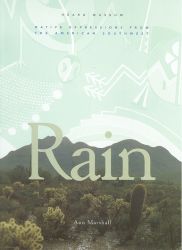 Click on image to view larger.
---