RICK DILLINGHAM 1993 Distinguished Artist Award [SOLD]
---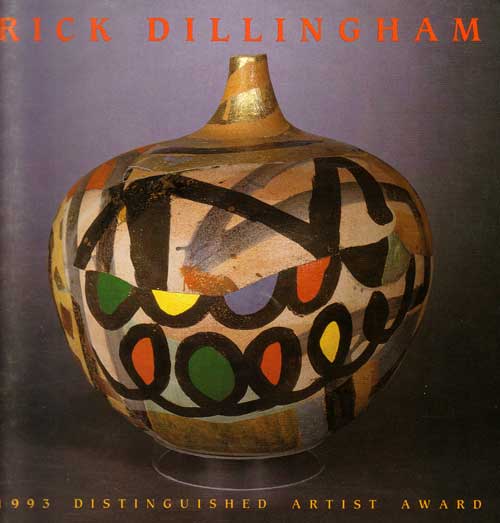 + Add to my watchlist

Forward to Friend
RICK DILLINGHAM 1993 Distinguished Artist Award
The Rotary Club of Santa Fe
Introduction by Linda Durham
Rick Dillingham by Tom Collins
Rick Dillingham: A Symphony of Shards by Garth Clark
More than the Senses Can Absorb by Jan Ernst Adlmann
Rick Dillingham: An Appreciation by MaLin Wilson
The Santa Fe Rotary Club's Distinguished Artist Award is issued "To recognize a living visual artist from Santa Fe and environs who has achieved national distinction." Rick Dillingham was awarded this honor in 1993.
Dillingham is best known for his wonderful pottery vessels that were constructed, fractured, and reassembled in the likeness of broken prehistoric pueblo pottery being discovered in excavations in the Southwest. He was fascinated with pueblo pottery, be it prehistoric, historic or contemporary.
He began his experimentation with fractured and reassembled pottery while a student at the University of New Mexico in the early 1970s. He would construct a vessel, break it apart, paint each individual shard and then reassemble the pieces using black mastic that would be visible between the fragments. Supposedly, early in his career, Dillingham accidentally broke one of his ceramic pieces and decided to patch it back together, thus determining his path as an artist for the remainder of his career. He dispelled the prevailing thought that breakage of an art object was the end of that object. For him, it was a beginning.
Dillingham built his vessels in the traditional pueblo fashion of coils, not using a potter's wheel.
Rick Dillingham was born in Lake Forest, Illinois in 1952 and died in Santa Fe, 1994. Dillingham, a master ceramicist, received his Bachelor of Arts at the University of New Mexico, Albuquerque in 1974. His Master of Fine Arts was completed in 1979 at California's Claremont College of Arts and Crafts. A recipient of several National Endowment for the Arts Visual Artist Fellowships, Dillingham was renowned for his work in contemporary ceramics and for his scholarship of the pottery traditions of the North American Indian.