The American Indians of Abeita "His People" [SOLD]
---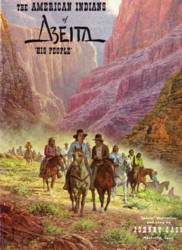 + Add to my watchlist

Forward to Friend
Edna & John Bennett
Subject: Native American Easel Art
Item # B00005VDAO
Date Published: 1976/01/01
Size: 72 pages

SOLD
From the Introduction: This magnificent book is about an artist, his family and friends; their ways of life and the beauty of their land. Jim Abeita is a fine artist. He is a full-blooded Navajo Indian who paints pure pictorial documentaries created from his own first hand knowledge of his subject, portrayed so vividly and accurately that we must qualify Jim Abeita as a reliable historian.
Jim Abeita's paintings hold no mystical or hidden messages. No need to ask: what is this artist trying to tell me-about his emotions-about life-about himself? Is he succeeding in telling me his story-do I understand what he is trying to tell me-and why? No mental challenges or sensual fatigue with Jim Abeita's paintings because his art is pure and absolute realism. He paints everything he sees-as he sees it-easily and naturally. The more we see of Jim and his art the more we believe he comes closest to being a "born natural artist than anyone we know. "
Our first exposure to the art of Jim Abeita was at the 1972 All Indian Inter-Tribal Ceremonials, Gallup, New Mexico. His painting, "Navajo Peyotism," was the Grand Prize award winner. It was the first time the young Navajo artist had exhibited in a competitive show. We met Jim Abeita, for the first time, two years later, at the 1974 Tanner's All-Indian Invitational show, Scottsdale, Arizona, where his paintings were awarded top honors. "Last Minute Polish," received the Grand Prize of the show, it was at this time I decided to use it for the cover painting of the 1974 August issue of Arizona Highways Magazine.
Today, in May of 1976, it is difficult for us to realize that the quiet, serene-souled, soft-voiced young Indian we met in '74 is the source for the genius and drive represented in the superb color reproductions of this book. We don't usually use the word "genius" loosely. In this case the genius of our young Indian friend is reflected from every page.
At 28, Jim Abeita has mastered his technique. His genius goes far beyond the limits of mere technique. Here genius indicates a perfection of technique-plus something else-the artist's native temperament, to feel as a Navajo, with the inborn, instinctive sensitivity to feel about their ways and their environment; both apart from and unlike the rest of humanity and the geography of this planet.
Jim Abeita admits his marked racial temperament and maintains strongly its identity and validity. He enters into the world of his people, their ways and places with the same sense that they enter into him. No other Indian artist paints Navajo people, horses and action like Jim Abeita. There have been some great names in the roll of Navajo artists: Harrison Begay, Quincy Tahoma, Gerald Nailor, Andy Tsinhnahjinnie, Beatien Yazz, Tony Begay, all especially noted for their traditional poetic portrayals of the Navajo and his "beautyways." Adee Dodge, one of the most prolific Navajo artists is collected for his spirit horses and fastidiously drawn interpretations of Navajo myths and legends. Internationally acclaimed Navajo contemporary, R.C. Gorman, wants but a faint recollection of reservation days and ways as he continues to please a sophisticated clientele using non-Indian techniques.
Jim Abeita's art is distinctively distinguished by accurate and meticulous rendering of detail. Everything is clearly defined and stated.
In the general overall universe of art, Indian art is as a galaxy of newly discovered stars, undefinable [sic] to many experts, but undeniably coming through the haze of categories, definitions, and establishment boundaries as influenced by geographical, ethnic and social-political backgrounds.
We believe that art basically lives and dies in but two categoric divisions-"good art" and "bad art." The art of Jim Abeita is good art executed to the superlative degree of Indian, Navajo, Western and American art standards.
We don't know of many artists with steam enough to go at full throttle for a lifetime. Jim Abeita has come a long way since 1972 and we honestly believe he has what it takes to go all the way to the apex of greatness in his chosen field. At 28 he is certainly blessed with a better-than-average touch of greatness, sometimes translated by non-Indians as divine inspiration, no mean birthday gift in itself. Either you haven't got it, or you haven't learned to manage it, or it works only under special conditions, or for some obscure emotional or physical reason your nervous mechanism will not carry a charge of sufficient intensity to command attention.
Jim Abeita's art is "off the pad" and into a dominant attention-compelling orbit. The reproductions especially selected for this book are only part of Jim Abeita's five-year artistic output. They speak most eloquently for Jim Abeita, the Indian people, and their wonderful, wonderfilled land.
-Joseph Stacey
Edna & John Bennett
Subject: Native American Easel Art
Item # B00005VDAO
Date Published: 1976/01/01
Size: 72 pages

SOLD
---
Publisher:
---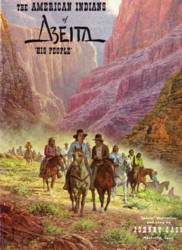 Click on image to view larger.
---