The Saint Makers: Contemporary Santeras y Santeros (SOLD)
---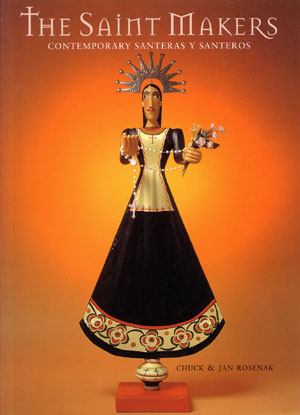 + Add to my watchlist

Forward to Friend
Chuck and Jan Rosenak
Subject: Hispanic Arts & Culture
Item # 0-87358-718-9
Date Published: 1998/08/01
Size: 154 pages

SOLD
From the Back Cover:
Written by American Folk-Art experts Chuck and Jan Rosenak and meticulously illustrated with nearly a hundred photographs,
The Saint Makers:Contemporary Santeras y Santeros
is a thorough exploration of the contemporary evolution of religious folk art, or santo making, in the American Southwest. The works of forty of today's master santeras and santeros are appreciated today in venues as diverse as Northern New Mexico churches, New York galleries, and the collections of the Smithsonian, the Museum of International Folk Art, and the Maxwell Museum.
These santeros--and more recently, santeras--have always helped the faithful, attempted to lead saintly lives, expressed simple truths and virtues in their art, and looked to saints and angels for intercession and protection. Steeped in Hispanic and family influences and personal purpose, the artists presented in this book share the visions that have changed their lives and, in doing so, lead us into the renaissance of religious art in America.
This book contains a historical overview of this tradition dating back to the 1600s, as well as vivid and concise biographies of and interviews with each artist; photographs of a generous selection of the best santos of this a generous selection of the best santos of this century; a detailed guide to galleries and museums exhibiting the bultos, retablos, and reredos of these devoted artisans; a guide to locating the santeros and santeras themselves; and glossaries of the saints and terms essential for a full understanding and appreciation of this burgeoning tradition.
Chuck and Jan Rosenak
Subject: Hispanic Arts & Culture
Item # 0-87358-718-9
Date Published: 1998/08/01
Size: 154 pages

SOLD
---
Publisher:
---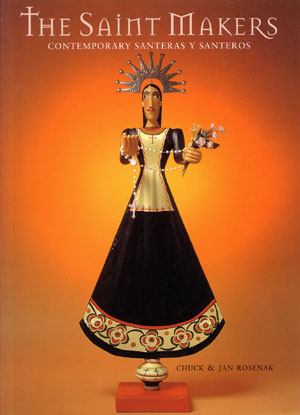 Click on image to view larger.
---