Turquoise Jewelry of the Indians of the Southwest [SOLD]
---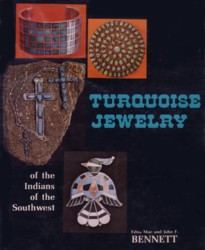 + Add to my watchlist

Forward to Friend
Edna & John Bennett
Subject: Native American Jewelry
Item # 0917834011
Date Published: 1969/12/01
Size: 148 pages

SOLD
1973. Turquoise Books.

From the Back Cover

The Bennetts have written and lavishly illustrated a book about the various and intricate Indian styles, traditions and values in their turquoise jewelry. It tells something about the work of the different tribes or pueblos (why the Navajo traditionally produce massive simple jewelry while the Zuni are most at home with delicate and intricate work, etc.). It gives an insight into the many different kinds of things the Southwestern Indians make out of this beautiful stone and tells about the several kinds of turquoise, the silver work that. displays much of it, and what to look - and look out - for.

This is a book for one who wants a good, sound, overall picture of the field. After reading it and looking at the numerous illustrations one will not automatically become an expert, but one will have some fascinating information to enjoy or to help select good Indian craftsmanship.

The Indians making silver and turquoise work today fall easily into several groups, each of which has its own traditions and its own specialties. And the way they handle turquoise (and the silver in which it is so frequently mounted) also falls into a number of well defined techniques. Some basic understanding of these things adds greatly to the appreciation of a piece you may be holding in your hand and examining.

Preparation of this book involved many years of travel through the four corners states of Arizona, New Mexico, Utah and Colorado, and especially through Arizona and New Mexico where the bulk of the work is done. It also involved visits with Indians themselves, trips to their homes and workshops, talks with collectors and with dealers as well - as on the spot examination of a number of the turquoise mining operations as they exist today.

You will also find a bibliography of good books on various phases of the subject, although there is no other book at present which tries to do quite what this one does. The forty pages of color plates containing some one hundred three individual color photographs and the fifty-one black and white photographs give a feeling for the range of jewelry you will encounter in this field. Those who are interested in a more detailed study of the history of turquoise, its use, its meaning to the Indians and its mythology (all of which are indeed touched on in this book) are referred to Edna Mae Bennett's Turquoise and the Indian, published by Swallow Press, Chicago, Illinois.
Edna & John Bennett
Subject: Native American Jewelry
Item # 0917834011
Date Published: 1969/12/01
Size: 148 pages

SOLD
---
Publisher:
---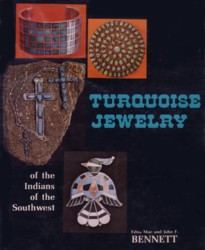 Click on image to view larger.
---