Visions and Voices: Native American Painting from the Philbrook Museum of Art [SOLD]
---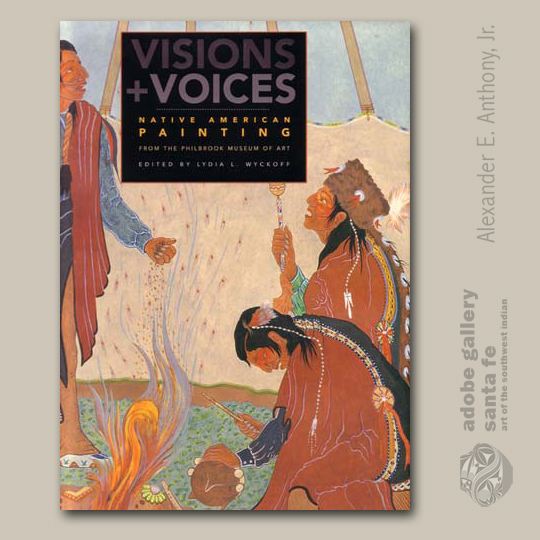 + Add to my watchlist

Forward to Friend
Suzanne Abel-Vidor, et al
Subject: Native American Easel Art
Item # C4191M
Date Published: Hardback with slip cover, first edition, 1996, oversize
Size: 304 pages, beautifully illustrated. New.

SOLD
VISIONS + VOICES—Native American Painting from the Philbrook Museum of Art
Edited by Lydia L. Wyckoff
Publisher: Philbrook Museum of Art, Tulsa
Hardback with slip cover, first edition, 1996, oversize, 104 pages, beautifully illustrated. New
From the Jacket:
NATIVE AMERICAN PAINTING of the twentieth century has its origins in the decoration of prehistoric pottery, clothing, wood, and hide objects, and in pictographs and petroglyphs painted or inscribed on rocky hillsides. After Native contact with European Americans, Indian art absorbed influences from white culture, and the materials used for painting began to include paper, inks, pencils, and commercial pigments. Although we sometimes think of Native tribal culture as a single, monolithic civilization, in fact Native cultures existed on the North American continent in an astounding variety. Both before and after the arrival of the Europeans on the continent, tribal groups traded ideas and resources among themselves and this too influenced the development of their art.
As an ever-growing tide of European-Americans expanded westward, Native American cultures entered a period of rapid and often violent transition. Painting that once had served decorative or record-keeping functions, or had betokened status or personal history, now took on a new set of functions: it preserved the past in nostalgic ways, it taught Native youths about their heritage, and it embodied messages about the experience of Native life in modern multi-cultural America.
The 484 paintings shown in this book, all from the collection of the Philbrook Museum of Art in Tulsa, Oklahoma, reflect many major influences on Indian art. From a ledger-style painting of the Battle of Little Bighorn (c. 1892) to a canvas that expresses a Native view of the Vietnam War (c. 1971), the range of imagery is amazingly broad.
The text of the catalogue section of the book comes primarily from the actual words of artists represented in the collection, and those of their friends and families, gathered through interviews. Together, these narratives and the beautifully reproduced body of paintings tell the fascinating story of Native American painting in modern America.
Among the Native American artists represented in the Philbrook Museum collection and this publication are: Narciso Abeyta, Cresencio Martinez, Jose Vicente Aguilar, Julian Martinez, Spencer Asah Waldo Mootzka, James Auchiah, Stephen Mopope, Fred Beaver, Gerald Nailor, Harrison Begay, and Tonita Pena.
Suzanne Abel-Vidor, et al
Subject: Native American Easel Art
Item # C4191M
Date Published: Hardback with slip cover, first edition, 1996, oversize
Size: 304 pages, beautifully illustrated. New.

SOLD
---
Publisher:
---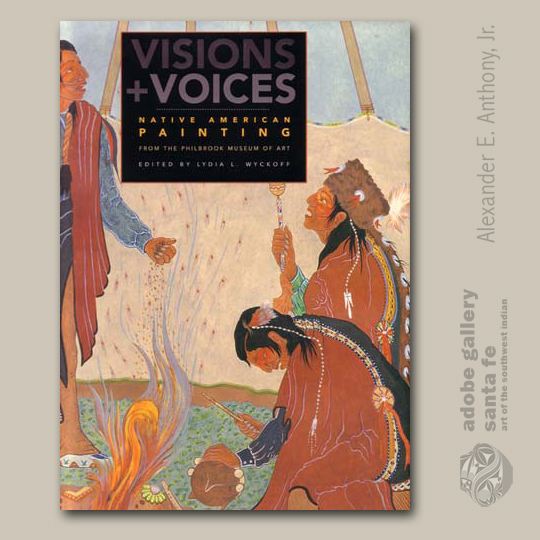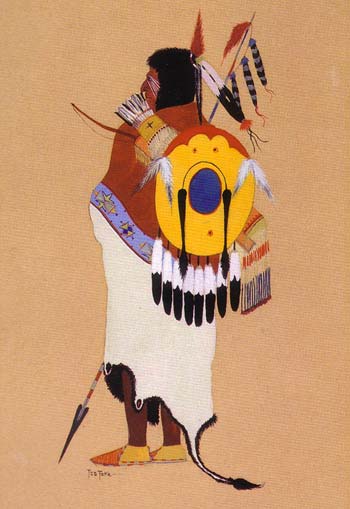 Click on image to view larger.
---