Zuni: The Art And The People (SOLD)
---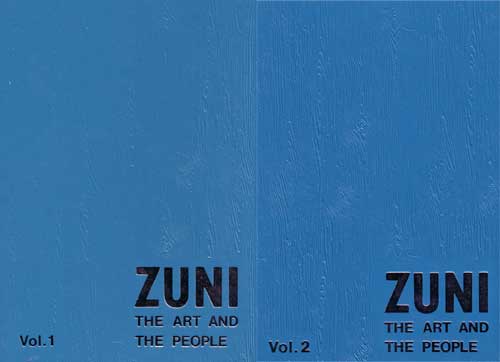 + Add to my watchlist

Forward to Friend
Ed and Barbara Bell
Subject: Native American Jewelry
Item # B83
Date Published: 1975/12/01
Size: 3 volumes

SOLD
Excerpt From the Introduction of Volume I
We hope to present examples of Zuni craftsmanship that will enable you to better judge and evaluate the Zunis' products. Our terminology may be at variance with some you have previously heard used in describing a particular type of work, but this is true even among the Indians. Unfortunately, the entire Indian jewelry business has been invaded by mass produced, often non-Indian-made jewelry. However, much of the finest Zuni jewelry does not lend itself to imitation by the non-Indian craftsman in this country; Too Much painstaking work is involved in really fine needlepoint, inlay work and fetish making to appeal to these people. Some of the fast-buck operators are now having copies made in places like Taiwan and other parts of the Far East. None of this work which we have seen will stand close comparison with the genuine product, and we hope the pieces herein are illustrated well enough to afford you a means of comparison.
The buying of genuine Indian jewelry can best be done through a reputable dealer or trader. Any of the pieces shown may be ordered, but don't expect return-mail delivery. Fortunately, most of the best artists still work at their own pace and a particular piece on special order may take several months. In spite of a constant barrage of traders knocking on their doors, they still take time to do other things like farming, ranching, going hunting or on a picnic. The fact that this annoys some of the traders doesn't seem to worry them.
The artists shown in this book, with one exception, are all still active and represent over 1,100 years of combined experience in the art of making jewelry and fetishes. Many, but not all, of the good silversmiths in Zuni put their mark on their work. In some cases, they have changed their mark over a period of time for one reason or another. These marks and any known changes are shown with the artist.
Large pieces of turquoise seem to fascinate most people, and the Zuni artists are no exception. While they do some of the most delicate work in Indian jewelry, they use some huge stones at times, especially in their ceremonial jewelry
Ed and Barbara Bell
Subject: Native American Jewelry
Item # B83
Date Published: 1975/12/01
Size: 3 volumes

SOLD
---
Publisher:
---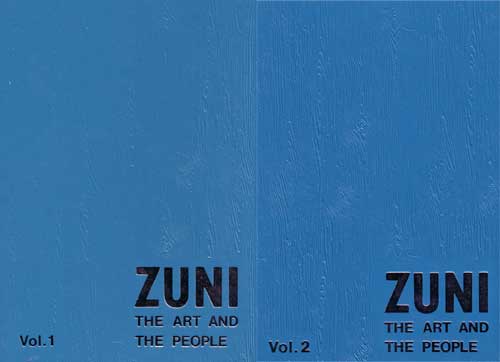 Click on image to view larger.
---