AMERICAN INDIAN ART by Norman Feder [SOLD]
---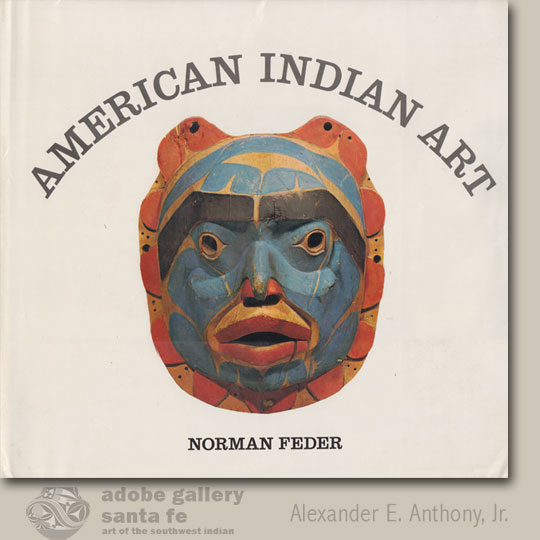 + Add to my watchlist

Forward to Friend
Norman Feder
Subject: Native American Art
Item # C4221i
Date Published: Hardback with slip cover, 1982
Size: 445 pages and over 200 illustrations

SOLD
The dynamic art and fine craftsmanship of the North American Indian are often considered expressions of an interesting but vanishing primitive culture. Yet the high degree of sophistication of much of this art, the endless variations of motifs, and the sheer aesthetic beauty of many of these works warrant continual reconsideration.
American Indian Art is a study of the whole range of artistic expression of these vital peoples-the pottery and silverwork of the Pueblos of the Southwest, the wooden masks of the Eskimo and the Tlingit, the beadwork of the Plains and Pacific Plateau tribes, and the basketry of the California natives, to name only a few. The volume is beautifully illustrated with more than 300 reproductions, including 60 plates in full color.
Norman Feder, former Curator of American Indian Art at the Denver Art Museum, has accepted the challenge of dealing with a subject whose source material is woefully scant. Approaching his topic from the point of view of the art objects themselves, he manages to make a comprehensive whole of a subject burdened with disparities. In connected sections, he explores such aspects of American Indian art as its origins, its stylistic variations from tribe to tribe, the materials used, the ecological aspects involved, and the future of this art....
- From the Jacket
AMERICAN INDIAN ART
by Norman Feder
Harry Abrams, Inc, New York
Hardback with slip cover, 1982. 445 pages and over 200 illustrations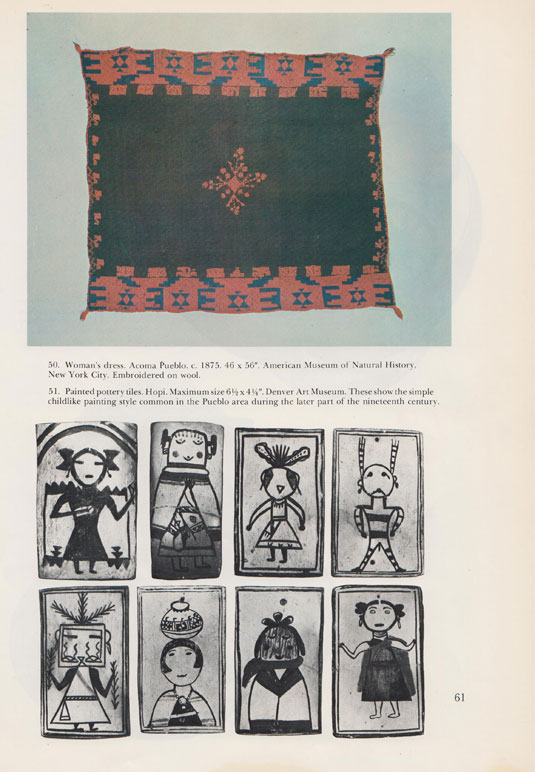 Contents
List of Plates
INTRODUCTION
Scope of the book
INDIAN ART
Origins of Indian Art
Difficulty of Identifying Tribal Styles
Use of Materials and Techniques
Ecology versus Art
Why Artistic Production
Change versus Stability
The Indian Artist
Commercialization versus Decadence
Future Prospects
INDIAN ART BY CULTURE AREAS
The Plains
The Southwest
-The Southern Athabascans
-The Racheria Tribes
California
The Great Basin and the Pacific Plateau
The Pacific Northwest Coast
The Arctic Coast
The Woodlands
Norman Feder
Subject: Native American Art
Item # C4221i
Date Published: Hardback with slip cover, 1982
Size: 445 pages and over 200 illustrations

SOLD
---
Publisher:
---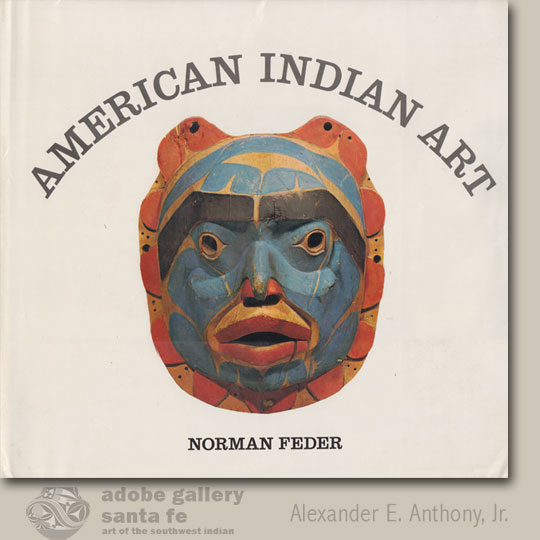 Click on image to view larger.
---