AMERICAN INDIAN DANCE STEPS [SOLD]
---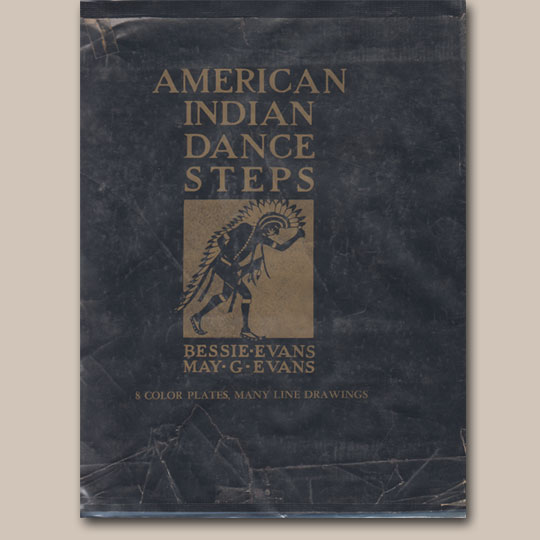 + Add to my watchlist

Forward to Friend
Subject: The Pueblo Indians
Item # C3809Y
Date Published: 1931 - First edition, hardcover with jacket.
Size: Illustrated in color by Poyege, San Ildefonso Indian. Eight color plates and many line drawings

SOLD
AMERICAN INDIAN DANCE STEPS
By Bessie Evans and May G. Evans of the Peabody Conservatory of Music
Publisher: A. S. Barnes and Company New York, 1931
First edition, hardcover with jacket.
Introduction by Frederick Webb Hodge
Illustrated in color by Poyege, San Ildefonso Indian. Eight color plates and many line drawings
CONTENTS
Part One: Prologue
Part Two: Some Characteristic Indian Dance Steps
Elements of the Dance
Abbreviations, etc.
A Highly Characteristic Movement
The Skip
The Jump
Jumping on Both Feet Simultaneously (Apache Devil Dance Step)
A Jump from One Foot to the Other
A Hop Step
A Step from the "Snowbird" Dance
A "Comanche" Step
A Tap Step
A Turn with Taps
A "Two-step" or War-Dance Step
An Indian Form of the Pas de Bourrée
A Sioux Step
A Hopi Step
Part Three: Examples of Indian Dance of the Southwest
Eagle Dance
War Dance
Sun Dance
Matachines
A Yeibichai Dance Fragment
Dog Dance
Index
Original Paintings in Color by Poyege (Tony Peña), San Ildefonso Indian
Dog Dancer
Eagle Dancer
War Dancer
Sun Dancer
Matachines Dancer
A Minor Divinity in the Yeibichai Dance
Man and Woman in Dog Dance
Indian Drummer
From the FOREWORD
The following study of American Indian dance is concerned chiefly with elements of the art, observed in certain Pueblo tribes of New Mexico—especially those of San Ildefonso, Tesuque, Santa Clara, Cochiti, and Santo Domingo.
The greater part of the material was first presented by the authors, on their return East from the Indian regions, in the form of lecture-recitals at the American Museum of Natural History, the Peabody Conservatory of Music, and Yale University.