Alexander Anthony
---
+ Add Author to My Preferences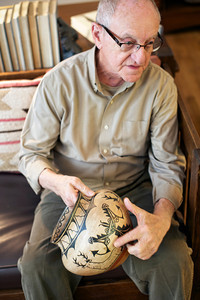 Alexander E. Anthony, Jr. launched Adobe Gallery in 1978 after serving as a Nuclear Engineer for 20 years in the United States Air Force.
As a Nuclear Engineer, U.S. Air Force Captain Alexander Anthony was in charge of science and publications on the staff of the U.S. Antarctic Projects Officer, 1963-65. For his accomplishments, a mountain range was named in his honor: Anthony Bluff.
Even before the end of this distinguished military career, Alexander's personal interest was in collecting pueblo pottery which was primarily what the gallery presented for its first 3 years. Eventually, the range of art pieces expanded with the addition of Hopi Katsina dolls and a few early 20th century Navajo rugs. By the 10th anniversary, Adobe Gallery grew to twice its initial size; pawn jewelry and 19th century southwest Indian baskets were now evident.
By its 15th anniversary Adobe Gallery continued its expansion. The appearance of Mission Oak furniture throughout 7 rooms of the historic Antonio Vigil home was evident. Three years later, further expansion of the gallery acquired the remaining 3 rooms of the 125-year-old building in Old Town Albuquerque.
In 1985, he co-founded Avanyu Publishing, Co. with Brent Ricks. Together, they currently published 18 books relating to Southwest subjects. He is active in the day-to-day operations of both businesses.
In its 21st year, the gallery added a website and inaugurated its global presence. Two years later, a gallery location at 221 Canyon Road in Santa Fe, New Mexico was opened.
In the last fifteen years, Mr. Anthony has lectured extensively at museums, colleges, shows, and conferences on subjects relating to Southwest Indian items. He has served as a judge at the Gallup Inter-tribal Ceremonial, the Santa Fe Indian Market and the New Mexico State Fair. He has also taught classes at the University of New Mexico. He was an actor and presenter on the Antiques Roadshow in 1997. He is also a consultant for the Antiques Roadshow.
After 25 years, Adobe Gallery Albuquerque was closed and consolidated with Adobe Gallery Santa Fe, New Mexico, comfortably located in the heart of Indian Country. We are now only located on Historic Canyon Road - THE ROAD for Art, over a Hundred Galleries, Boutiques and Restaurants in one half mile.