Frank Waters (1902-1995)
---
+ Add Author to My Preferences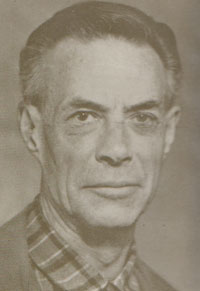 Frank Waters was born on July 25, 1902, in Colorado Springs, Colorado to May Ione Dozier Waters and Frank Jonathon Waters. His father, who was part Cheyenne, was a key influence in Water's interest in the Native American experience. Frank Jonathon Waters took his son on trips to the Navajo Reservation in New Mexico in 1911, described by Frank in his book The Colorado. Frank's interest in his Indian roots was partially a reaction to his father's death on December 20, 1914, when young Frank was twelve years old.

Waters continued his education at Colorado College in Colorado Springs. He studied engineering but left school before receiving a degree. Immediately after leaving college, Waters took a job with the Southern California Telephone Company, working in Los Angeles and the surrounding area. He remained employed by the company until 1935 as an engineer and traffic chief. Between 1925 and 1935, Waters worked on his first novel, Fever Pitch (1930) and a series of autobiographical novels beginning with The Wild Earth's Nobility (1935). In 1936, Waters left L.A. and moved back and forth between Colorado and New Mexico, continuing to write and completing a biography of W. S. Stratton, Midas of the Rockies. He became close friends with Mabel Dodge Luhan and her husband from Taos Pueblo, Tony Luhan.

When World War II broke out, Waters moved to Washington, D.C. to work for the Office of Inter-American Affairs. There, he performed the duties of a propaganda analyst and chief content officer and, although he was released from the army in 1943, he continued to work for the Office of the Coordinator of Inter-American Affairs. Waters' masterpiece, The Man Who Killed the Deer, was published in 1942.

While living in D.C. in 1944, Waters married Lois Moseley, whom he divorced two years later. After his divorce, Waters moved to Taos, New Mexico, where he continued to write. In 1947, Waters purchased property at nearby Arroyo Seco, New Mexico, and married Jane Somervell. He served as editor-in-chief of Taos' bilingual newspaper, El Crepusculo from 1949–1951, and as a reviewer for the Saturday Review of Literature from 1950-1956.

In 1953, Waters was awarded the Taos Artists Award for Notable Achievement in the Art of Writing. Waters also held positions as information consultant for Los Alamos Scientific Laboratory, New Mexico, and for the City of Las Vegas, Nevada, (1952–1956). He held a variety of other jobs, including writer for C.O. Whitney Motion Picture Co., Los Angeles (1957), writer-in-residence, Colorado State University, Fort Collins (1966); and director, New Mexico Arts Commission, Santa Fe, New Mexico, (1966–68).

On December 23, 1979, Waters married Barbara Hayes. He continued to write and make public appearances. He and his wife lived alternately in Arroyo Seco and Sedona, Arizona. Frank Waters died at his home in Arroyo Seco on June 3, 1995.

From the 1930s on, Waters published numerous novels, articles and works of non-fiction. For instance, in 1975, he wrote Mexico Mystique: The Coming Sixth World of Consciousness. In the book, he makes the case that December 24, 2011, a date he got from Michael Coe's The Maya (1966), will be the closing date of the Mayan Long Count cycle and would initiate a new wave of human consciousness.
Biographical Source: Wikipedia