George Wharton James (1858 – 1923)
---
+ Add Author to My Preferences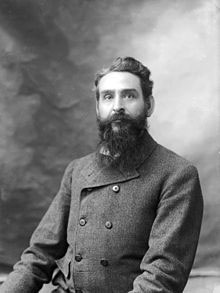 George Wharton James (1858 – 1923) was a prolific popular lecturer, photographer and journalist, writing more than 40 books and many articles and pamphlets on California and the American Southwest.
James was born in Lincolnshire, England. He was ordained as a Methodist minister and came to the United States in 1881, serving in parishes in Nevada and southern California.
James' books included the well received The Wonders of the Colorado Desert (1906), Through Ramona's Country (1909), In and Out of the Old Missions of California (1905), and The Lake of the Sky (1915). Characteristics of his writing included romanticism, an enthusiasm for natural environments, idealization of aboriginal lifeways, and health faddism. He was associate editor of The Craftsman 1904-05, editor of Out West 1912-14, and lectured at the Panama-Pacific and Panama-California expositions 1915-16.
The California State Library and the University of California, Berkeley have collections of James' books and pamphlets. A collection of his photographs is on file at the University of New Mexico. The Southwest Museum in Los Angeles also has some of his papers and photographs.
Image and biographical source: Wikipedia