Ruth Murray Underhill, Ph.D. (1883 - 1984)
---
+ Add Author to My Preferences
Ruth Murray Underhill (August 22, 1883 – August 15, 1984) was an American anthropologist. She was born in Ossining-on-the-Hudson, New York, and attended Vassar College, graduating in 1905 with a degree in Language and Literature. In 1907, she graduated from the London School of Economics and began travelling throughout Europe. During World War I, she worked for an Italian Orphanage run by the Red Cross. After the war, she married Charles C. Crawford and published her first book The White Moth. Her marriage ended in 1929 and by 1930 she decided to go back to school to learn more about human behavior. After speaking with Franz Boas and Ruth Benedict in the Anthropology Department at Columbia University, she decided to pursue the field, graduating in 1937. She wrote numerous books on Native Americans and helped to dispel many myths about their culture.
Early Life: Ruth Underhill was born in Ossining-on-the-Hudson, New York on August 22, 1883. There has been some discrepancy with her birth year, but a copy of her birth certificate and early census records indicate that she was born in this year. The oldest of four children, she was the healthiest and strongest of the three girls. Her brother, Robert L.M. Underhill became a well known mountaineer. She grew up attending Ossining School for Girls and her family took frequent camping trips to Europe. Following Ossining School for Girls, Ruth entered Vassar College in 1901 and also studied at the London School of Economics.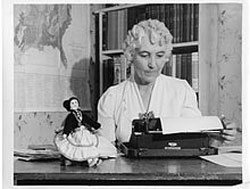 Adult Life: During World War I, Ruth Underhill began to write for newspapers and magazines while she traveled. Towards the end of the war, Ruth was employed as a social worker with the American Red Cross, Committee for Crippled and Disabled. In the summer of 1919, she was transferred to Civilian Relief and took charge of establishing orphanages in Italy. She also investigated child labor in Italy for the Rockefeller Foundation.
In 1919, Underhill was living in upstate New York, managing a farm, renting and remodeling houses and writing. In 1920, her first novel The White Moth, was published. In the same year, she married Charles C. Crawford. Their marriage ended nine years later. After her divorce, she decided to go back to school. Ruth describes her entry into Columbia University as "a search for something she could do to help humanity." After wandering from department to department, she found herself in Anthropology. It was there that she found the encouragement and direction she was seeking. Under Franz Boaz and Ruth Benedict, Ruth began the study of anthropology and Native Americans. This led her to one of the earliest scientific studies of the Tohono O'odham of Arizona, a work that would establish Ruth Underhill in the profession. Because of her age, the Tohono O'odham allowed her to live with them for several summers, where she was able to study the women closely. She later wrote a book titled Autobiography of a Papago Woman, which chronicled the life of Maria Chona, an elderly member of the Tohono O'odham Nation.
After graduating from Columbia with her PhD in 1937, she began employment with the U.S. Department of Agriculture, then the Bureau of Indian Affairs. She traveled around to various schools and taught the teachers what Native Americans were really like in order to improve curriculum and morale. She also assisted in negotiations between the BIA and Native American groups. She continued to work for the government until 1949. Those years were quite productive for Dr. Underhill as she worked on education for American Indians and began to write and publish.
In 1949, Dr. Underhill accepted a position as Professor of Anthropology with the University of Denver. After four years of teaching, she retired in order to travel. According to her oral histories, she stayed three months at a time in Israel, India and Israel. After traveling the world, she returned to Denver to teach, write and publish. One of her most popular books was Red Man's America, originally published in 1953. In 1956, KRMA-TV produced a series of 30 documentary films which corresponded with the book and shared the same title. Each film focused on a specific region in North America and examined the native culture and people of that region. In 1979, Underhill was honored by the Tohono O'odham Nation, for her work in preserving their past. On October 28, 1981, she was presented with an award from the Colorado River Indian Tribes for her sincere, devoted and untiring effort in the gathering of information of their culture. On her 100th birthday in 1983, Colorado Governor Richard Lamm declared August 22 as Ruth Underhill Day. She died a year later on August 15.
Text and photo source: Wikipedia, the free encyclopedia