Edwin L. Wade and Allan Cooke
---
+ Add Author to My Preferences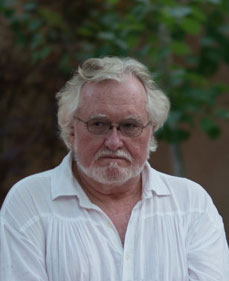 EDWIN L. WADE, PhD (see photo right) is executive editor of Arts of the North American Indian: Traditions in Evolution (Hudson Hills) and author of Historic Hopi Ceramics (Peabody Museum, Harvard) and America's Great Lost Expedition (Heard Museum), among numerous other publications. Over a thirty-year administrative and curatorial museum career he developed many national and international traveling exhibition programs, including What Is Native American Art and Beyond the Prison Gates. Currently he assists in developing lastingly significant art collections. He also works with private collectors to identify institutional recipients for philanthropic gifts of art. He lives in Sedona, Arizona.
Biography Source: Canvas of Clay: Seven Centuries of Hopi Ceramic Art by Edwin L. Wade and Allan Cooke
Image Source: Adobe Gallery (Jonathan Tercero, et al., used with permission)
ALLAN COOKE, MB.BS. MD (SYD) is a professor of medicine at the University of Kansas, Kansas City. He was educated at Sydney University and did postdoctoral studies at UCLA, Guys Hospital, London, and the University of Munich. He has published more than 100 scientific articles and book chapters on the physiology of and drug damage to the stomach. He is a member of various scientific societies, including the Society of Clinical Investigation. He has two sons and two grandchildren.
Biography Source: Canvas of Clay: Seven Centuries of Hopi Ceramic Art by Edwin L. Wade and Allan Cooke