CEREMONIAL COSTUMES OF THE PUEBLO INDIANS Their Evolution, Fabrication, and Significance in the Prayer Drama [SOLD]
---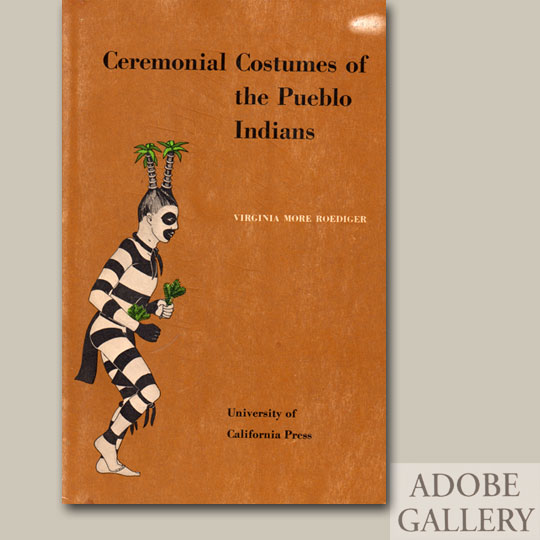 + Add to my watchlist

Forward to Friend
Virginia Roediger
Subject: The Pueblo Indians
Item # C4342C
Date Published: University of California copyright 1941. This first paperback edition 1961.
Size: 250 pages. Illustrated with 25 figures in text and 40 plates.

SOLD
CEREMONIAL COSTUMES OF THE PUEBLO INDIANS Their Evolution, Fabrication, and Significance in the Prayer Drama
Virginia More Roediger
University of California Press, Berkeley
University of California copyright 1941. This first paperback edition 1961
Illustrated with 25 figures in text and 40 plates
A beautifully illustrated book and the most comprehensive description ever of the making and meaning of the Pueblo costumes of New Mexico and Arizona.
Virginia Roediger's vivid paintings capture the beauty and drama of the Pueblo ceremonies-the turquoise dance moccasins, the tableted headdress of the Zuni corn maidens, the bright-blanketed Kachina maiden, and the buffalo, brilliant eagle, and horned deer costumes.
After a brief survey of the history, location, and life of the Pueblo peoples, Roediger embarks on a thorough analysis of the materials used in the Pueblo costumes. She explains both their symbolic significance and their manufacture-from the weaving of cloth and the tanning of leather to the preparation of birds' feathers, evergreens, paints, and dyes. She then provides a meticulous description of the costumed dancer-body paint, garments, ornaments, accessories, and dance properties such as rattles, headdresses, and masks.
In her final section, Roediger explores the relation of the costumes to the prayer dramas, particularly to the reverential, solemn, ecstatic public dance with which these dramas climax. Vivid details emerge here about such rituals as the animal dances from the Rio Grande region and the Rain Dance of the Zuni.
CONTENTS
Part One: The Pueblos, Their History and Present Life
Part Two: Costume Materials and Their Significance
Part Three: Detailed Analysis of Parts of Costumes
Part Four: Costumes in Relation to the Prayer Drama
From the Author's Preface
"I have selected the Pueblo Indians of Arizona and New Mexico because they are an outstanding example of a native culture still existent and for that reason deserving of generous and detailed investigation. Moreover, in my opinion, they are the most advanced of any native community in all North America in the perfection of dramatic-religious costumes. I here present a full and comprehensive account of the characteristics of this dramatic-religious dress as it evolves from their geographical location, their mode of life, and their beliefs and manifestations—those elements of their civilization to which they have clung despite several hundred years of corruption and suppression by the white man. I have attempted, by work and sketch, to build up a picture of the ceremonial costumes which have resulted from this civilization." Virginia More Roediger
Virginia Roediger
Subject: The Pueblo Indians
Item # C4342C
Date Published: University of California copyright 1941. This first paperback edition 1961.
Size: 250 pages. Illustrated with 25 figures in text and 40 plates.

SOLD
---
Publisher:
---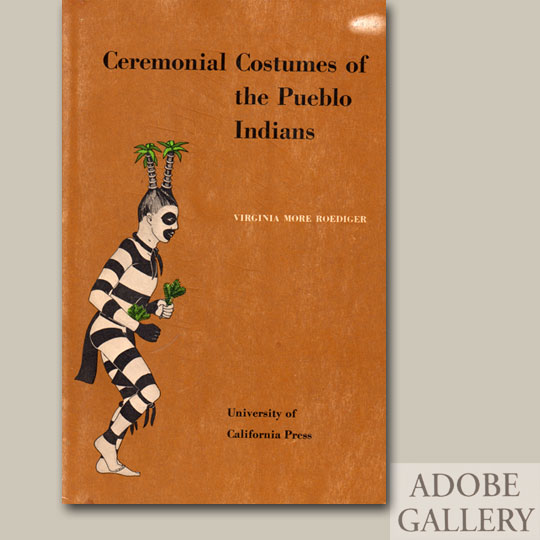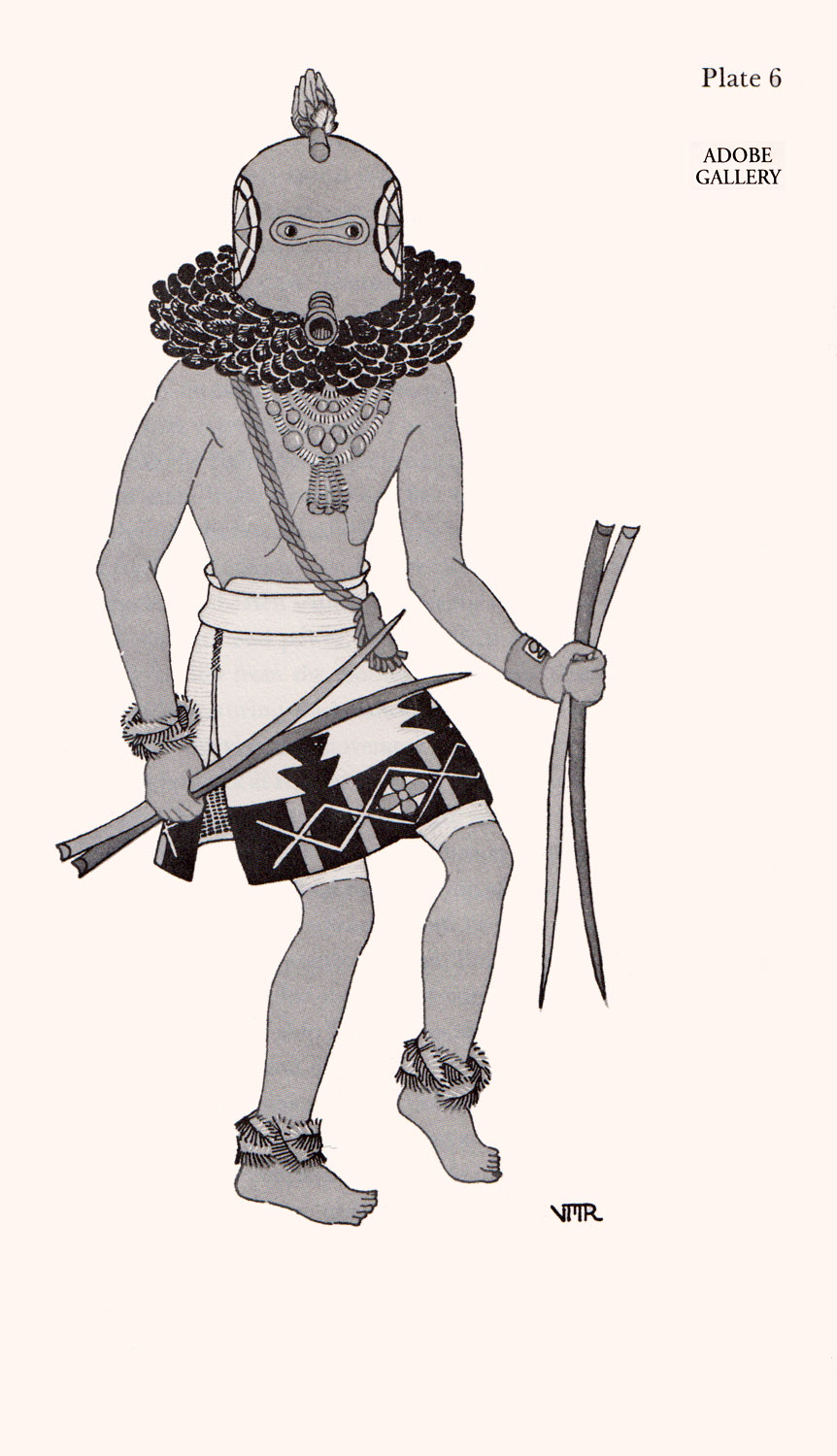 Click on image to view larger.
---