CULTURAL AND NATURAL AREAS OF NATIVE NORTH AMERICA [SOLD]
---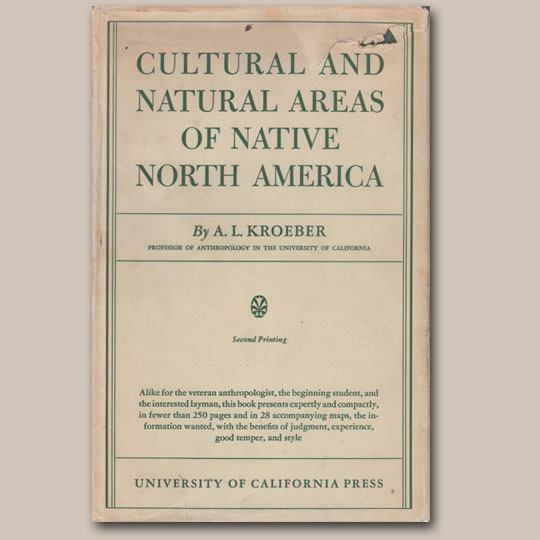 + Add to my watchlist

Forward to Friend
Alfred Louis Kroeber (1876 – 1960)
Subject: Southwest Anthropology and History
Item # C3190Z
Date Published: December 1939, Reprinted 1947 (second printing)
Size: 242 pages, 28 additional maps. Illustrated.

SOLD

CULTURAL AND NATURAL AREAS OF NATIVE NORTH AMERICA
Condition: very good condition, some tears to slip cover
University of California Press, Berkley and Los Angeles, 1947. Volume 38, pp xii + 1-242, 28 maps, issued December 1939, Reprinted 1947.
Hardback with slip cover
A.L. Kroeber Image Source: Wikipedia
Although the manuscript of this work was completed in 1931, publication was delayed by the depression, both at the University of California and at the Bureau of American Ethnology, which latter, generously, for a time hoped to be able to print it. The years that have elapsed have brought substantial additions to knowledge, and references to the more important of them will be found in footnotes and special supplementary passages inserted in 1936 and (a few of them) in 1939. The main body of the text stands as written in 1931.
From the CONTENTS
Objectives
History of concepts
Environment in anthropology
Culture areas, climaxes, and boundaries
Relation of natural to cultural areas
Tribal areas
List of works used for the tribal map
List of works appearing since preparation of the tribal map
Tribal synonyms
Pronunciation of tribal names
Vegetation area
Authorities used for the vegetation maps
Concordance areas
Culture areas: Arctic Coast
Sources of Eskimo culture
Ecological phases
Cultural classification and history
Summary
Culture areas: Northwest Coast
Culture areas: Southwest
1-2 Pueblo subculture type
3-10 Sonora-Gila-Yuma subculture type
Culture areas: intermediate and Intermountain areas
Great Basin
California
Columbia-Fraser Plateau
Culture areas: East and North
Eastern areas
Southeast
Muskogian and Creek
South Florida
South Texas: Northwest Gulf Coast
Red River area
Plains areas
Southern Plains
Northern Plains
Prairie areas
Summary of tribal history in the plains-prairies
Wisconsin or Wild Rice area
Ohio Valley
Lower Great Lakes
Atlantic Coast Areas
Appalachian Summit
Northern areas
Northern Great Lakes
Eastern Subarctic
Western Subarctic
Relations of Eastern and Northern areas
Eastern archaeological areas
Culture areas: Mexico and Central America
Population
Physiographic areas
United States
Canada
Mexico
Physiography and culture
Relations of environment and cultural factors
Agriculture
Cultural intensity and climax
Alfred Louis Kroeber (1876 – 1960)
Subject: Southwest Anthropology and History
Item # C3190Z
Date Published: December 1939, Reprinted 1947 (second printing)
Size: 242 pages, 28 additional maps. Illustrated.

SOLD
---
Publisher:
---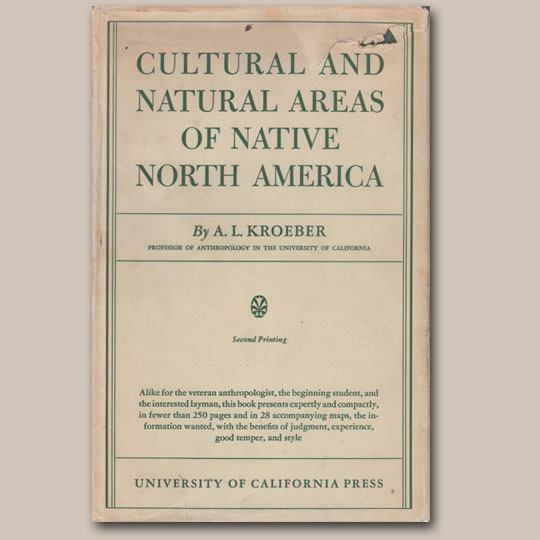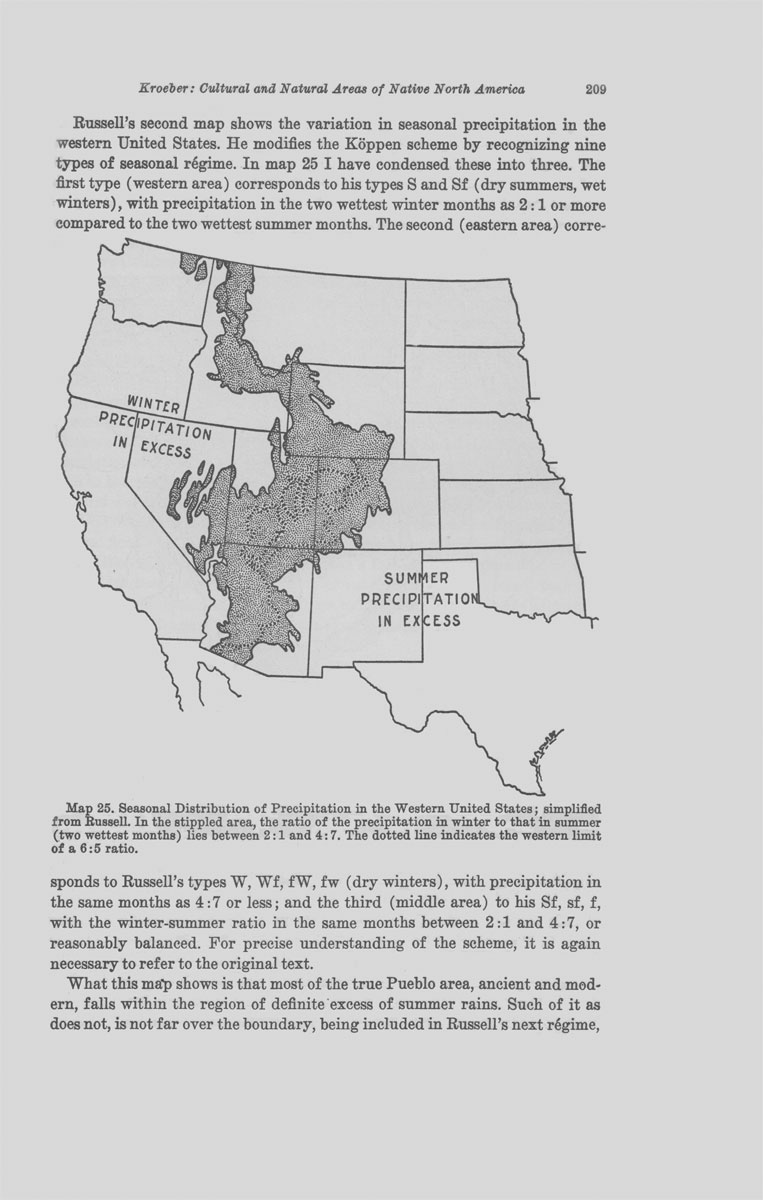 Click on image to view larger.
---