GREAT MEN AND FAMOUS WOMEN
---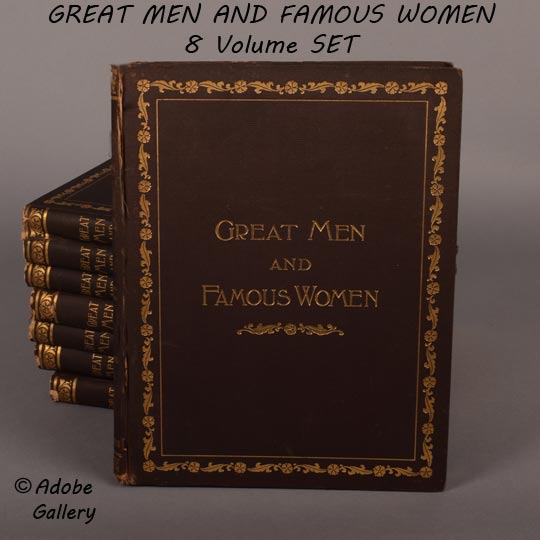 + Add to my watchlist

Forward to Friend
Subject: New Mexico History/Resources
Item # C2639.32
Date Published: 1894
Size: Hardback first edition, 8 volume SET
Price:

$650
GREAT MEN AND FAMOUS WOMEN
A Series of Pen & Pencil Sketches of the Lives of More than 200 of the Most Prominent Personages in History
by Charles F. Horne, editor
Publisher: Selmar Hess Publishers, 1894.
Hardback first edition, 8 volumes
Dark brown cloth with bright gilt lettering and decoration. Gilt edges. 12 by 9.5 inches. Many illustrations. Volumes numbered one through eight. Light wear to spine ends, very bright gilt, tight hinges, nice solid copies, set averages near very good, contents about fine. Illustrations as photogravures, wood-engravings, and typogravures.
---
Volumes I. and II. Soldiers and Sailors
Volume III. and IV. Statesmen and Sages
Volume V. and VI. Workmen and Heroes
Volume VII. and VIII. Artists and Authors
---
Just as an example, here are those listed in volume I:
Alaric the Bold, Alexander the Great, Marc Antony, Atilla, Belisarius, Godfrey de Couillio, Julius Cesar, Charlemagne, Clovis the First, Gaspard de Coligni, Hernando Cortes, Cyrus the Great, Diocletian, Sir Francis Drake, Edward I of England, Edward III of England, Edward the Black Prince, Bertrand du Guesclin, Gustavus Adolphus, Hannibal, Henry IV of France, Henry V of England, Hermann, John Huniades, Caius Marius, Charles Martel, Nebuchadnezzar, Pepin the Short, Francisco Pizarro, Sir Walter Raleigh, Saladin, Scipio Americanus Major, Miles Standish, Trajan, Olaf Tryggveson, Albrecht von Wallenstein, Warwick the King-Maker, William the Conqueror.
Subject: New Mexico History/Resources
Item # C2639.32
Date Published: 1894
Size: Hardback first edition, 8 volume SET
Price:

$650
---
Publisher:
---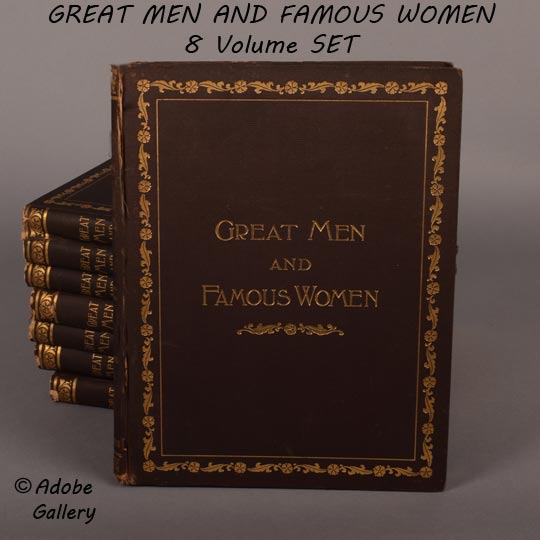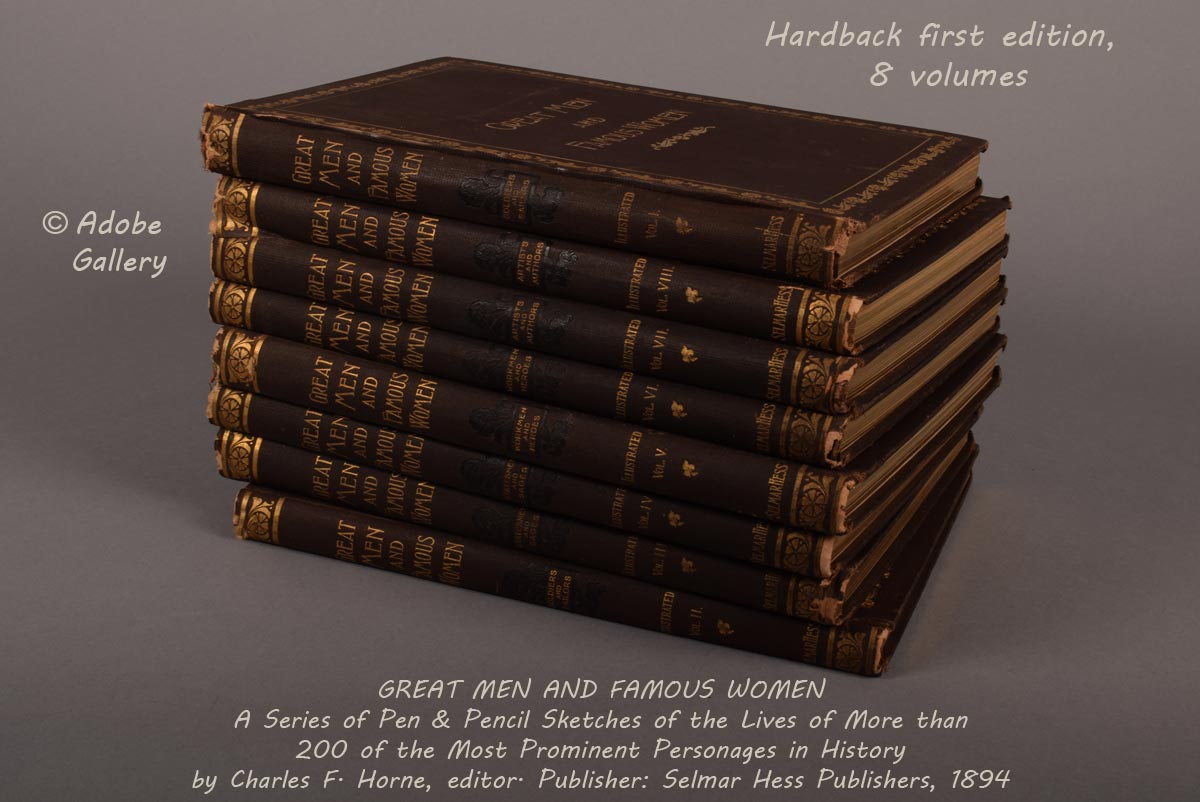 Click on image to view larger.
---