INDIAN CLASSICS SERIES in Three Volumes [Broken Out]
---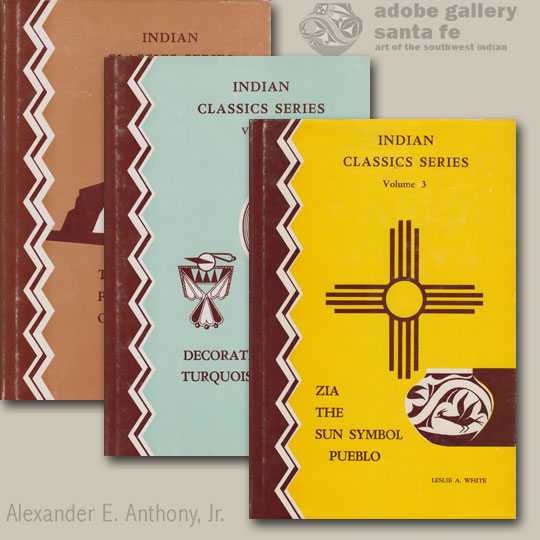 + Add to my watchlist

Forward to Friend
INDIAN CLASSICS SERIES in Three Volumes
Various Authors
Calvin Horn Publisher, Albuquerque
In 1974, Calvin Horn Publisher of Albuquerque, in collaboration with The University of Albuquerque, undertook to reprint classic books on the Southwestern Indians. They printed three volumes:
Volume 1 - The Pueblo of Isleta by Elsie Clews Parson
Originally published by Smithsonian Institution, Bureau of American Ethnology, Washington, DC (1932)
Hardback with slip cover, over 275 pages, illustrations, excellent condition
"In this first volume of a series of Southwest Indian Classics, Dr. Parsons offers a study of the culture, economy, religion, folkways and myths of the Indians of Isleta. This volume was chosen as No. 1 of the series because of its value as an aid to understanding New Mexico's multi-culture.
"This report gives rise to a great deal of thought. It might seem that these people were unduly secretive and suspicious, but you must think back to the experience through which they had to live. They were the successful farmers with food and clothing and desirable skills. They struggled for generations to hold off the Apaches, Moquis, Comanches and all other surrounding nomadic tribes. It should be noted that in their language the word for enemy is 'navajo.' In those days, in this land, their survival was dependent upon their alertness, their defense posture and their internal security."
Volume 2 - Decoration Designs - Turquoise and Pottery by J. Walter Fewkes
Originally published by the Museum of the American Indian, Heye Foundation, New York (1921)
Hardback with slip cover, over 40 pages, illustrations, excellent condition
"In this volume—the second in a series of reprints of classic ethnological and archaeological contributions—are united two topics of continuing interest: turquoise and southwestern Indian pottery. Declining availability and increasing demand for both information and the items themselves, make it imperative that publications long out of print and thus unavailable to many prospective readers, now make their reappearance."
Volume 3 - Zia The Sun Symbol Pueblo by Leslie A. White
Originally published by the Smithsonian Institution Bureau of American Ethnology (1962)
Hardback with slip cover, over 250 pages, illustrated, excellent condition
"Zia, although a small pueblo, is an active one, and its population, instead of declining, has increased in recent years. Zia weavers and potters are famous for their wares. The sun symbol of Zia Pueblo was chosen for the State Flag of New Mexico.
"Leslie A. White, anthropologist and author, in this work uses the Sia spelling for the Pueblo, and it is retained in this edition although New Mexicans are more familiar with the Z spelling.
"The historical sketch of Sia has thrown light upon a number of significant points: (1) the subjugation and missionization of the Sia by the Spaniards: (2) the destruction of their pueblo and its subsequent reoccupation; (3) enmity of some other pueblos incurred by Sia for siding, together with Santa Ana and San Felipe, with the Spaniards after the Revolt of 1680; and (4) the decline of the pueblo due to disease, poverty, and possibly to factional strife and to executions for witchcraft. We now turn to a description of the setting and background of Sia, and its culture in relatively modern times, since about 1890."
Subject: The Pueblo Indians
Item # C4076T
Date Published: 1974
Size: 3-volume SET
Price:

$225.00
---
Publisher:
---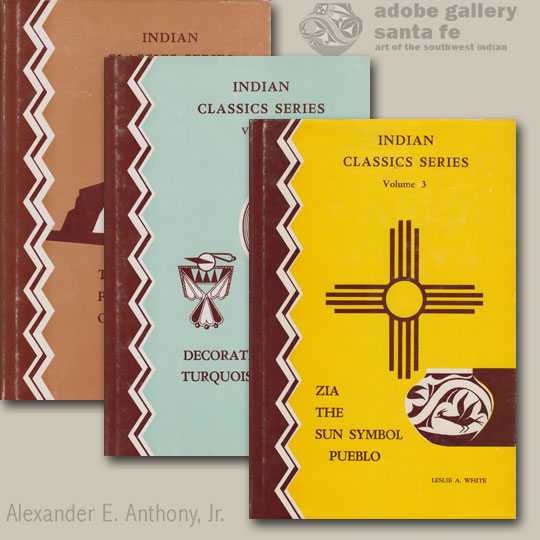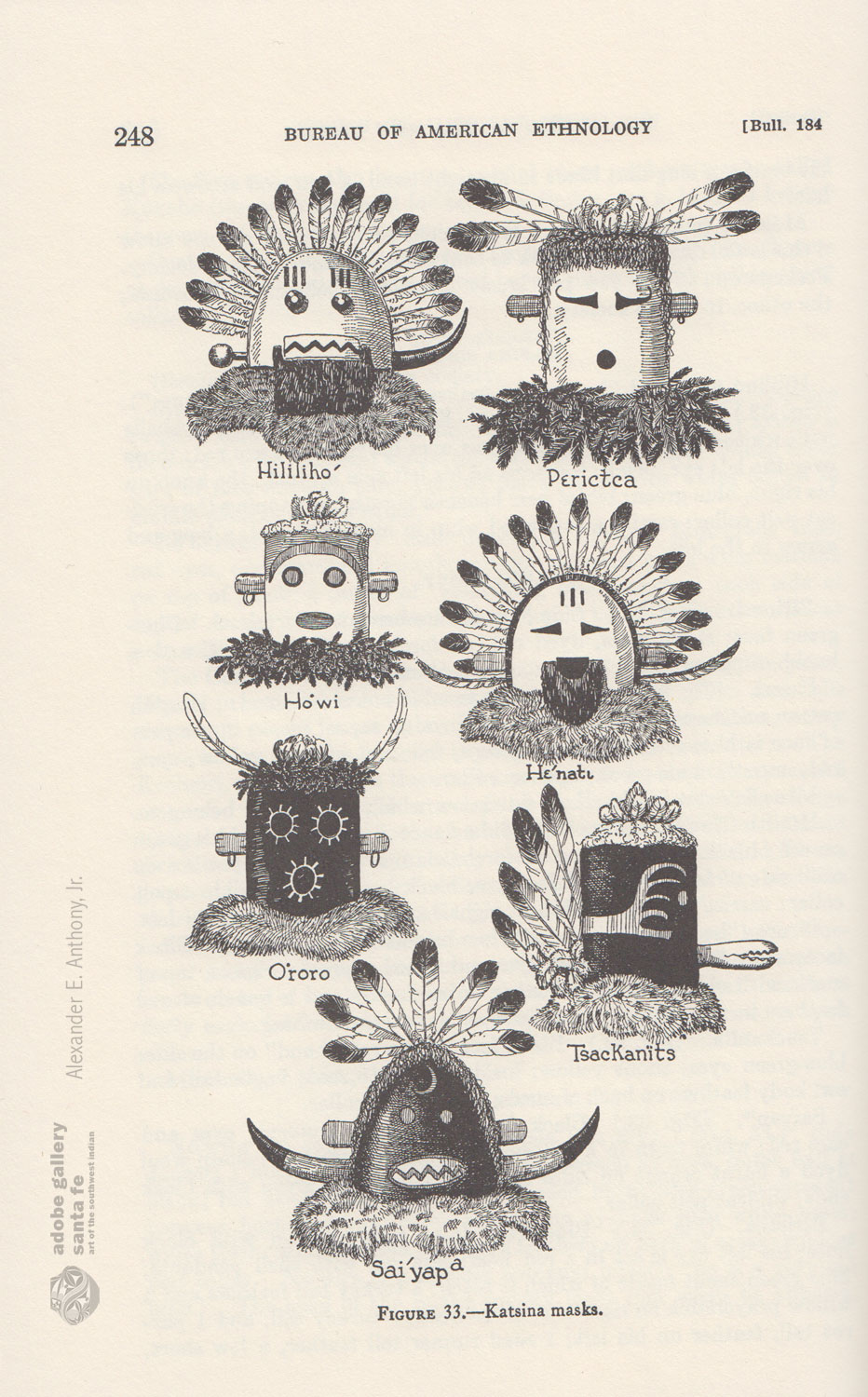 Click on image to view larger.
---