Indians of the Enchanted Desert [SOLD]
---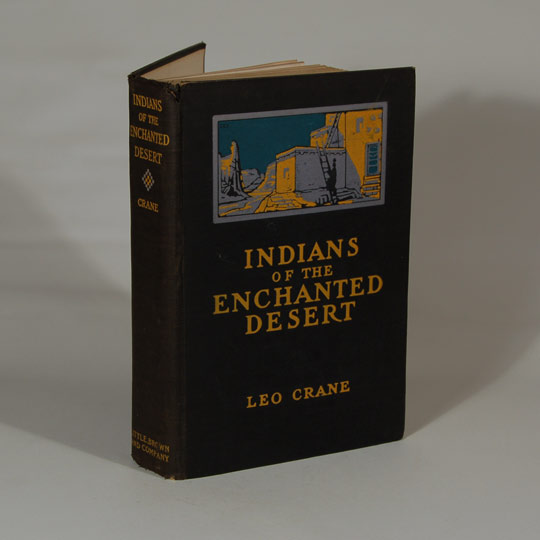 + Add to my watchlist

Forward to Friend
Leo Crane
Subject: Native American: General
Item # C3459K
Date Published: September, 1925
Size: 365 pages

SOLD
Indians of the Enchanted Desert
First edition, first printing, September, 1925. 8vo. Illustrated with 32 black and white halftone photographs by H.R. Robinson, W.C. Wilson, Ernie Kopte, A.H. Womack and others; folding map at end, gilt-stamped spine. Top edge gilt.
Original navy blue pictorial cloth stamped in orange gray and black. 365 pages.
Condition: Very good with minor tear to spine and crease in last two blank pages. No signatures or bookplates.
Table of Contents
I Nolens Volens
II Across the Plains
III Into "Indian Country"
IV Old Trails and Desert Fare
V Desert Life and Literature
VI A Northern Wonderland
VII The first Ball of the Season
VIII Old Oraibi
IX The Making and Breaking of Chiefs
X The Provinces of the "Mohoce or Mohoqui"
XI The Law of the Realm
XII Comments and Complaints
XIII A Desert Vendée
XIV Soldiers, Indians, and Schools
XV An Echo of the Dawn-Men
XVI Fiddles and Drums
XVII Service Tradition
XVIII Buttons and Bonds
XIX Our Friends, the Tourists
XX The Great Snake-Ceremony
XXI Desert Belascos
XXII On the Heels of Adventure
XXIII The Red Bootleggers
XXIV Held for Ransom
XXV Wanted at Court
XXVI Hopi Annals
XXVII L'Envoi
Leo Crane was the Indian Agent at Keams Canyon for the Hopi and Navajo Tribes, starting in 1911. He then served as the agent for the Pueblo Tribes of New Mexico, and later was transferred to the Crow Creek Reservation, South Dakota. He authored two books on the southwest:
Indians of the Enchanted Desert
Desert Drums: The Pueblo Indians of New Mexico, 1540-1928
Leo Crane
Subject: Native American: General
Item # C3459K
Date Published: September, 1925
Size: 365 pages

SOLD
---
Publisher:
---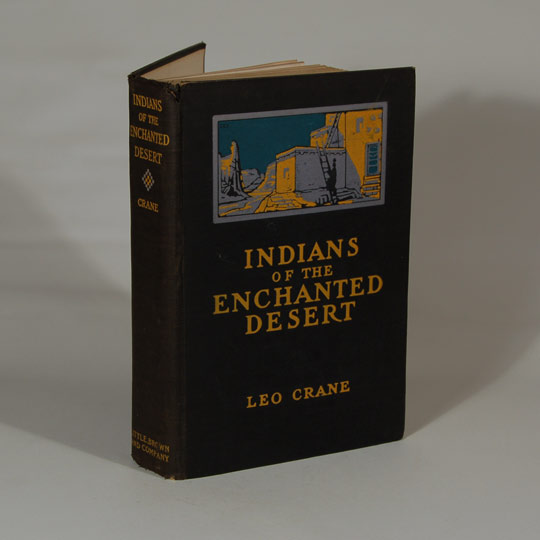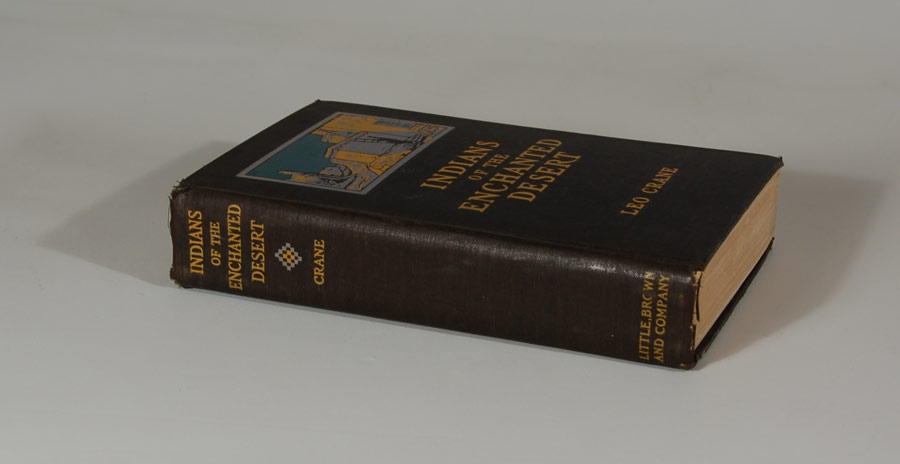 Click on image to view larger.
---