National Geographic - Pueblo Pottery [SOLD]
---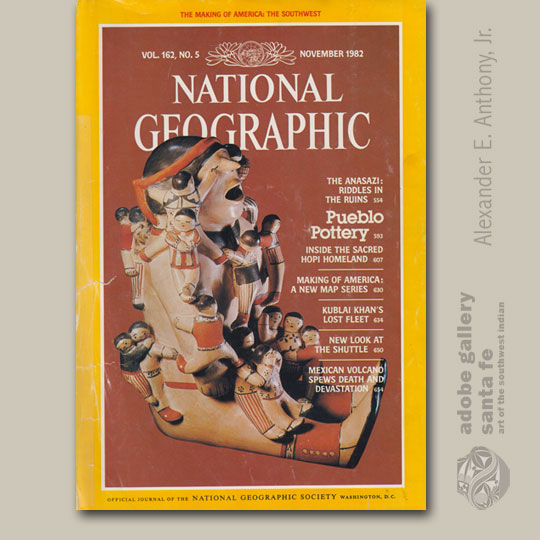 + Add to my watchlist

Forward to Friend
Subject: Native American Pottery
Item # C4263X
Date Published: Vol 162, No. 5, November 1982
Size: Aprox. 100 pages

SOLD
National Geographic
Vol 162, No. 5, November 1982Official Journal of the National Geographic Society
*OUT OF PRINT*
Cover Photograph; Helen Cordero Storyteller Figurine
Included is the map of the Southwest issued with this edition of the magazine
Condition: because of the age of this magazine, the condition is GOOD (not pristine) and each issue may have it's own unique problems. However, it's the only issue that is specific to Pueblo Pottery and is worth having in your collection.
Articles
The Anasazi: Magnificent Ruins of 1,000-year-old Pueblo Bonito parch in the New Mexico sun as a painted maiden dances to bring rain.
The Anasazi: Riddles in the Ruins
Pueblo Pottery—2,000 Years of Artistry: Heir to traditions 20 centuries old, artists work without potter's wheel or kiln, making paints from minerals and usina a chewed yucca leaf for a brush
Cochiti Figurines—Characters in Clay: Figurines are a popular product of Cochiti, thanks in large part to Helen Cordero, who created her first storyteller figure in 1964.
Mimbres Art: These pots tell stories, but what do they relate? Between A.D. 1000 and 1150—barely five generations— a small branch of Mogollon peoples living in the Mimbres Valley are of New Mexico produced an astonishing array of black-on-white and polychrome pottery.
Age-old Methods, Timeless Symbols: Coil upon coil, Hopi potter Dextra Quotskuyva builds a pot using techniques passed down from mother to daughter since ancient times.
Continuing a Rich Legacy: Today scores of potters from 16 pueblos supply a growing market. Their products are art, and their craftsmanship—rooted in 2,000 years of tradition—endures.
Inside the Sacred Hopi Homeland: Old problems and new confront the traditional Hopi way: increasing commercial demands on tribal land, boundary disputes, and the reluctance of some younger Hopis to accept the often stern practices of their elders.
Subject: Native American Pottery
Item # C4263X
Date Published: Vol 162, No. 5, November 1982
Size: Aprox. 100 pages

SOLD
---
Publisher:
---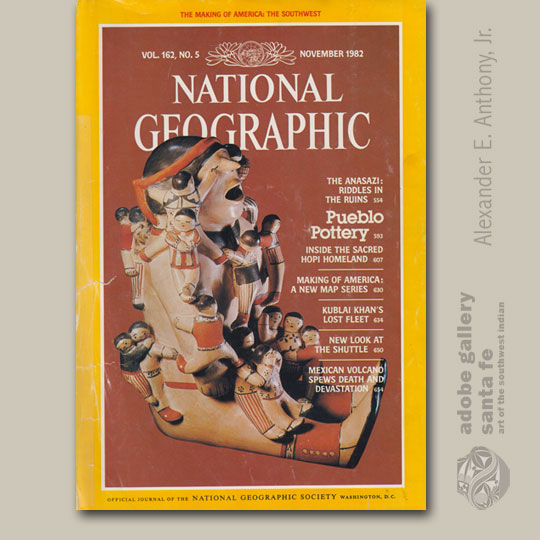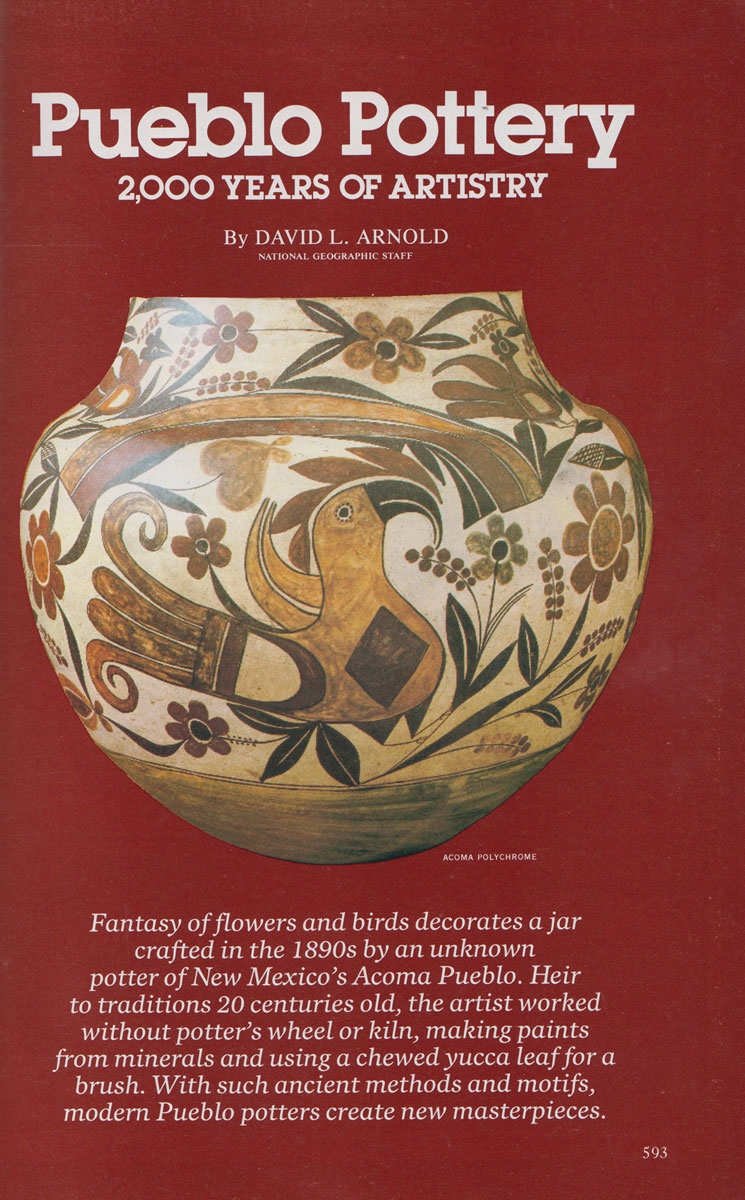 Click on image to view larger.
---