NAVAJO RELIGION: a Study of Symbolism [SOLD]
---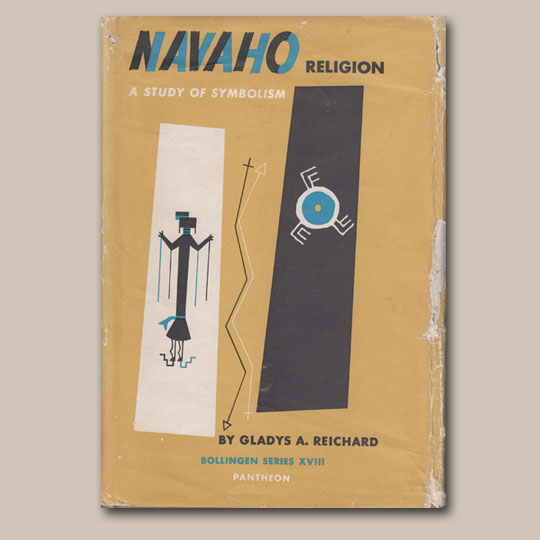 + Add to my watchlist

Forward to Friend
Gladys Amanda Reichard (1893 - 1955)
Subject: Diné - Navajo Nation
Item # C3190V
Date Published: Second Edition, hardback, first printing, November 1963
Size: One volume, 804 pages, 18 charts, 29 figures

SOLD
NAVAJO RELIGION: a Study of Symbolism by Gladys A. Reichard
Publisher: Pantheon Books, Bollingen Series XVIII
Second Edition, hardback, first printing, November 1963, one volume, 804 pages, 18 charts, 29 figures.
Foreword by Oliver La Farge
This work is the eighteenth in a series of books sponsored and published by Bollingen Foundation. The Bollingen Series includes original contributions to scholarship, translations of works heretofore unavailable in English, and new editions of classics.
From the Slip Cover
"By means of an exhaustive study of the symbols to be found within Navaho legend and ritual, Gladys Reichard arrived at this scholarly and comprehensible interpretation of the complex religion of that tribe.
"She acquired a unique familiarity with the Navaho language, semantics, and point of view; and her participation in their ceremonials gave her first-hand knowledge of the exorcistic as well as sanctifying character of their symbols.
"This book, therefore, discusses with rare authority the attitude of the Navaho toward his place in the universe, his obligation to his fellow men and to his gods, and his conception of the supernatural. And, perhaps even more significantly, it reveals how, through symbolic ceremonial practice, the Navaho achieves a harmony with his world, his deity, and the universe.
"Gladys Reichard was born in 1893 and in 1925 earned the Ph.D. at Columbia University, where she was a student of Franz Boas. During nearly three score years she spent frequent long periods of research and study among the Navaho Indians on their reservation in Arizona. She died July 25, 1955 at Flagstaff."
"The reader of Navaho Religion cannot fail to gain an increased understanding of and respect for a religion, vastly different from our own, which still exists as a living force within the geographical boundaries of our country." Southwest Review
"Professor Reichard . . . has produced a report, at once so comprehensive, so sensitively interpretative, and so enjoyably readable, that it can be recommended with enthusiasm to anyone who wishes to become acquainted with Navaho thought and ways." Sewanee Review
TABLE OF CONTENTS

Part One - DOGMA
1. Navaho categories
2. World view
The universe
This world
3. The nature of man
Man's origin
Theory of reproduction
Man's constitution
Life cycle
Death and the dead
Destiny
4. Pantheon: characteristics of supernaturals
5. Pantheon: types of supernaturals
Persuadable deities
Undependable deities
Helpers of deity and man
Intermediaries between man and deity
Unpersuadable deities
Dangers conceived as deities
Beings between good and evil
Order of monsters, dangers, and beings-in-between
Gods as Sun Manifestations
6. Theory of disease
Prophylaxis
Disease
Diagnosis
7. Theory of curing
Intrusion of evil
Purification
Attraction of good
Therapy
8. Ethics
Meaning
The concept of honor
Sex morals
Animals and plants
Part Two – SYMBOLISM
9. The nature of symbolism
Place and position
Time and timing
Direction
10. Sex, dominance, and size
11. Alternation, reversal, and negation
12. Color and precious stones
Color
Precious stones
13. Color combinations
Paired colors
Sequence in quadrant arrangement
Sequence in Maltese cross arrangement
Sequence in linear arrangement
Sequence in verbal order
Sequence in outlines
Color associations
14. Number
Even numbers
Odd numbers
First time
15. Perceptual symbols
Light and seeing
Sound and hearing
Odor and smell
Food and taste
16. Wood, formula, and myth
Part Three – RITUAL
17. Song
Origin of song
Function and types of song
Content and structure of songs
18. Prayersticks
Forms
Invocatory offerings
Offering and reward
Deposit of offerings
Talking prayersticks
19. Classification of ceremonies
Distinguishing symbols
20. Organization of ritual
The chanter's bundle
Preparation
Disposal
Rite and ceremony
Analysis
Condition: very good condition, some tears to slip cover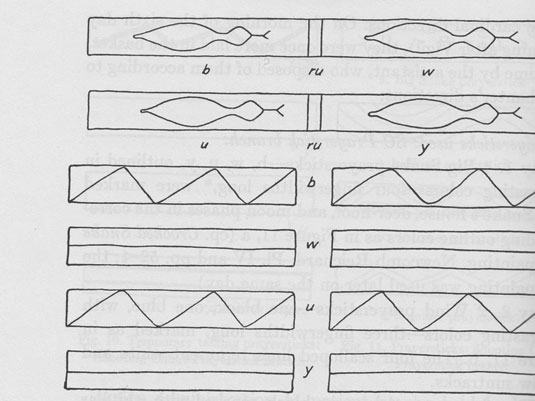 Gladys Amanda Reichard (1893 - 1955)
Subject: Diné - Navajo Nation
Item # C3190V
Date Published: Second Edition, hardback, first printing, November 1963
Size: One volume, 804 pages, 18 charts, 29 figures

SOLD
---
Publisher:
---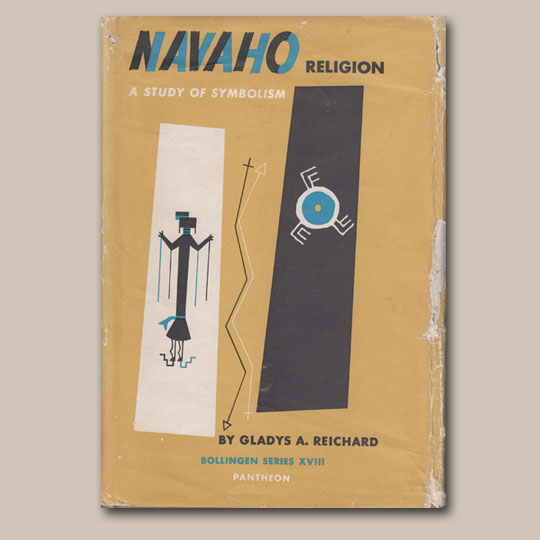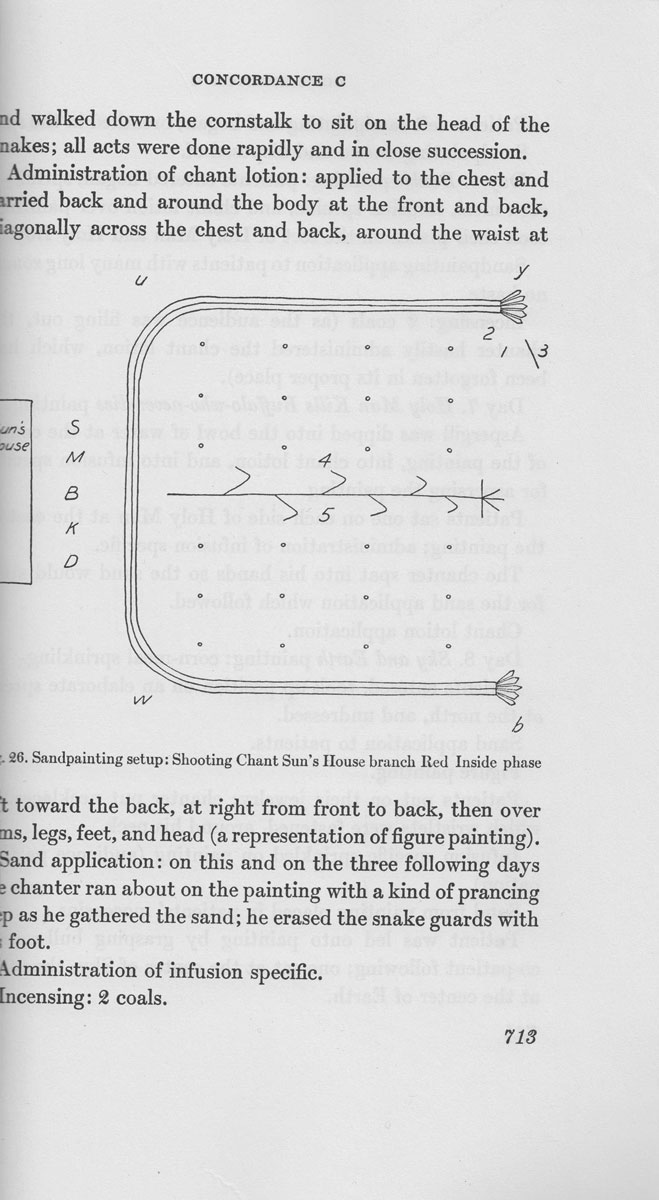 Click on image to view larger.
---