NAVAJO SHEPHERD AND WEAVER [Reprint Edition] [SOLD]
---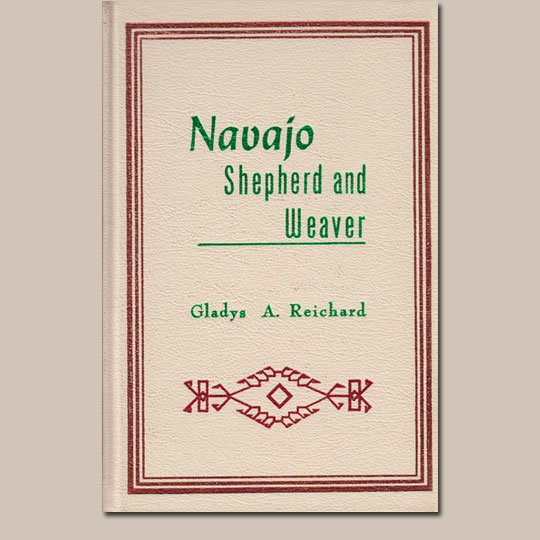 + Add to my watchlist

Forward to Friend
NAVAJO SHEPHERD AND WEAVER [Reprint Edition]
First edition published by J. J. Augustin Publisher, New York, 1936
This Rio Grande Press, Inc. first edition published in 1968
New Condition, never read
Foreword from the First Edition
"This description of Navajo weaving aims to present the attitude of the weaver toward her work. It is based upon the experience of four summers (1930-1933) during which time I lived with Red Point's family and learned, among many other things, the principles of weaving. I myself tried all the processes described, with the constant, kindly, and patient critical accompaniment of my Navajo friends, and accomplished them with varying degrees of success.
"Since the learning was empirical and as nearly like that of a Navajo as possible, it is to be expected that it was detailed. The only thing I knew when I started was that I was to transform wool into a Navajo blanket, and the theoretical principles of that transformation. The Navajo method of teaching is 'showing;' never is there an explanation or a generalization. Most weavers do not analyze their problems, although a few can formulate their difficulties. They do, however, work out solutions which are sometimes novel and clever.
"Although the method may at first seem time-consuming, its rewards are of such a different nature from those obtained by any other method that they are well worth the time required. Besides showing up every weakness, it also furnished examples of individual cases, for every teacher has her peculiarities, and every weaver has her short-cuts. If one learns each move himself, he becomes aware of all departures from what he might define as the norm. At the same time, he learns a great many things not directly connected with the weaving itself but quite as important to the ethnologists. Especially is this true of a group of people as isolated and scattered as any particular Navajo family." Gladys Reichard
Table of Contents
I. The weaver
II. Wool
III. Yarn
IV. Color
V. Natural colors
VI. Implements
VII. Warpstringing
VIII. Setting up the loom
IX. Manipulation
X. Continuation of weaving
XI. Pattern
XII. Saddleblanket patterns
XIII. Designing ordinary weaves
XIV. Designing saddleblanket weaves
XV. Warp weaving
XVI. Style
XVII. Sandpainting tapestries
XVIII. Origin and Age
XIX. Symbolism
XX. Opinions
XXI. How to buy a blanket
XXII. Virtuosity
Appendices:
I. Implements and materials for rugs
II. Implements and materials for warp-weaving
III. Lessons
IV. List of Navajo names used for materials for natural dyes
V. Glossary of weaving terms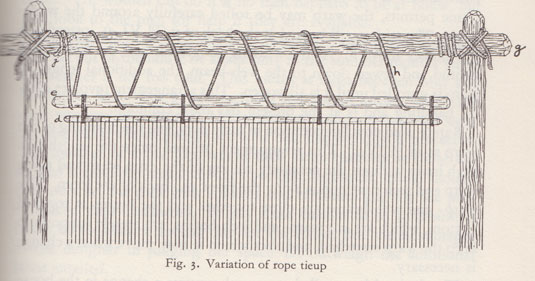 Gladys Amanda Reichard (1893 - 1955)
Subject: Native American Textiles
Item # C3737K
Date Published: This Rio Grande Press, Inc. first edition published in 1968
Size: 222 pages

SOLD
---
Publisher:
---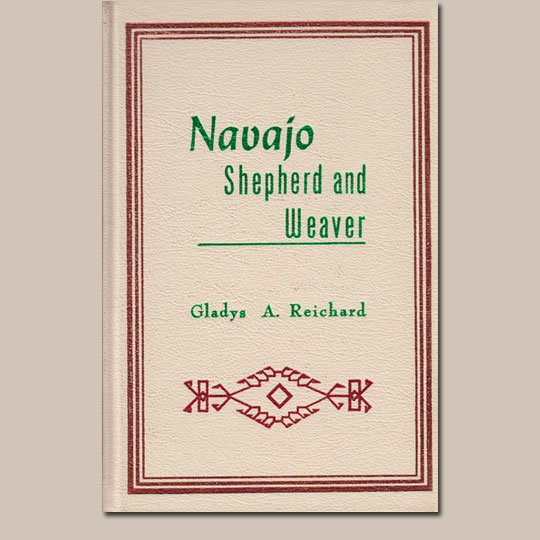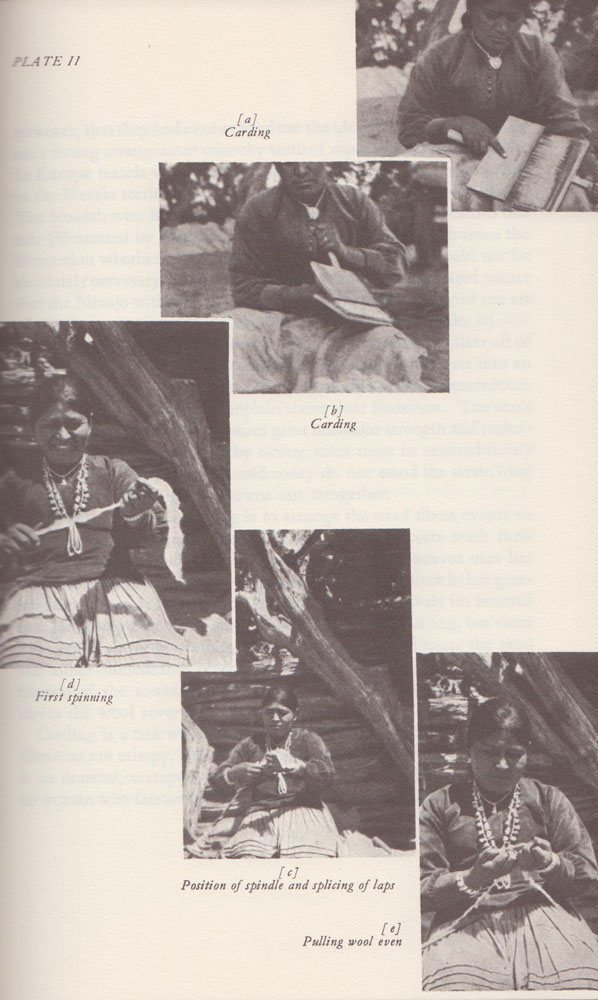 Click on image to view larger.
---