PUEBLO POTTERY FIGURINES: ART AS SOCIAL CRITICISM [SOLD]
---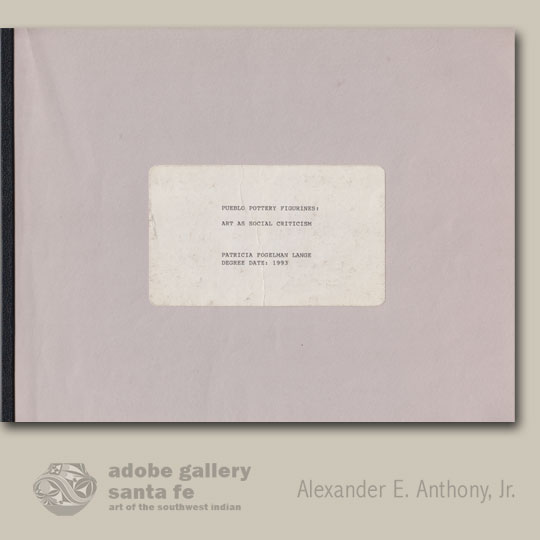 + Add to my watchlist

Forward to Friend
Subject: Native American Pottery
Item # C4055D
Date Published: 1993
Size: 370 pages, illustrated with 17 photographs

SOLD
PUEBLO POTTERY FIGURINES: ART AS SOCIAL CRITICISM
Patricia Fogelman Lange
Submitted in partial fulfillment of the requirement for the degree of Doctor of Philosophy in the School of Education, Health, Nursing, and Arts Professions of New York University, 1993
This is the manuscript submitted to the university for Lange's doctoral thesis. It is in black and white, 370 pages, illustrated with 17 photographs of figurines. Excellent condition.
From the Table of Contents
I. Introduction
II. The Method
III. How Pueblo People Define Themselves
IV. Clowns Clown, Jokers Joke
V. Indianness Becomes Marketable
VI. A Culture Portrays Itself and Others
VII. Has Anything Changed?
VIII. Contemporary Potters: Their Lives and Works
IX. Meanings, Meanings, and Meanings
X. Conclusion
It would be impossible to second guess potters who created figures, but one could suppose like joking they became another coping mechanism to cope with "foreigners" and probably adapted from earlier, more crudely formed ceremonial figures. Potters did not create only bowls or figures but usually made several different forms. With no two alike, they became a trope by which Cochiti visualized Anglos and the Spanish.
If burlesque and caricature reveal what the pueblos find absurd or serious, the focal points of these figures were the style of dress, facial hair, and form of the body as aesthetic considerations exaggerated by artists. Dressed biculturally, they were a combination of solemnity and amusement; a trait characteristic of ritual drama. They were first objects and then symbols having the effect of a good joke yet losing none of their criticism.