SELECTION OF FIVE BOOKS ON AMERICAN INDIAN ARTS [R]
---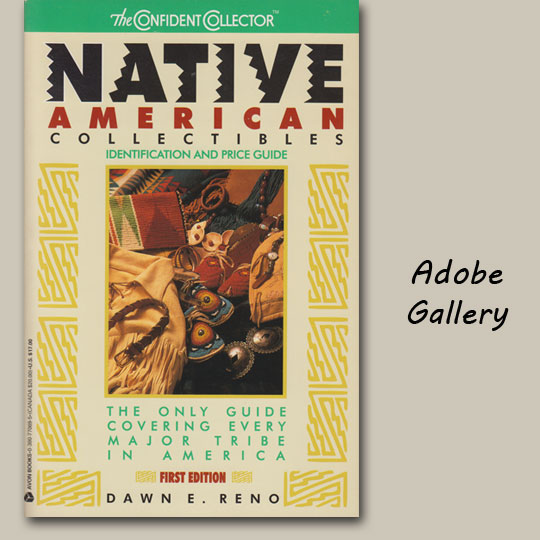 + Add to my watchlist

Forward to Friend
Subject: Native American Art
Item # C4076S
Date Published: 5 BOOKS ON AMERICAN INDIAN ARTS
Size: 5 BOOKS
Price:

$25.00
SELECTION OF FIVE BOOKS ON AMERICAN INDIAN ARTS
NATIVE AMERICAN COLLECTIBLES
The Only Guide Covering Every Major Tribe in America
By Dawn E. Rno
First edition, 1994. Softcover, 512 pages. Chapters on art; artifacts; baskets; blankets and rugs; clothing; dolls, games, and sports; ephemera and advertising; photography and books; jewelry; leather; miscellaneous categories; pottery; tools and weapons; and wooden items.
NORTH AMERICAN INDIAN ARTS
By Andrew Hunter Whiteford
Golden Press, New York, 1970. Softcover, 160 pages. Subjects covered are pottery; southwest pottery region; baskets; textiles; skinwork; applied decoration; woodwork; stonework; bone, antler, and horn; shellwork; metalwork; miscellaneous materials.
"Indian Arts" provides a comprehensive presentation of the arts and crafts reflected in the material culture of the North American Indians.
AMERICAN INDIAN ART Magazine
Summer 2014
Articles
1.Wampum from Early European Collections, Part 1: Strings, belts, and bracelets
2. Puebloan Plates: Innovation Becomes Tradition
3. Six Chumash Presentation Baskets
4. European Influence in the Mandan-Hidatsa Graphic Works Collected by Prince Maximilian of Wied
This issue is included because of the article on Puebloan Pottery Plates. It is the only article of which I am aware on that subject. Subtitles include the following:
Plates: a Semantic Problem?
Early Flat and Semiflat Ceramic Forms
The Emergence of Plates: 1880-1915
Plates as Art for the Anglo Market: The Innovative 1920s and 1930s
Evolving Artistic Innovation: 1940-1980
Plates Become Traditional: The 1980s Fluorescence
The 1990s and Beyond
MANITOU GALLERIES
An exhibit of art of B. C. Nowlin (painter) & Jim Eppler (sculptor), 2008
Fully illustrated brochure in color, 24 pages
SACRED LAND: Indian and Hispanic Cultures of the Southwest
Colorado Springs Fine art Center, Colorado Springs, Colorado
1992. A compilation of 20 artistic postcards, each displaying Native art.