SOUTHWEST TRADITIONS [SOLD]
---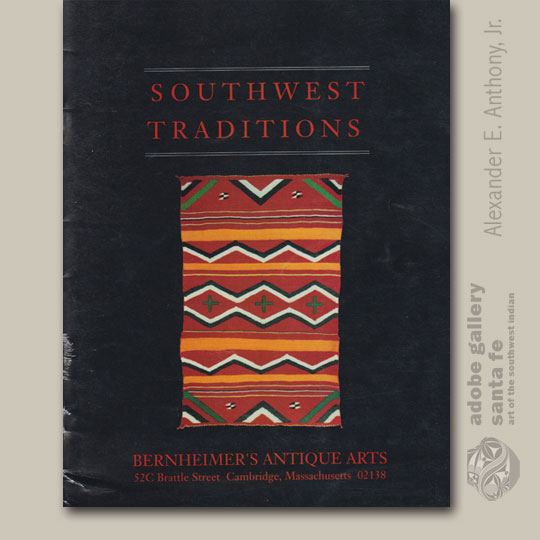 + Add to my watchlist

Forward to Friend
Subject: Native American Art
Item # C4002X
Date Published: 1989
Size: 28 pages, illustrated with price lists

SOLD
SOUTHWEST TRADITIONS
Bernheimer's Antique Arts
An exhibition catalog from a gallery exhibition in 1989 of Pueblo pottery, Native baskets and Navajo rugs
There were 33 prehistoric and historic pottery, 6 Pima and Apache baskets, a single Hopi Katsina mask, and 7 classic and later Navajo blankets and rugs. All the items were for sale and a price list is included.
From the Introduction
The artistic traditions of America's First Peoples have recently, and finally, gained international acclaim. The American Southwest is particularly rich in these artistic traditions. From the dazzling utilitarian products of the prehistoric cultures to the distinctive wares of the Pueblos, Southwestern pottery has come to be considered among the world's finest. Basketry, a far older tradition, has served ceremonial and utilitarian needs while displaying technological prowess and aesthetic appeal. And despite a so-called period of decline at the turn of the century, the Navajo, since adopting the skills from the neighboring Pueblos, have developed the art of weaving, producing superb textiles which combine various influences into a distinctive Navajo style. The objects in this exhibition reflect months of searching for unique works of art of high quality which serve to illustrate the artistic traditions and achievements of the First People's of the American Southwest.