THE PEOPLE CALLED APACHE [SOLD]
---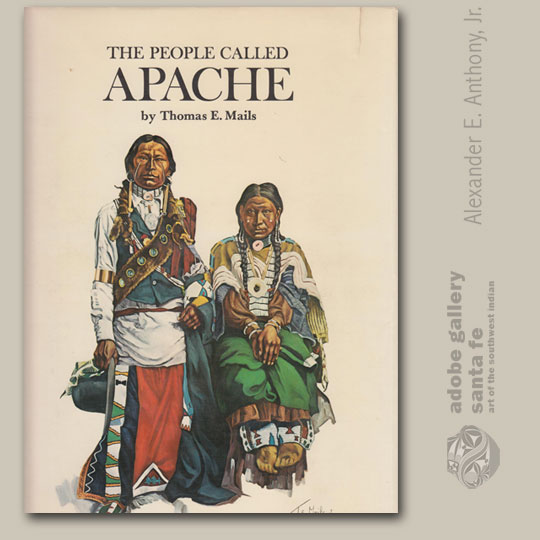 + Add to my watchlist

Forward to Friend
Subject: Native American: General
Item # C3913Y
Date Published: Hardback, first edition, slipcover, 1974
Size: 447 pages, illustrated

SOLD
THE PEOPLE CALLED APACHE
written and illustrated by Thomas E. Mails
Publisher: Prentice-Hall, Englewood Cliff, N.J.
Hardback, first edition, slipcover, 1974, 447 pages, illustrated, excellent condition.
They called themselves The People, but to nearly everyone else in their world they were known as The Enemy. They earned the name in every respect. Seldom has any people fought harder for the preservation of their territory and their way of life. We know them today as the Apache, an ancient people who, in historic times, made a prolonged and desperate effort to drive the Spanish, the Mexicans, and finally the Anglo-Americans out of their ancestral lands.
Unsuccessful, they were placed in four reservations, on or near their original ranges in Arizona and New Mexico, some of the most ruggedly beautiful land in this country. There most of them still live, accepting the White ways yet keeping many of the old customs still alive. Their renowned vitality and tenacity have served them well, for despite the tragic adjustments and abuses of early reservation life, they have managed to preserve their language, their heritage, and the most important parts of their ancient life-way, at the same time struggling to become industrious, progressive American citizens.
The People Called Apache is a complete account of that life-way, past and present. Though known by a common name and sharing many customs and beliefs, the four Apache groups of Arizona and New Mexico—Western Apache, Chiricahua, Mescalero, and Jicarilla—have for centuries been distinct units. Every aspect of their individual life-ways is examined here in detail: history, social structure, warfare; housing, dress, food; arts, crafts, and games; birth, courtship, and death.
The author gives careful attention to Apache religion—which treats each day as a sacred path, to be walked with concern for all created things—and to important religious practices such as the puberty rites and the curing ceremonies, which bring the Apache into close contact with the supernatural. Throughout, he lays stress on both the similarities and the differences among the groups.
The author has lavishly illustrated the book with over 300 previously unpublished photographs and over 200 original charcoal and pencil drawings, plus 16 color plates from his oil and watercolor paintings, all vividly rendering in detail the beauty of Apache life.
This book on the Apache is a wonderful companion to another book by Thomas E. Mails we currently have available. It is The Mystic Warriors of the Palins, our Item #C3809S - click here for details.