The Story of Inscription Rock [SOLD]
---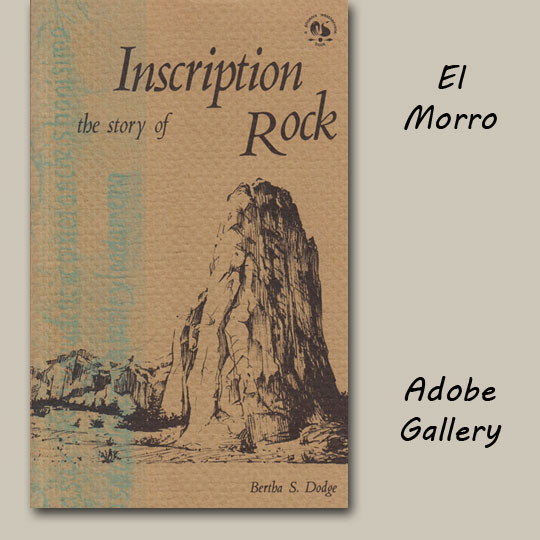 + Add to my watchlist

Forward to Friend
Subject: New Mexico History/Resources
Item # C4389S
Date Published: Softcover, first edition 1975
Size: 130 pages, illustrated.
Inscribed by Virginia Sagges on first blank page

SOLD
The Story of Inscription Rock
Bertha S. Dodge
Phoenix Publishing, Canaan
Softcover, first edition 1975, 130 pages, illustrated. Inscribed by Virginia Sagges on first blank page
Fifteen years before the Pilgrims set foot on Plymouth Rock, and some two thousand miles to the southwest, the Mexican governor of New Mexico was inscribing his name, the date and the purpose of his passing, on the sandstone face of a mesa. That mesa, now called El Morro or Inscription Rock, belongs so much to our country's traditions as the other better-known rock. For three centuries, that southwestern mesa was gathering inscriptions made by brave and adventurous passersby.
This book not only discusses the many people who passed by Inscription Rock in the sixteenth and seventeenth centuries, along with their stories, but sheds light on events in the eighteen hundreds when the government was establishing a safe and passable road from the Midwest to the California coast. The Army's use of camels and dromedaries in this effort is fascinatingly told by the author. This is a part of the history of New Mexico that many residents are not familiar with. Were you aware that there are the remains of a prehistoric pueblo on top of the mesa—a pueblo already abandoned when the Spanish arrived in New Mexico?
Before posting this book on our site, I decided to read it and I found it so interesting that I read the entire book in a single day. It was difficult to find a stopping point, so I kept reading. If you want to know more about New Mexico, this is where to start. It is well written and fascinating reading.