---
10 Person Yeibichai Dance [SOLD]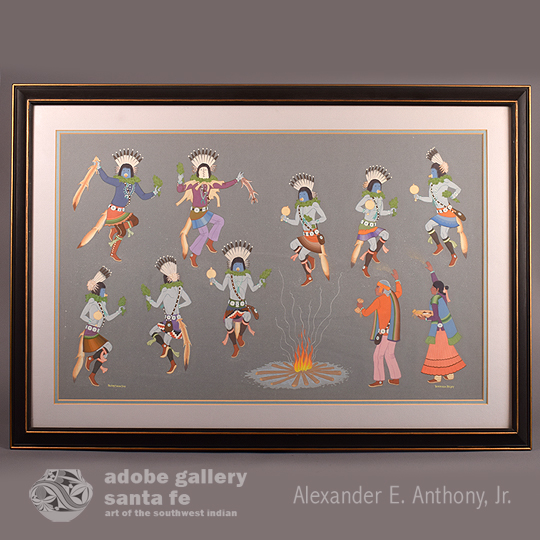 + Add to my watchlist Forward to Friend
In the Diné worldview, it is very important to retain a balance in life. Being in balance results in "Hohzo"—the concept of beauty and wellbeing. Being out of balance can result in disease—physical, mental, spiritual or emotional. A person can become out of balance as a result of a traumatic event, errant behavior, or witchcraft. When this happens, a medicine man is hired to perform a ceremony to bring the patient back into balance. The ceremony recreates certain stories and contains ritual events that will cure the patient and bring Hohzo back into their life.
One of the most significant Diné sings is the Nightway Chant, which is performed as part of the aforementioned ceremonies. Its purpose is to assist in bringing the patient back into balance (or "Hohzo") and cure physical, mental or spiritual maladies. Held during the late fall or winter months, the ceremony lasts nine days and nights and is a combination of events including prayer, sweat lodges, sandpainting, and chanting.
During these ceremonies, spirit beings called Yeis are called upon. On the final night of the nine-day Nightway Chant, the Yei-bi-chais—human impersonators of the Yeis—appear. Their presence is beneficial for bringing the patient back to health. They wear buckskin masks with eagle feathers. Their bodies are painted with clay and they wear elaborately decorated kilts, usually with silver concho belts around their waists. Evergreen ruffs are worn around their necks. They adorn their bodies with animal furs, and carry sacred bundles (or "jish") which contain ceremonial items such as corn pollen. After the final night of the ceremony, the patient will be brought back to balance and good health.

This excellent painting by Harrison Begay is a depiction of the aforementioned ceremony, or perhaps a similar one. It's a large piece, measuring almost three feet in width. Eight Yei-bi-chai dancers and two other participants populate this wonderful scene, which is presented in the remarkably detailed fashion for which Begay is rightly celebrated. His Yei-bi-chai dancers are pictured in a variety of positions and from a variety of angles, providing the viewer a fascinating look at Begay's consistency. They dance around a fire, which is presented with Begay's typical charm. In the lower right corner, a Diné medicine man and a woman holding a basket participate in the ceremony. Images like this one—large ceremonial scenes—are a rare treat from an artist who most frequently created depictions of daily life. This painting most likely dates to the 1970s, the decade which is frequently referred to as Begay's creative and technical peak. It is signed "Haskay Yahne Yah" in lower left, and "Harrison Begay" in lower right.

Harrison Begay (1917-2012) was a world-renowned Diné (Navajo) painter who is generally regarded as one of the most successful and influential early Native American painters. Begay studied under Dorothy Dunn at the Santa Fe Indian School in the 1930s, and then attended colleges in North Carolina and Arizona. From 1942 to 1945, he served in the US Army Signal Corps. In 1947, Begay returned to the Navajo reservation, where he enjoyed a long and productive career as a painter. He is known to have continued painting into his 90s. Begay passed away in 2012.
Condition: this 10 Person Yeibichai Dance is in excellent condition
Provenance: from the large collection of a New Mexico resident who purchased it in the 1970s when living in Gallup, NM
Relative Links: Diné - Navajo, Harrison Begay, Dorothy Dunn, Native American Paintings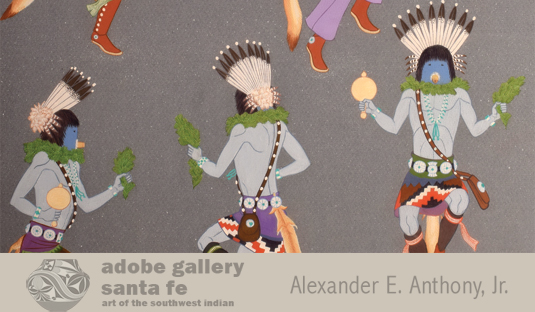 Harrison Begay, Diné Artist of the Navajo Nation
Category: Paintings
Origin: Diné of the Navajo Nation
Medium: watercolor
Size:
19-½" x 31-⅜" image;
27" x 39" framed
Item # C4158A

SOLD
---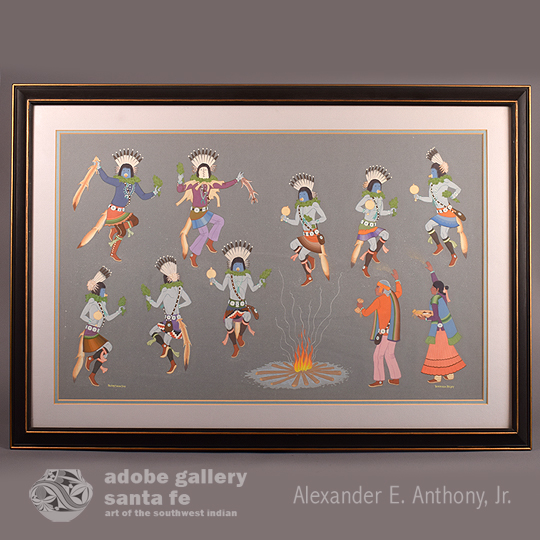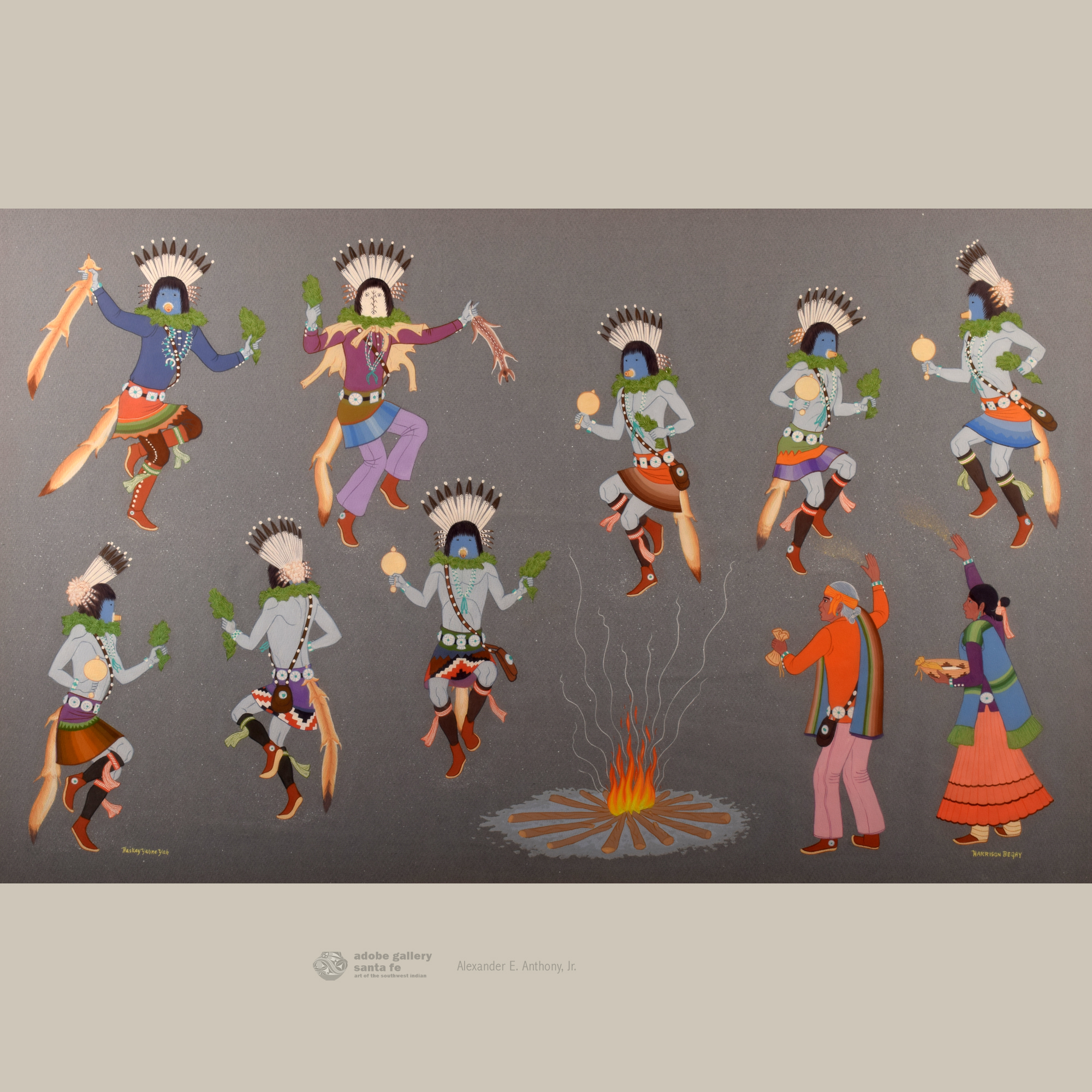 Click on image to view larger.
---
Adobe Gallery Recommended Reading

100 YEARS OF NATIVE AMERICAN PAINTING [SOLD]
by Author Unknown


Visions and Voices: Native American Painting from the Philbrook Museum of Art [Paperback Edition] [SOLD]
by Suzanne Abel-Vidor, et al