Harrison Begay, Diné Artist of the Navajo Nation
---
+ Add Artist to My Preferences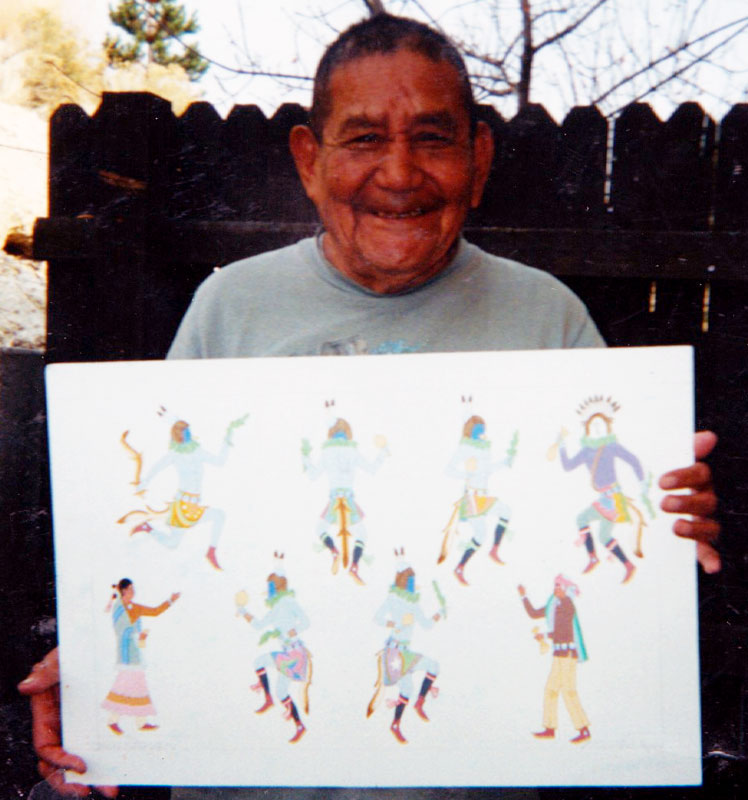 Renowned Diné artist Harrison Begay was a self-taught artist who attended the Santa Fe Indian School under Dorothy Dunn. His unique style and Navajo subject matter make him quite collectible. Begay specialized in watercolors and silkscreen prints.

Harrison Begay, or Haskay Yahne Yah (The Wandering Boy*) born in 1917, approximately fourteen miles west of present-day Greasewood, Arizona, on the Navajo Reservation at a place known as Whitecone. When he was a boy of seven years, his mother died and soon after that he was sent off to government boarding schools. As he grew older he decided to study art in Santa Fe where an art school was organized by the government in the early 1930s. From 1934 until about 1940 he attended this school under Dorothy Dunn. Following art school, Harrison attended college and then enlisted in the U.S. Army during World War II. Serving under General Dwight Eisenhower, Harrison did not have much opportunity to pursue his painting. Soon after his discharge and return to Arizona he was able to begin once more his study of art. Then in the 1960s he again met General Eisenhower at the annual Ceremonials in Gallup, New Mexico. At that time Harrison presented General Eisenhower with one of his fine paintings which is in a permanent collection in Washington, D.C. "Begay's paintings have exerted greater influence on Navajo artists than any others. His work is internationally known." - Jeanne O. Snodgrass 1968.

* Note: Most published references to Harrison Begay state that the translation of his name Haskay Yahne Yah is Warrior Who Walked Up to His Enemy. The correct translation is The Wandering Boy. Thanks to Jim C. Hunt for bringing this to our attention. Hunt's father spent the better part of his life on the Navajo reservation. He taught the Navajo language at Northland Pioneer College in Holbrook, AZ, and was beyond fluent in the language. It was he who told the younger Hunt the correct translation. Our thanks to the Hunts for this enlightenment.
Above artist image from original photograph found in sketchbook, our Item # C4374A
---
Harrison Begay Obituary
We were sorry to hear today that Navajo artist Harrison Begay passed away on Tuesday of this week (August 21, 2012) at the age of 95 years [if based on a birth year of 1917]. He is survived by his siblings Alice Clah, Anita Begay, Mary Joy Begay, Cecil Blackrock and Sarah Brown. His burial will take place at the Ft. Defiance Veterans Cemetery, Arizona. Begay was one of the early 20th century Navajo artists and the last of a long line of Southwest Native American artists. It is sad to see them go but they have all left us some remarkable art by which to remember them.
** If you discover credit omissions or have additional information to add, please let us know at Marketing@adobegallery.com
TAGS: Navajo, Native American Paintings