---
J. B. Moore Plate II Variant Crystal Trading Post Navajo Rug [SOLD]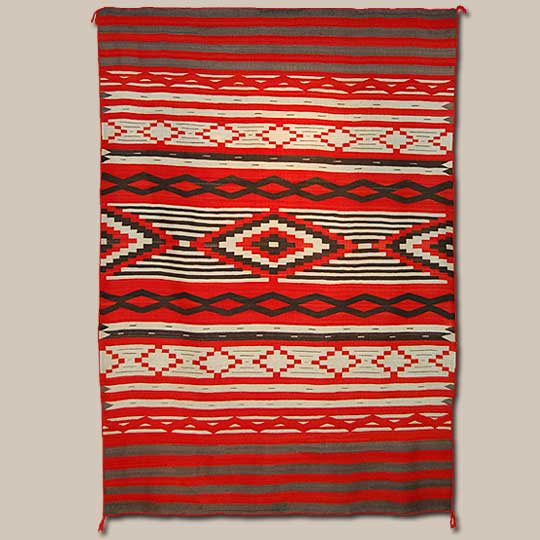 + Add to my watchlist Forward to Friend
J. B. Moore, Trader at Crystal Trading Post in New Mexico from 1900 to 1911 is now famous for introducing to the weavers new patterns of textiles he felt would be saleable to Easterners for use as rugs. His early examples, published in a 1903 catalog, were more like classic Navajo textiles and those published in a 1911 catalog were more like Persian rugs.
It was his intent to have weavers make rugs that looked familiar to Easterners. They were then using Persian carpets, so his patterns were made to be similar. His idea worked and established a market for the Navajo women's work. Almost 100 years later, some of these rugs are still in use. This one is an example of the durability of Moore's product and the beauty of his designs.
In J. B. Moore's 1903 mail order catalog—his first catalog—he offered this information for this textile: "A rather wide range of sizes, and [a] more extensive collection of these. Range from about 4-½ x 6-½ feet up to 8 x 11-½ feet. Some of the very finest weaves, and will stand any amount of service. Patterns, a reproduction of an old time one not made within recent years.
Under Prices, he stated:

First grades, according to size . . . . .$35.00 to $120.00

Second grades, according to size . . $15.00 to $70.00
He further stated: "Navajo Blankets are not cheap goods. It required a lot of valuable material, a great deal of hard labor, a long time, much skill and infinite patience to make a fine one; and they can only be cheap by comparison. Measured by this standard, they are very cheap indeed."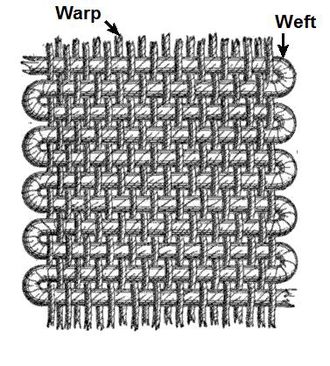 Warp and Weft: In weaving, the weft (sometimes woof) is the term for the thread or yarn which is drawn through, inserted over-and-under, the lengthwise warp yarns that are held in tension on a frame or loom to create cloth. Warp is the lengthwise or longitudinal thread in a roll, while weft is the transverse thread. A single thread of the weft, crossing the warp, is called a pick. Terms do vary (for instance, in North America, the weft is sometimes referred to as the fill or the filling yarn). Each individual warp thread in a fabric is called a warp end or end. The weft is a thread or yarn usually made of spun fibre. The original fibres used were wool, flax or cotton. Today, man-made fibres are often used in weaving. Because the weft does not have to be stretched on a loom in the way that the warp is, it can generally be less strong. The weft is threaded through the warp using a "shuttle", air jets or "rapier grippers." Hand looms were the original weaver's tool, with the shuttle being threaded through alternately raised warps by hand. -Wikipedia
---
Condition: this J. B. Moore Plate II Variant Crystal Trading Post Navajo Tapestry is in excellent condition.
Recommended Reading: Reprint of original J. B. Moore: Navajo Rug Catalogues by Alexander E. Anthony, Jr.
TAGS: J. B. Moore, textiles, Navajo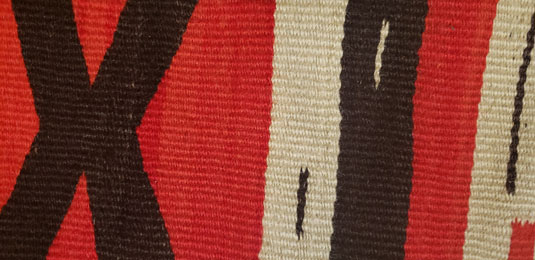 Weaver Unknown
Category: Navajo Textiles
Origin: Diné of the Navajo Nation
Medium: Native Wool
Size:
7 feet 10-1/2 inches x 5 Feet 4-1/2 inches
Item # 24162

SOLD
---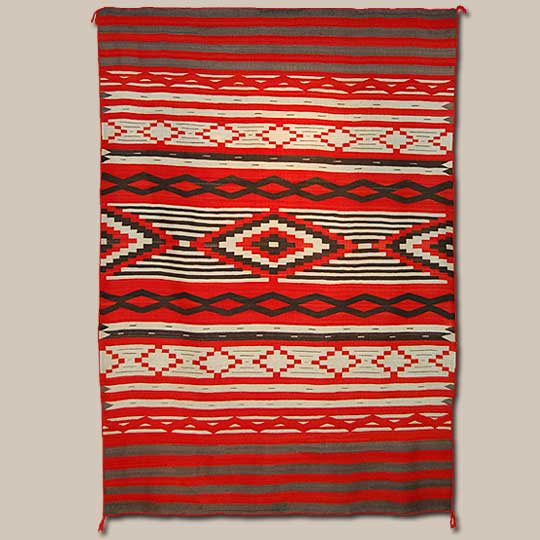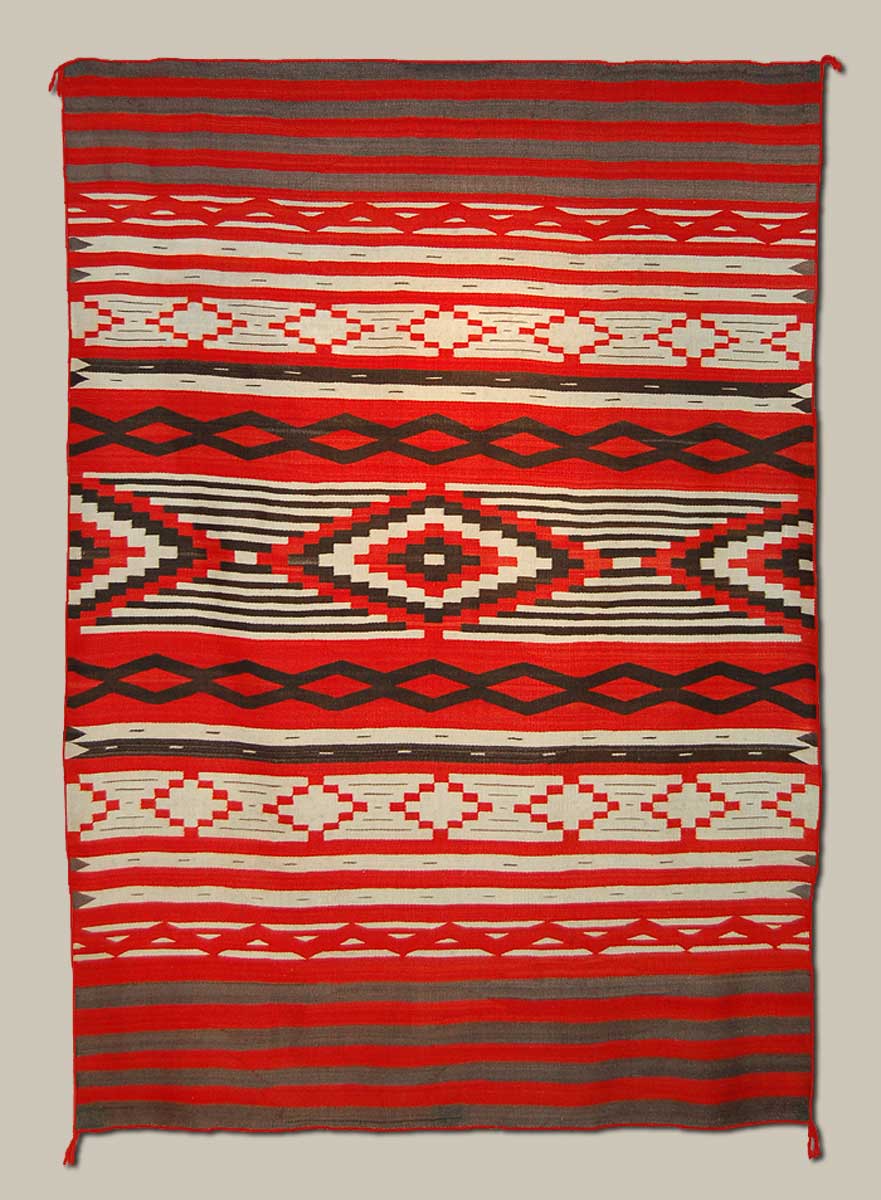 Click on image to view larger.
---
Adobe Gallery Recommended Reading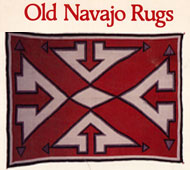 OLD NAVAJO RUGS Their Development from 1900 to 1940 [SOLD]
by Marian Rodee

Adobe Gallery Recommended Items
---
If you are interested in this item, we would also like to recommend these other related items: